As with any sport, teams begin the season with goals, targets and hope and believe that this year, unlike last, will be theirs.
But, with the conclusion of week 8 there are plenty of teams already looking ahead to next year after seemingly giving up on the current campaign – perhaps none more-so than the Jacksonville Jaguars who were dismantled by San Francisco on Sunday.
Losing 42-10, the Jaguars were easily outclassed by a Niners' team gaining momentum but it's not just their hopes that have faded.
Following their impressive efforts last year, the Atlanta Falcons were tipped by many as one of the teams likely to make this years' play-offs, at least. 
Instead, they are 2-5 following Sundays' 27-13 to the Arizona Cardinals and any hopes they had of post-season football are rapidly diminishing.
Unable to protect Matt Ryan they have one of the worst defences in the league and their upcoming schedule doesn't make for easy reading. Home games against Seattle and Carolina are sandwiched between travels to Green Bay and San Francisco and unless things are turned around quickly, they'll be lucky scrape an 8-8 record at the seasons' conclusion.
On the flip-side of hope is the admittance that, while your may not win many games, you'll at least be competitive. This cannot be said about the Jaguars however as they continue to amble their way through games – losing by an average of 19.9 points along the way.
Offensively inept, fans of the beleaguered franchise can only hope that their losing momentum will, at least, lead them to the first pick of next years' draft.
Current quarterback Blaine Gabbert is clearly not the man to lead them back to relevance (incumbent Chad Henne is an able back-up) but the draft is stocked with more talented signal callers and owner Shahid Khan should be confident with his sides options come draft day.
Elsewhere, Tampa Bay and the Minnesota Vikings are also struggling. Tampa coach Greg Schiano will do well to last the season amid rumours of locker-room discontent, Josh Freeman has been traded and their expensively assembled defence is not playing well – surrendering 31 points three weeks in a row.
In Minnesota, things are even bleaker. Possessing arguably the worst defence in football, the recently acquired Freeman has been thrust into the limelight despite the clubs' continued 'support' of the ineffective Christian Ponder. Perhaps more worryingly, Adrian Peterson – the greatest runner in the league - is being under-used and head coach Leslie Frazier must surely be in the hot seat as their season continues to unravel.
Rex's video nasty
On Sunday the New York Jets lost 49-9 to the Cincinnati Bengals and head coach Rex Ryan was brief and unapologetic following his sides embarrassing defeat.
"They're going to watch the tape on their own.
"For us to sit in there, go over it again, when we know exactly what happened – I just thought it would be more beneficial to move on to New Orleans" Ryan said.
"I never buried the football this time.
"What happened happened, but we better move forward. That's why I did what I did."
Moving forward may be easier said than done though. When his side lost 45-3 to New England back in 2010, they were a vastly superior unit to this current side Ryan will do well to remember that as he looks ahead to the rest of the season.
Sitting at 4-4 with the prospect of facing the potent New Orleans Saints' offense on the horizon, another defensive collapse may see Ryan edge in dangerous territory as his side continue to look clueless offensively.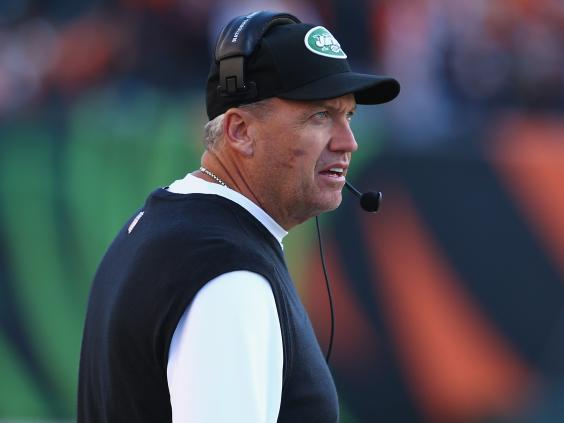 Bird-flipping in Oakland
Jason Tarver clearly demonstrated his frustrations on Sunday, swearing at an official.
It's a safe bet he's probably swearing a whole lot more now following the league's decision to fine him for his actions, although terms of the fine were not released.  
Somewhat aggrieved as Mike Jenkins was flagged for hitting a defenceless receiver, the Oakland Raiders defensive co-ordinator made his feelings clear as he snarled at the officials, extending his arm and middle finger twice in the process.
Captured by the covering CBS cameras, Tarver would have been expecting the fine and quickly released a statement apologising for his actions during the game. 
"I apologize for my action on the sideline of yesterday's game.
"It was in the heat of the moment and I regret drawing attention away from the Raiders players and what they accomplished."
The accomplishment, a 21-18 win over the spluttering Pittsburgh Steelers, also saw quarterback Terrelle Pryor break an NFL record with a remarkable 93 yard sprint on the games' first play from scrimmage as they defeated the Steelers for the first time since 2002.
Reuse content