An infant 2013 was six days old when Mitchell Johnson pushed a delivery from Rangana Herath wide of point and hared down the Sydney Cricket Ground pitch to complete the winning run against Sri Lanka. At the other end was Mike Hussey, savouring his closing moments as an Australian cricketer. Hussey bowed out on a high, Test won, series won. Australia have not won a Test match since.
In three weeks they will try again, Australia's last hope of salvaging something from a sporting year that has scraped the barrel. It has truly been an annus bloody horribilis. On Saturday their rugby union players will step out on the Twickenham turf with a similar mission, and accompanied by as little expectation as their cricketing cousins. They have already been labelled the worst Wallabies in 30 years.
Back home the Socceroos can offer the ample consolation of having qualified for next summer's World Cup finals but so abject has been their form that the coach who took them there, the German Holger Osieck, has gone. They stumbled through what should have been a straightforward qualification, losing in Jordan, drawing twice with Oman and, after successive 6-0 defeats in Brazil and France, squat at No 57 in the world rankings, a point better off than Albania and looking up at Scotland, Wales and the Cape Verde Islands.
A month after Hussey shuffled off centre stage – not quite as happily as it seemed, it became clear later – came the "blackest day in Australian sporting history" with the publication of the Australian Crime Commission's shocking report into doping. The ramifications of its allegations of "widespread" doping in Australian Rules and rugby league are still not clear, and still being confronted by the sports and clubs in question.
Last Saturday when England rattled into a double-figure lead beneath the closed roof of the Millennium Stadium in the Rugby League World Cup – while in the same weekend across the Irish Sea in Dublin the traditional cross-code meeting of Ireland's Gaelic footballers and Australia's Rules players ended in record defeat for the visitors – it looked like the roof was well and truly ready to fall in on Australian sport. The Kangaroos, though, are made of sterner, if rustier, stuff and put the Poms back in their place – unlike Australia's netballers, one of the country's foremost sporting units, who managed to lose a first-ever series to England this year.
This month an Australian media outlet ran a tongue-in-cheek list of "15 things worse than our rugby team". It included "our cricket team". It is a mournful collection of failure that has led to much sporting navel-gazing from Perth to Sydney and Adelaide to Darwin. Last year the London Olympics were pretty much a disaster from start to finish for Australia, 13 years into a century that began with the Sydney Games at which the nation's sporting fettle had never been finer. They set the example that others, most notably Britain, admiringly looked to follow. A year before the Sydney Games the Wallabies won the World Cup, while the cricketers had the Ashes seemingly permanently stowed in their kitbag.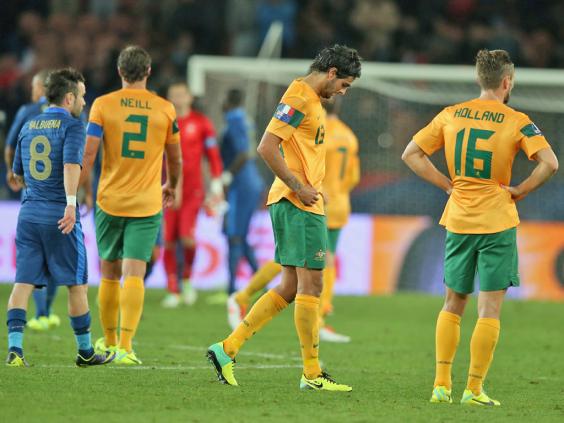 A couple of weeks ago, the Australian Olympic Committee announced it was to look to the example of – and this must have caught in the throat – Britain in attempting to restore hope and glory for Rio 2016. "You are entitled to your disappointment," said John Coates, the man in charge of the AOC, in the wake of his men and women coming 10th in the medals table in 2012 with their worst gold medal return since 1988.
The AOC admits Olympic sport has "stagnated". Now they want Matt Favier, the man in charge of the Australian Institute of Sport, a body established in the wake of the failure to win a solitary medal at the 1976 Games, to play a "Clive Woodward role" in helping get Australian Olympians back on the right course. Favier had previously worked for UK Sport, which was instrumental in Britain's Olympic revival over the past decade.
Australia's failure to build on success is one Britain should take careful note of; the recent demotion of the role of the sports minister in the UK does not bode well in that direction. Down Under, complacency took its deceptively loose grip, in the swimming pool and elsewhere.
The 2000 Olympics were an important moment for Australia as a country. Sport did its bit to help the nation, and Sydney in particular, raise its prominence on the international stage but, post-Olympics, funding dwindled, and in Olympic sport money matters. A succession of the brightest minds were lured to better-rewarded posts abroad; Australian coaches guided foreign athletes to 14 gold medals in London. China's gold medal-winning swimmers Ye Shiwen and Sun Yang were both coached by Australians – well-rewarded Australians.
Rugby too does not have its financial troubles to seek. Sport is a crowded market place Down Under – Australia's ability, with its relatively small population, to compete at or around the top end of a multitude of sports remains remarkable (as, for that matter, has become Britain's) – and union is suffering. A lack of success on the pitch has only served to heighten troubles off it. The Wallabies arrived in the UK having agreed to a 23 per cent pay cut – according to their critics they should count themselves lucky it stopped there, after they won three of their 10 Tests this season, including a series defeat by the Lions, and conceding on average over 35 points per game to New Zealand and South Africa. They will now receive A$10,000 (£5,900) a game, down from A$13,100.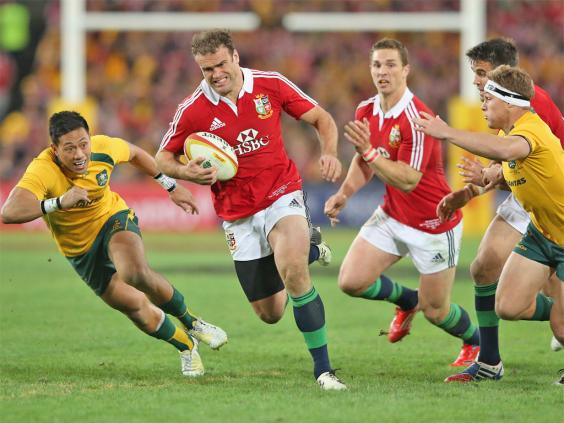 The Lions tour will fill in some of the holes in the Australian Rugby Union's finances but not enough. In the last two years a deficit of A$19m has been accumulated. "From a financial perspective we are going to be skating on thin ice for the next couple of years," remarked Bill Pulver, chief executive of the ARU. "Can we get through? Yes, we can. Is it going to be bloody hard? Yes, it is."
Australian cricket will have its coffers replenished by the English invasion that accompanies an Ashes series. England's last visit culminated in the Argus Review into Australian cricket following the Alastair Cook-inspired hammering. Since its conclusion in 2011 little appears to have changed for the better. Australia have had three coaches since and in their last nine Tests fielded 22 players. The positions of Pat Howard and James Sutherland at the top of Cricket Australia will come under severe pressure should it all go koala-shaped again this winter.
Last month the Australian Cricketers' Association voiced its fears that there remains plenty wrong with the game, not least that CA is overly concerned with squeezing every last cent out of the Big Bash, the Twenty20 competition, rather than looking truly to improve standards among its players on the field.
Whatever the scaffolding carefully, or sometimes shoddily, erected by governing bodies around their playgrounds, sport will always retain a cyclical element. There can never be absolute certainty. Australia could win at Twickenham, Michael Clarke's dodgy back could hold out and Australia regain the Ashes, and the Kangaroos, with the brilliantly effervescent Billy Slater at their heart, may very well win the World Cup as the sporting wheel of fortune spins again. But in a country whose inhabitants are known to like a flutter, you would be brave to put your dollars on green and gold.
Reuse content