UFC 185 takes place from the American Airlines Center in Houston, Texas on Saturday night, and is headlined by two Championship title fights, and The Independent caught up with three of the protagonists in those matches to find out more regarding their expectations, predictions and preparations.
The UFC Lightweight title is defended in the main event of the evening, where champion Anthony Pettis meets Rafael dos Anjos.
Speaking to The Independent an hour apart from each other, both expressed their confidence ahead of the contest.
"I feel good, healthy and ready to go," confirmed Pettis, while dos Anjos revealed that his " whole camp was perfect and I'm ready to walk away from the Octagon with the belt around my waist."
Pettis is 18-2 across his MMA career, but due to injuries and inactivity the 28-year-old has only completed five competitive rounds since February 2012. That streak has resulted in four successive stoppage wins however, including his first title defence against Gilbert Melendez in December 2014.
Despite such little time spent fighting in recent years, Pettis is confident regarding his stamina.
"I never try to go the distance, we don't get paid for overtime. I want to get in, and get out. I don't want to go five rounds, but we always prepare for it and I'm confident that I can."
A 30 fight veteran, dos Anjos has won 10 of his last 11 contests, and is known for his stamina and durability. The Brazilian solidified his number one contender status in December against Nate Diaz, and plans to exploit the lack of game time of his opponent.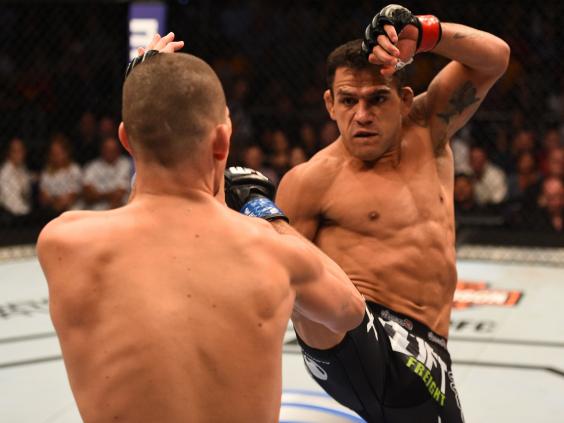 "Pettis is a great competitor, but I think his inactivity is going make a huge difference in this fight. I've been in the Octagon for many hours, I know I have a lot of experience, and he's never fought anybody like me. I will pressure him, hit him hard and that combination will make the difference."
Both fighters clearly respect what the other brings to the table, with Pettis describing dos Anjos as "well rounded, very tough, great on the ground and getting better everywhere," while Pettis was praised for being his ability to "do things which for some fighters is almost impossible."
The champion is a wide 2/7 favourite to win the fight with the betting experts, while dos Anjos is the clear underdog at 7/2. Being the favourite is a label which appeals to Pettis.
"I feel relaxed with that reputation, and feel I should always have been the advantage player," he said, before adding that "dos Anjos is definitely on an equal par with Melendez. He's the number one contender and deserves the title shot. I look at him like he's the most dangerous guy in the world, and that's how I prepare for my fights."
Brazil's number one lightweight is relaxed regarding his underdog, and feels that it will spur him on even further to succeed.
"It's an extra boost for me to be the underdog as I always am, and I have never been as confident as I am now. I feel that at 30-years-old and with 30 fights I've finally got my chance, and knowing how hard it was to get to this position I'm going to fight hard and win."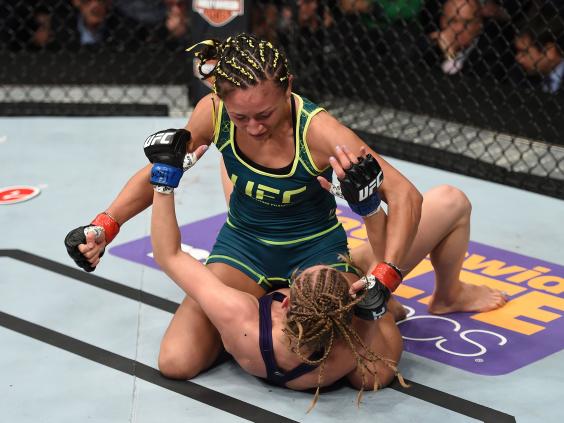 Pettis has had two different types of wrestlers training in the gym with him ahead of the bout, with his amateur wrestling coach Ben Askren "the reason why I have the UFC belt around my waist," according to the champion.
Former WWE superstar CM Punk is also training for his UFC debut in the same gym as Pettis, and will be walking out with the champion to the Octagon.
"Me and my younger brother Sergio are on the card, so we have room for a lot of corners. CM Punk is in the gym with us every day training, and he wanted to see what it was like being at a fight backstage, so we invited him out," explained Pettis.
"We're definitely comfortable with him, you wouldn't believe he was a superstar if you came to the gym, he's learning like everybody else and is a very cool guy."
When pushed for a prediction, both fighters were bullish about their chances of finishing the fight early.
"My last two fights were submissions and I've been working on my boxing so I'm looking for a knockout," confirmed Pettis, while dos Anjos shared that "one thing I am sure about is that this fight will not go to the judges. It's not going five rounds, I'm looking to finish the fight early and not leave it in the hands of the judges. It's going to be a great fight for the fans as we are both looking for stoppages."
The co-main event in Dallas features UFC Strawweight champion Carla Esparza defending her title for the very first time against Poland's charismatic Joanna Jedrzejczyk. Esparza won the belt after defeating Rose Namajunas in December, and has a 10-2 career record.
A former Invicta champion, and amateur wrestling star, Esparza shared her expectations for the fight with The Independent.
"I feel a lot of pressure, but I've always felt pressure in my life. I fought for the Invicta title, I went into the Ultimate Fighter house, I fought for the UFC title. My career has been filled with a lot of pressure. I wish I could say it gets easier but on fight days I always get pretty nervous."
Esparza has been vocal in recent weeks regarding the lack of attention she has been getting compared to other fighters in her weight class, but the champion is confident that fighting on such a huge platform in Dallas will make more people aware of her.
"With a fight like this on such a big card there is going to be a lot of eyes on it, and if I put on a great performance then I think there will be a lot more opportunities."
Jedrzejczyk is undefeated across her eight fight career, and has used her personality well to drive up interest in the fight. The Polish fighter has many excellent attributes in the cage, which Esparza is well aware of.
"Her best skills are powerful striking and her takedown defence, but there's nobody yet who I've fought that I haven't been able to take down."
Elsewhere on the main card in Dallas, former Welterweight champion Johny Hendricks meets the always dangerous Matt Brown, Alistair Overeem fights Roy Nelson in a Heavyweight shootout, while 2008 Olympic gold medalist Henry Cejudo fights at Flyweight for the first time in UFC against former title challenger Chris Cariaso.
There is British and Irish interest on the undercard as Sunderland's Ross Pearson aims to bounce back from losing to Al Iaquinta last time out as he faces Sam Stout, while Ireland's Joseph Duffy, the last man to defeat Conor McGregor makes his UFC debut against Jake Lindsey.
Reuse content