"How was my vibrato?" Danny Jones would ask his wife Lizzie, wearing a smile as wide as Yorkshire. She is a classically-trained singer and he, with his usual vast energy for life, became a huge enthusiast, always in the audience for her shows – at Halifax's Victoria Theatre, the West Yorkshire Playhouse and beyond. "He just wanted me to sing everywhere we went," she relates. "Everywhere! Really inappropriate places." Elvis Presley's 'Suspicious Minds' was his favourite number. "He liked to sing as well. He thought he was  a lot better than he was, bless! But he did like to sing...!"
 It was the just same with Jones and rugby league – never anything less than boundless enthusiasm in a career as  a half-back and playmaker with Halifax, Keighley and Wales, who capped him 12 times. He juggled this with the work that brought in some decent money, as foreman in the family scaffolding firm.  And then, in the blink of an eye, he was gone.
Jones – the life and soul of every team he represented,  whose apparent indestructibility was borne out by the Keighley Cougars fans' name for him, "Steel" – was four minutes into a League One match at London Skolars' New River Stadium on 3 May when his heart gave out. One minute, the 29-year-old was at the centre of the joke on the team bus south, enjoying the mischief to be made out of the players being asked for their neck sizes for club issue executive shirts. The next minute, his team-mates were confronting the enormity of never again lacing boots, sharing a drink, a dressing room and a rugby pitch with the man who had been their fulcrum and kicked points for them – hundreds of points – with the consistency of a metronome.
Needless to say, there has been an incalculably vaster emptiness for his young wife. The couple's twins, Bobby and Phoebe, were five months old on the days Jones swung out of bed at 7am for the journey south. A team-mate sounded the car horn outside and he slipped out of the house, never to return. The 30-year-old woman he left behind displays a remarkable equilibrium when we sit down, at the home in West Yorkshire's Shibden Valley where the couple had hatched so many plans, to discuss the good she wants to bring from his death. It is only when listening back to the tape of our conversation that one detects the strength she has had to summon up. One of the children, Bobby, wanders in front of us, propped up by a walking device, and that is a blessing. It buys her some moments to recompose the exterior calm which belies the sorrow beneath.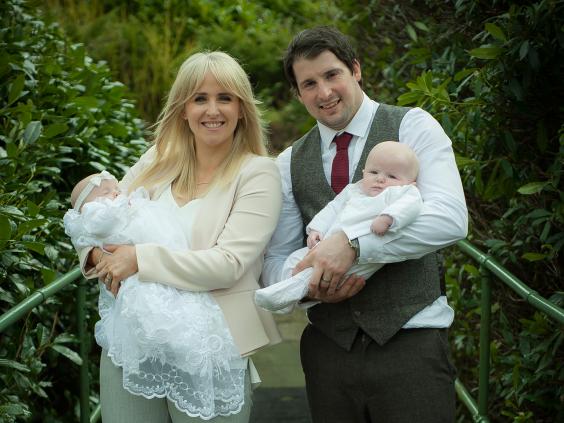 On Saturday, she takes the challenge into another dimension by singing "Abide with Me" in front of 70,000 people, before rugby league's Challenge Cup final between Leeds and Hull KR at Wembley. It will be a way of acknowledging those supporters whose generosity has seen nearly £250,000 donated to a trust fund for the twins. And it is also part of her quest to ensure that all amateur and semi-professional athletes are screened in the way which might have saved her husband's life. A post-mortem revealed the cause of Jones' death to be cardiomyopathy – the same abnormal thickening of muscle around the heart which caused Fabrice Muamba's cardiac arrest during Bolton Wanderers' match at Tottenham Hotspur in 2012. It could have been detected by the echocardiogram screening which Jones would have been put through had he played Super League rugby or represented the wealthier England national team rather than Wales. "Danny played for his country," she says. "He should have been checked at an international level."
Of course, none of that seemed relevant before he died. He actually appreciated having the task of lugging scaffolding poles across Yorkshire, as well as the rigours of playing and captaining Keighley: three nights' training every week, with the Halifax-based contingent all piling into one of the older players' seven-seater car to make the  half-hour trip to the other side of Bradford. "I'm pretty lucky in that I work with my dad and my brother, running our own business," Jones said during the World Cup campaign with Wales two years ago. "The money you get for Wales is not comparable to what I get in my main job."
He brought pressure on himself as a player, too, despite his reputation as a goal-kicking king in West Yorkshire, where he had two spells at Halifax but found his spiritual home at Keighley, playing 153 games, scoring 33 tries and kicking 444 goals and seven drop-goals. He'd drive back from every home game with his wife. "He'd talk about the match all the way back," she recalls. "So yes, I would have my ear chewed off about the ins and outs of it! I tried to contribute but he knew if he'd played well or not."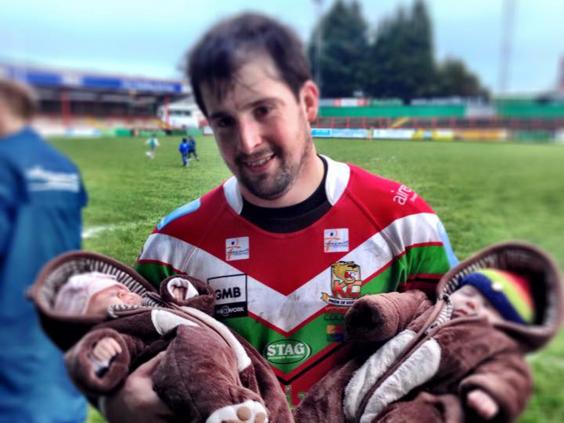 He was already a Wales international when they met in 2007, introduced three days before his 21st birthday during a night out in Halifax, at a time when Lizzie was preparing to leave to undertake a Masters course in musical drama at the London School of Musical Theatre. They married in County Clare six years later and the children arrived 12 months later. Worries seemed no greater than the brief, slightly improbable prospect that a long World Cup run for Iestyn Harris's Wales side would clash with their wedding day and how his bride might feel about that. "If they won certain games he wouldn't have been at the wedding," she says, smiling  at the memory. "We were fairly safe but Danny would say: 'If we win that one… and that one.'"
There had barely been any injuries, let alone health concerns. Even when Jones asked his wife to take him to an A&E department last year, after gastroenteritis left him with a chest infection and struggling for breath, X-rays and an electrocardiogram (ECG) test did not reveal the irregularity that an echocardiogram would have shown up. "He ended up with paracetamol," she says. "There was just nothing. No signs of anything at all. I've even looked back at pictures to see if I can notice anything. 'Does he look…?' He was just perfectly happy and healthy… or so we thought anyway."
They had been to a wedding party locally, though it hadn't been a late one, on the night before he travelled to play the Skolars, where Keighley were looking to build on a five-match winning stretch. London was too far to take the children so his wife prepared for a day in Halifax with her sister, Steph, who received the first call from her brother-in-law's close friend and team-mate Scott Law – initially to say that Jones had suffered a head injury. "We didn't panic too much," says Lizzie. "Things like that happen in rugby league. But then Scott called back again to say: 'I think you should come down to London'." She and her sister were halfway down the motorway when a hospital consultant called and asked that they pull over. It was there, on the M1 hard shoulder, that she discovered her husband was dead. "We just had to carry on going and get there," she says. "It was horrible. I don't want to think about it, to be honest."
The ambulance crews had been called at 3.10pm and medical staff led attempts to resuscitate Jones with defibrillators. The girlfriend of Dave Williams, the Skolars captain, a specialist cardiac nurse, was also on hand, though it was clear when he arrived at the London Free Hospital that he could not be saved and that news was relayed to his wife.
"An ECG does not always show the full picture," Lizzie says. "Danny's ECG last year showed he had a slow resting heart rate, but the fact that he is a sportsman seemed to explain that. They told him: 'You play sport, that's the reason.' But that could also have been a symptom of the underlying problem. The question is: where do you get more tests if you do not play in a well-resourced sporting environment? The echocardiogram is so important. Danny was never offered it, and I know he would have taken it. I've had coaches and players come up to me and say, 'I've been offered it and I've never had it because I'm scared by what I might find out.' But which is worse: dealing with what I'm going through or finding out 'Yes, you've got a problem but we can do something about it'? I know which."
Since her husband's death, rugby league players at Championship and Championship 1 level are routinely undergoing the echocardiogram test. The effects have been felt beyond rugby, too. A nurse at Illingworth, on the other side of the Shibden valley, was approached two weeks ago by a cyclist suffering chest pains who had heard about Jones' death and resolved, as a result, to be checked out. The ensuing tests showed up a valve blockage which will now be treated.
Lizzie Jones' holiday this summer was in Scarborough – the trip she and her husband had booked for a weekend which he knew would be blank for Keighley. "Not the easiest," she says, with extraordinary understatement. Yet, as she stands up to sing at Wembley on Saturday, there are the beginnings of consolation. "Danny has changed rugby league for the better already and that has to carry on, for me," she says. "I want the effect to be felt throughout amateur and semi-professional sport. He can't just be a number; someone who died at Keighley one of those years."
Reuse content