Even in a rugby league career that has already had more than its share of twists and turns, Mark Flanagan never dreamt for a moment that he would be playing scrum-half in a Grand Final for St Helens, who will be up against their fierce rivals Wigan.
The Saints coach, Nathan Brown, was already on his sixth half-back combination of the season when he saw the second-rower throwing the ball around in a light-hearted pre-training game of tick-and-pass. He did not realise it, but he was passing his audition for the club's problem position and now he has to pass the test again against Wigan – the hot favourites.
"I was throwing it out of my backside… cut-out passes... I love all that stuff," Flanagan says. So he should. He is the son of Terry Flanagan, one of the cleverest ball-handling forwards of the 1980s for Oldham and Great Britain, and the winner this week of a lifetime achievement award.
"My dad had a pretty good pair of hands," Mark says with some understatement. "I was never the biggest second-rower either, so I prided myself on having a bit of skill."
Brown had seen enough of that to give him a go. "I was willing to give it a try," Flanagan adds. "I don't really play as a conventional No 7 – I still run the ball quite a bit – and we divide play-making between me, Jordan [Turner] and Lance [Hohaia]. It's like an extra voice organising things."
Flanagan started out as a toddler at the Saddleworth Rangers club, where he still likes to go with his old team-mates on a Saturday afternoon off. At 16, he signed for the Bradford Bulls and was then the first player Brian Noble recruited when he took over as coach at Wigan.
It was Flanagan's good fortune, he says now, that the Australian club Wests Tigers saw him play the game of his life, ironically against Saints. "I made about 50 tackles and scored a try, so they must have thought I wasn't too bad," he says. He had two seasons living in Sydney and playing in the uniquely demanding NRL. "I learnt so much, as a player and as a person," he says.
Back in England with St Helens, his luck changed for the worse with a potentially career-ending knee injury last season that required a full reconstruction. When he recovered, he was so far down the pecking order that he was sent out earlier this season, under the game's controversial dual registration scheme, to Rochdale Hornets.
The injuries that have punctuated Saints' season, however, led to him being called back, originally to shore up the pack and now to fill the gap at scrum-half.
Saints began the season with the new Australian recruit Luke Walsh playing there – and playing so well that he looked like the long-term answer. Then came a season-ending ankle injury.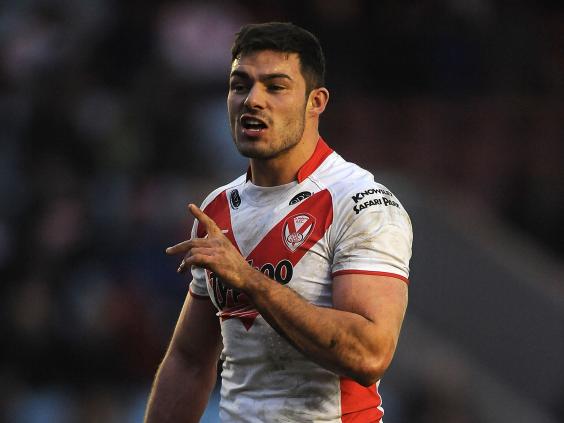 Paul Wellens, Jon Wilkin, Gary Wheeler and Hohaia all tried to pick up the conductor's baton, but were either injured or needed elsewhere in the team. It was a pattern of destabilisation that has continued all the way into Grand Final week, with Brown announcing that he is leaving after this match.
"It's been that sort of season," Flanagan says. "We've had to change the way we do things according to who's been available."
To some, that has made this year's team functional rather than classic Saints, but they have got the job done, finishing first in Super League and then making it all the way to Old Trafford in the play-offs.
Flanagan is more at home than most in the big city. He has made his share of appearances in the gossip columns, notably when he was linked with Coronation Street's Michelle Keegan, who played the ill-fated barmaid Tina McIntyre. Nor is he above a bit of on-field mischief. It was he towards whom Zak Hardaker of Leeds blew a kiss during a match – something for which Hardaker found himself under investigation, which was later dropped, for homophobia.
There is a business-like side to Flanagan, however. Along with injured team-mate Wilkin, he has recently opened a swish café called Pot Kettle Black in Manchester's prestigious Barton Arcade.
"Rugby doesn't carry on for ever," says Flanagan, 26. "I sampled a bit of café society in Australia and thought it was something I could do here." He does not consider himself a fully qualified barista yet, though. "My role is more like taking the rubbish out," he says.
Flanagan has proved adept at taking on new roles in his rugby career so far. On the face of it, though, playing a converted forward in the key position of scrum-half at Old Trafford tonight is a potential weakness. It is Wigan's settled side and balanced squad that makes them look likely winners, but if they make too many assumptions about Flanagan and his team-mates, they could find that trouble is brewing.
Reuse content