For individual clubs as well as the game of rugby league as a whole, the stakes are distinctly higher this year.
The Super League season, which begins with last year's Grand Final winners, Wigan, playing the League leaders, Huddersfield, at the DW Stadium, is charged with a new significance following the decision that the bottom two will go down, reducing the competition to 12 clubs.
Not only that, but next year will see the reorganisation of the two top divisions into two 12s, splitting in the latter stages of the season into three eights.
Nobody really knows how that is going to work out. The only precedent, however, is not encouraging. Swiss football came up with something similar a decade ago; as a contribution to European civilisation, it proved less durable than the cuckoo clock.
One thing is certain: just where you are in this new structure will be a matter of huge importance to clubs. However chilly the fiscal winds have been at the bottom end of Super League, for instance, it will be a lot tougher for the two clubs who drop out.
The one thing that can be said is that it will, in theory, be easier for a London or a Bradford to get back into Super League. It was what the clubs wanted; now the challenge is to make it work.
The game is rather better placed to do that than looked likely a few months ago. There has been the success of the World Cup and the boost for the collective morale that it provided. It is a shame that its momentum has not been channelled in a way that would immediately have an impact on the domestic game; England do not play until after the end of the season and there is no solid confirmation that there is to be a Four Nations in Australasia then.
Super League has acquired a title sponsor, after two seasons without one, and an improved deal with Sky, stretching ahead to 2021. It has also achieved a semblance of unity, after threatening to pull itself apart over that old chestnut of who calls the shots in Super League.
For the time being, the RFL's chief executive, Nigel Wood, has got his way over the future shape of the competition, although it is difficult to imagine the clubs falling meekly into line for ever. That applies particularly to Wigan, whose owner, Ian Lenagan, would be the rallying point for any dissident movement, particularly for clubs dissatisfied with the TV deal.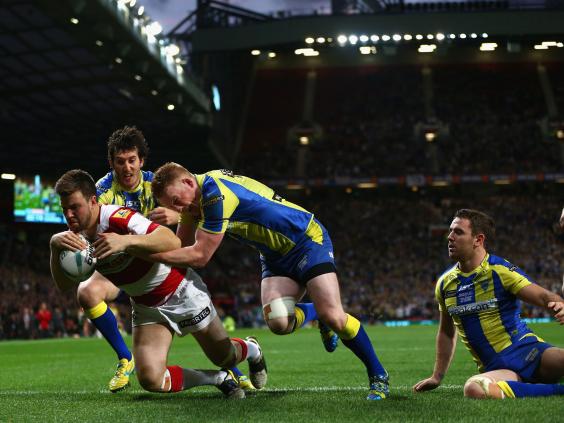 His club's prestige could hardly be much higher, following their double triumph in the Challenge Cup and the Grand Final last year. They are undeniably the team to beat, but they have lost their biggest star – Super League's biggest star, for that matter – Sam Tomkins.
The player who has become the face of the modern game has chosen to take his thrilling skills to the New Zealand Warriors in the NRL. It was not something Wigan could have prevented by throwing money at it, because – to his credit – Tomkins fancied the challenge of something completely different. As soon as Lenagan knew it was inevitable, he went straight out and signed a full-back who, in the short term at least, could be just as exciting, in North Queensland's Matty Bowen.
The teams who might seriously challenge them are, for the most part, the usual suspects. Leeds' blue-and-golden generation are growing a little grey around the temples, but they might have one more big season in them.
Warrington have to find a substitute for the different types of inspiration that have been brought to bear by Lee Briers and Adrian Morley. Briers, who is retiring on medical advice at the age of 35, will be particularly missed by neutrals as well, such have been the range and unpredictability of his skills.
The club at which he began his career, St Helens, could be in line for a better season after the frustration of last year. They have recruited well and have a number of promising young players who were promoted ahead of schedule last season and should show the benefit of that experience.
The most intriguing name to appear in various predictions of who will make the play-offs, however, has been that of Salford. Last-placed in 2013, they are, thanks to Dr Marwan Koukash's apparently bottomless pockets, a completely different proposition this time.
They have signed virtually a new team, including two of the most creative half-backs in Super League in Castleford's Rangi Chase and Tim Smith from Wakefield. Local lad Morley and Wigan's Harrison Hansen are other notable acquisitions.
To go straight from the bottom to the top, as some have suggested might be possible, is asking too much, but the rebranded Red Devils should certainly be in the top eight and the play-offs.
That leaves London Broncos and Bradford as the likely candidates for the drop into the Championship. After the struggles they had to find a home and to field a team, merely finishing the season will count as a success for the Broncos, who will be operating out of Barnet's Hive in far north London.
Bradford, such a force in the first decade and more of Super League, are still in a terrible mess, with a tangle of debts and owners holding them back. If anyone is to come to the rescue of the Bulls and the Broncos, it is liable to be Wakefield, who have lost too much talent over the close season and replaced it largely with unknown quantities.
The more ambitious Championship clubs – the likes of Featherstone, Leigh and Halifax – will use this season as an opportunity to strengthen on and off the field. For any of them, getting into Super League will be a dream fulfilled, but avoiding being an embarrassment there will be a collision with cold reality.
Super League 2014: How they match up
Bradford Bulls
Coach Francis Cummins
Last season Ninth
Still on only half of their Sky allocation, as a punishment for their previous financial troubles, the once-mighty Bulls are not going to find life any easier. There are guts and determination within the club, but there is also a steady drain of talent.
Prediction 13th
Castleford Tigers
Coach Daryl Powell
Last season 12th
Cas have looked more solid under the coaching of Powell. A big turnover this time, but everything depends on how adequately they can replace Rangi Chase. If the answer is not very well, they could easily be in relegation trouble.
Prediction 10th
Catalan Dragons
Coach Laurent Frayssinous
Last season Seventh
The Catalans have been rather marking time over the past couple of years. Rémi Casty and Steven Menzies will be badly missed this time, but the French club's recruitment looks sound.
Prediction Seventh
Huddersfield Giants
Coach Paul Anderson
Last season First
The Giants were the most consistent team in the competition until they ran out of steam in the play-offs. It might be a bit much to expect their key players to perform as well for as long this season.
Prediction Fifth
Hull FC
Coach Lee Radford
Last season Sixth
Radford will be the youngest coach in Super League and will set about trying to freshen up Hull's approach. Doubts remain over whether they have finally solved their perennial half-back problem.
Prediction Ninth
Hull Kingston Rovers
Coach Craig Sandercock
Last season Eighth
The Robins are another club with a vastly influential half-back to replace – in their case Michael Dobson. They look strong enough in the forwards, however, to gain the all-important local bragging rights in the city of Hull.
Prediction Eighth
Leeds Rhinos
Coach Brian McDermott
Last season Third
Leeds had the unusual experience of winning no trophy last year and have recruited sparingly this time. They have brought in quality, however, and they remain a threat to anybody.
Prediction Fourth
London Broncos
Coach Tony Rea
Last season 13th
An already weak squad has been further ravaged over the winter. Anything better than last place and an ignominious drop into the Championship should prompt an immediate stewards' inquiry.
Prediction 14th
St Helens
Coach Nathan Brown
Last season Fifth
A couple of fallow years for Saints, but plenty of young talent is working its way through. Will have a monster pack this year, but they need Luke Walsh to be the organising half-back they have missed.
Prediction Third
Salford Red Devils
Coach Brian Noble
Last season 14th
A new team, bought with Dr Koukash's money, has much expected of it. The question is how well he has spent it, with doubts about the age and discipline of some newcomers.
Prediction Sixth
Wakefield Wildcats
Coach Richard Agar
Last season 11th
Endless financial problems have seen a drain of their best players. It would be a major surprise if the new season held much more than a battle with Bradford to avoid the second relegation place.
Prediction 12th
Warrington Wolves
Coach Tony Smith
Last season Second and beaten Grand Finalists.
A lot of expertise and experience has left. The signs are that the quality is there to compensate for the losses, but maybe not enough to bring them the Grand Final victory they crave.
Prediction Second
Widnes Vikings
Coach Denis Betts
Last season 10th
Widnes have achieved the gradual improvement that they promised over the last few years. Few teams enjoy going to play them on their plastic pitch. The next step would be to make the play-offs, but they don't look quite ready for that.
Prediction 11th
Wigan Warriors
Coach Shaun Wane
Last season Fourth and Grand Final winners.
The champions have lost a platoon of quality players, led by Sam Tomkins, who should be missed by the entire British game. The winning culture within the club is so strong, though, that Wigan look favourites to retain their title.
Prediction First
Dave Hadfield
Reuse content