As Britain claimed its best results at the finish of the Solitaire du Figaro in Dieppe and Team France at last announced sponsorship for its challenge for the America's Cup in 2017, the World Match Racing Tour has been bought from the present Malaysian owners by the Swedish company which produces the M32 catamaran and with it moves the world tour into catamarans next year in a fleet being built especially for the event.
In Magma Structures, the company which has just built the world's tallest superyacht masts in Portsmouth, Alan Roberts scored the best British finish in 40 years with ninth overall, while Artemis Academy's Robin Elsey finished 15th overall as top rookie. And in what is being claimed as the best year yet for British solo sailing Jack Bouttell (GAC Concise) finished 10th overall and Sam Matson (Chatham) was 13th.
At the Hotel de la Marine in Paris, Franck Cammas, partnered by Michel Desjoyeaux and Olivier de Kersauson, said they had secured €5m a year for three years from Groupama, the insurance company which has long supported Cammas but was due to end its sailing commitment at the end of this year. Further finance is being sought and it is expected that the challenge will be helped by the French army and navy.
But, barring a stroke of French design genius, it will need a lot bigger budget than that if it is to have any hope of winning. The day before the British challenge led by Sir Ben Ainslie announced that the team would become Land Rover BAR and that it has now raised 75 per cent of its £80m target. That target has not changed in a year when the holder, Oracle Team USA, now based in Bermuda, and the organising America's Cup Event Authority has claimed that costs were being considerably reduced.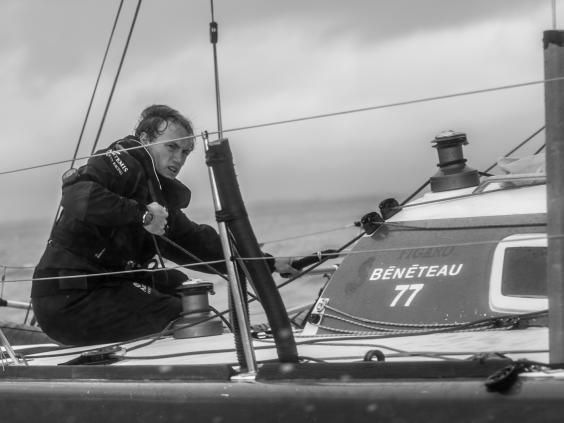 "There has been a huge effort for the last 12 to 18 months," said Sir Ben, introducing Martin Whitmarsh, the man he has recruited from Formula 1 to be chief executive officer. "That may be the biggest decision I have taken," he added.
As well as bringing his engineering background to the game, Whitmarsh is also tasked with turning BAR into a broader commercial vehicle, something in which he was involved at the McLaren F1 team. He also sees part of his job as keeping all of the research projects on the financially straight and productive narrow.
The team at BAR, led by Andy Claughton, sees a major budget being needed researching areas like the foils on which the now 49ft 6in wing-powered catamarans (barring yet more adjustments) will skim across the water. Controlling the wing is also a complicated business.
Land Rover is already involved in sponsoring the Extreme Sailing Series (ESS) in a three-year contract which finishes at the end of this season, but marketing boss Mark Cameron is already in talks with Mark Turner about a possible renewal. ESS is also introducing a foiling catamaran next year, and Cameron was ready to acknowledge the obvious synergies between the two events.
Before that, all eyes will be on the America's Cup pipe opener in Portsmouth at the end of July. Six teams will be there with Louis Vuitton as title sponsor. It is backed by BAR board member Sir Keith Mills, deputy chairman of London 2012 and a board member at Premier League football team Tottenham Hotspur, through his Team Origin event management company.
The budget for a four-day event aiming to attract 500,000 visitors and that is selling tickets to both race-watchers and Spandau Ballet concert-goers is unspecified but thought to be between £4m and £5m. Sir Keith, whose Team Origin hopes to announce three Portsmouth event sponsors in the next fortnight, is candid when he says he expects to make a "small" loss this year but hopes to make profit on the 2016 event. The racing off Southses Common would he predicted, be "bloody hairy."
"This is the beginning of our journey, not the end," said Sir Keith. "This is a 20 or 30-year project."    
Reuse content