With Wrestlemania 30 just weeks away and wrestling's greatest season in full swing, a long-time fan takes a look at why you should be tuning in – and maybe even spending your hard-earned money watching WWE.
 
Why should I watch WWE?
It's the world's best soap opera. It's a weekly display of athletic prowess. And because Wrestlemania has been, in recent years, as big as the Super Bowl – only a lot more enjoyable to watch.
What about characters? Who are the good guys?
John Cena – WWE's undisputed star, Cena is a hero to millions of children and a villain to as many adults (if you can get them to admit they watch WWE, that is). Cena has been the main star of the promotion for almost a decade now, although he's nowhere near the household name that Hulk Hogan, Steve Austin or The Rock are/were. You only have to look at his film career to see why.
Daniel Bryan – Probably the best 'technical' wrestler in the WWE (and yes, that is a valid description to use), 'D-Bry' is WWE's current hottest property and is the uncrowned 'People's Champion'. 'Held back' by the nefarious 'Corporate Machine', Bryan will look to use his superior grappling skills to win back the title that was so cruelly taken away from him in a previous storyline.
Batista – 45-years-old, boasting a 45-inch neck, Batista returned to the WWE in January, winning the Royal Rumble to earn a shot at Randy Orton's world title. This did not go down well with the fans, who, wanting a Daniel Bryan win, booed him out of the building after realising Bryan wasn't even in the Rumble match. He responded by sticking his middle fingers up at the crowd.
Sheamus – No stereotypes here, except that he's Irish, ginger, pale, supports Liverpool and has a move called 'The Celtic Cross'. His brawler-style makes him popular with the fans and has recently come back from an extended break, which always helps refresh wrestlers who have become a bit stale. Shouts 'FELLAS' as his war cry.
CM Punk – Arguably WWE's second biggest star after Cena, Punk looked set to be involved in one of the biggest matches on the show before walking out on the company. In this crazy world of wrestling you never know what is real and what is part of the storyline, so don't be too surprised if 'The Best In The World' shows up at Wrestlemania, or on March 3 when Monday Night Raw hits his hometown of Chicago.
The Undertaker – You remember him, right?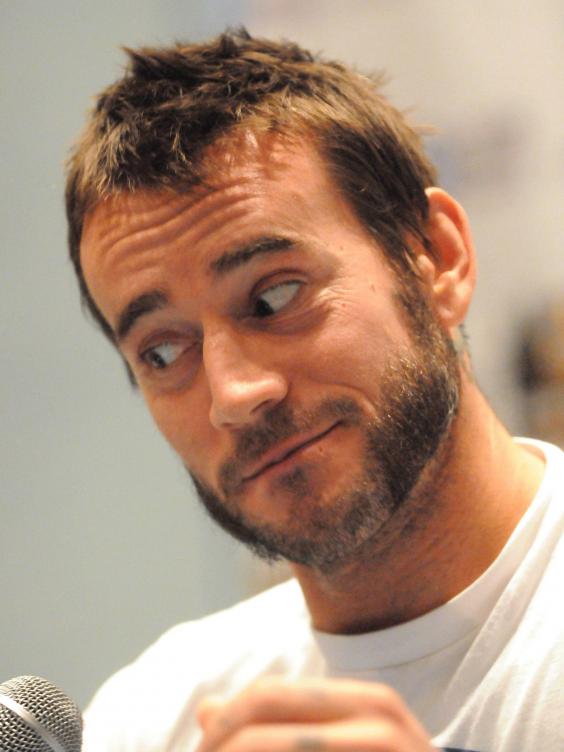 How about the bad guys?
Randy Orton – WWE's handpicked champion, 'The Viper' is wrestling's equivalent of Joffrey from Game of Thrones… because this article isn't geeky enough already.
HHH – Triple H is the real-life Chief Operating Officer for the WWE. He is also an on screen wrestler/authority figure who regularly tips the balance in favour of the bad guys.
The Wyatt Family – Imagine if the film 'Deliverance' featured a family of wrestlers; these guys are looking to take down John Cena once and for all.
Brock Lesnar – A frightening monster of a man, Lesnar holds the distinction of being the only person alive to hold both the WWE and UFC world title. You would not want to spill this man's pint.
Anyone else I should look out for?
The Shield – A trio of young, extremely gifted, extremely dangerous men, The Shield were WWE's breakout stars over the past year and a bit. Entering through the crowd and laying waste to anyone who gets in their way (and plenty who tried to stay out of their way), this unit contains the man who many believe will be WWE's next big star, Roman Reigns, cousin of The Rock and master of The Spear. Believe in The Shield, as they say.
Cesaro – A wrestler whose wrestling skills somehow match his mammoth intellect (the man speaks 6 languages!), Cesaro is a Swiss born wrestler whose star is finally on the ascent after a couple of years of treading water. Off the back of pinning WWE champion Randy Orton in a non-title match and pushing John Cena all the way on Raw, Cesaro is a future champion, no doubt. Watch out for his speciality – the giant swing, where he literally spins people around by their legs, no matter how big they are. Quite possibly the strongest WWE superstar, pound-for-pound.
Big E – The WWE's reigning Intercontinental (secondary) champion, Big E is another very large, very strong man with a bright future. Rising from the ranks of NXT, WWE's developmental federation, Big E may have lost a surname (Langston, since you asked), but has quickly gained a large fanbase - partly due to his incredible Instagram account - and a series of impressive wins.
When/where can I watch it?
UK readers: the two big weekly shows, Raw and Smackdown, both air exclusively on Sky Sports, with Pay Per View events being broadcast on Sky Box Office. A few PPVs a year are shown on Sky Sports, so you can tune in 'for free'.
WWE wrestlers who headed for Hollywood
WWE wrestlers who headed for Hollywood
1/6 'Stone Cold' Steve Austin

One of the biggest names in WWE made his Hollywood debut in 'Recoil' in 2011. The action film, which also stars Danny Trejo and Serinda Swan, sees Austin play a vigilante cop trying to exact revenge on a gang who murdered his family.

2/6 Dwayne 'The Rock' Johnson

Arguably the most successful actor to stem from the WWE industry, 'The Rock' has appeared in 27 titles to date. Johnson's latest role sees him feature in 'Fast & Furious 7', set to be released next year.

3/6 Hulk Hogan

The 60-year-old is the longest-serving wrestler in WWE, but he also played lead character Randolph Spencer in TV series 'Thunders In Paradise', which aired between 1993 and 1995. He also starred in reality TV show 'Hogan Knows Best', as well as taking on several cameo roles in films such as 'Rocky III', 'Muppets from Space', and as a voiceover in 'Gnomeo and Juliet' in 2011.

4/6 John Cena

In run-of-the-mill action thriller 'The Marine', John Cena sets about tracking down a group of thieves who kidnapped his wife. Other small roles have followed, and Cena is set to feature in a new Scooby Doo movie, 'The Curse of the Ghost Bear', sometime this year.

5/6 Randy Orton

Relatively new to the acting scene, Orton appeared in his biggest role so far in '12 Rounds 2 Reloaded' in 2013. The 33-year-old plays an emergency medical technician who finds himself caught in a deadly 12-round game of cat and mouse. With his wife's life in danger, he has to find out why he was chosen before she is killed.

6/6 Mike 'The Miz' Mizanin

Nearly eight years after making his debut in WWE, the wrestler bagged his first film role in 'The Campaign' in 2012, which starred comedy kings Will Ferrell and Zach Galifianakis, 'The Miz' was then chosen for the lead in 'The Marine 3: Homefront'.
When is the next big event?
The Elimination Chamber pay-per-view takes place on Sunday 23 February. It's the last stop before Wrestlemania and the main event sees current champion Randy Orton defend his title against 5 other men inside a steel contraption known as... the Elimination Chamber. Doesn't seem fair, does it?
Anything else I need to know?
Yes – the WWE are launching their very own online TV channel, the WWE Network. This is basically every wrestling fan's dream (and parents'/partner's nightmare), as WWE has handed over the keys to their vast vaults to allow fans worldwide to watch pretty much any past wrestling show they want, while also keeping up to date with the latest goings on. Scheduled to hit the UK in late 2014, expect some modifications due to the recently renewed deal with Sky.
Reuse content