A masked Kane returned at Night of Champions to deliver a Chokeslam and a Tombstone Piledriver to Seth Rollins.
After Rollins defeated the icon Sting to keep his WWE heavyweight title, but lost his US title to John Cena, Money In The Bank holder Sheamus charged down to the ring and hit his signature Brogue Kick on Rollins. Before he could cash in, the lights went out and Kane, dressed in his old masked "Demon" attire attacked former Authority ally Rollins. Sheamus asked Kane to hit Rollins with another Chokeslam, but Kane hit one on the Irishman instead, meaning he failed to cash in and the show ended.
Before Kane's appearance, in the main event, Sting, who may have won the WCW heavyweight title six times, could not beat Rollins to win the WWE heavyweight title. Following a back and forth duel which included 56-year-old Sting jumping off the top turnbuckle to Rollins outside of the ring, and also taking a nasty bump through the announce table. Eventually Rollins prevailed by rolling up Sting after he attempted a Scorpion Death Lock.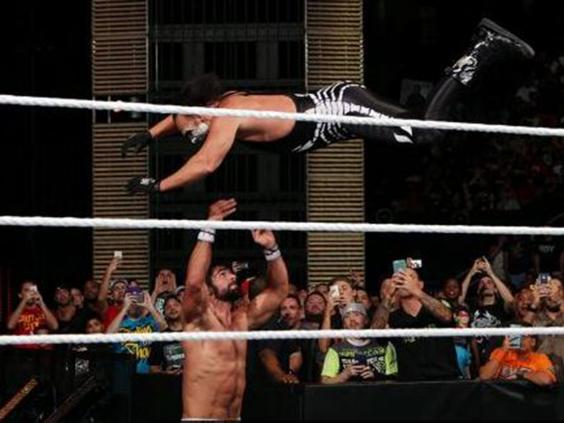 It was double duty for Rollins. Just before the main event, Rollins was forced to defend his US title against John Cena, but he lost clean to the polarised veteran, who secured the three-count after delivering an Attitude Adjustment following a leg drop off the top rope. After the match, Rollins attempted to leave down the ramp, only for Cena to hit him with another Attitude Adjustment outside the ring, thus further weakening him for his world heavyweight title defence against the WCW legend Sting.
Elsewhere on the card, Kevin Owens defeated Ryback to win the Intercontinental title, his first belt in the WWE (not including the NXT title). Owens won after raking Ryback's eyes while the then-champion attempted his trademark Shellshock finishing move, and then sealing the pin with a roll up.
The returning Dudley Boyz failed to win the tag team titles – their match against Kofi Kingston and Big E of the New Day ended in disqualification after fellow New Day member Xavier Woods interfered. The Dudley Boyz did gain some kind of retribution though; Woods was soon put through a table with a 3D.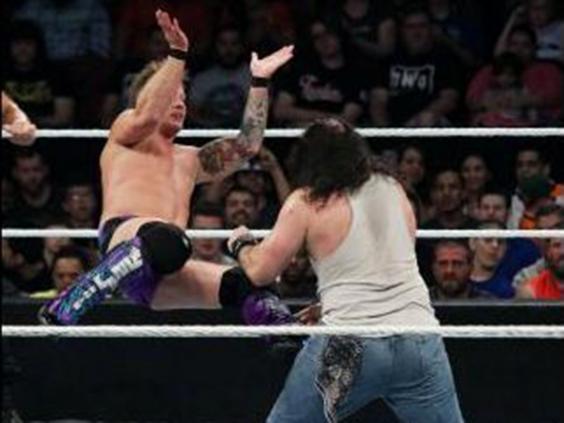 Charlotte ended the longest Divas Championship reign of all time, making Nikki Bella tap out to the figure eight. Charlotte's father and wresting great Ric Flair joined his daughter in celebration after the bout.
In their six-man tag match, Dean Ambrose and Roman Reigns' mystery partner to face The Wyatt Family was revealed to be Chris Jericho, but only after a fan from the crowd had entered the ring, and was soon escorted away. Jericho wrongly tagged himself in while Reigns had the upper-hand against new Wyatt Family member Braun Strowman, and Y2J soon lost the match for his team. Jericho left the ring in anger, clashing shoulders with Ambrose and Reigns.
FULL RESULTS
WWE Intercontinental Championship
Kevin Owens bt Ryback
Dolph Ziggler bt Rusev
WWE tag team Championship
The Dudley Boyz (Bubba Ray Dudley and D-Von Dudley) bt The New Day (Kofi Kingston and Big E) (with Xavier Woods) by disqualification
WWE Divas Championship
Charlotte bt Nikki Bella
Six-man tag team match
The Wyatt Family (Bray Wyatt, Luke Harper and Braun Strowman) bt Roman Reigns, Dean Ambrose and Chris Jericho
WWE United States Championship
John Cena bt Seth Rollins
WWE World Heavyweight Championship
Seth Rollins bt Sting
Reuse content