To begin Raw we had the usual Team Authority, led by Stephanie McMahon, spiel about Survivor Series and Team Cena. They promised by the end of the night that their opponents would be decimated, both figuratively and physically, by the contract signing scheduled to end the show. Triple H then promised that the decimation would start next, with Luke Harper facing Dolph Ziggler one-on-one for his Intercontinental Championship.
Before the bell though, Seth Rollins, Joey Mercury and Jamie Noble attacked the champion with the Money in the Bank briefcase, softening him up for Harper. The bell went and the challenger pinned Ziggler a number of times but somehow, Dolph kept breaking the pin. He tried to fight back but to no avail and when Harper dropped him from up high and delivered a devastating clothesline, the fight left him and Harper became the new champion.
Oh great, Adam Rose was in action next against Tyson Kidd. During the match Rose asked for help from the Bunny, but he was too busy twerking for Natalya – who had joined Kidd at ringside – and Kidd capitalised on the distraction to make Rose tap out to the Sharpshooter. Rose was infuriated and tried to clothesline the Bunny, but the giant animal saw it coming, ducked and did, errr, Bunny business to the Party Animal from behind.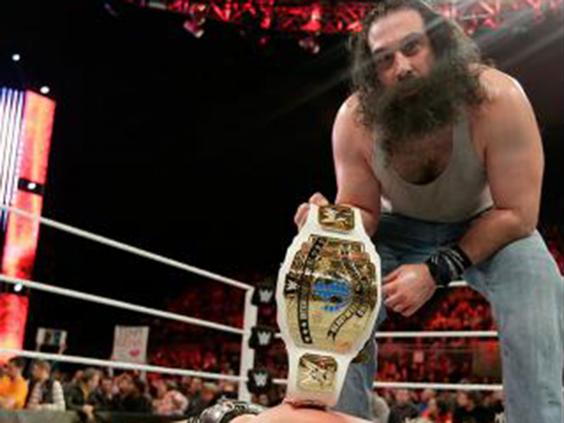 Bray Wyatt came down to the ring next, spouting more babble about saving his Survivor Series opponent Dean Ambrose. Ambrose then appeared on the big screen to reply to Wyatt, but it was all a ploy as, while Wyatt was busy watching, Ambrose attacked him from behind and drove him from the ring.
The man that both Survivor Series teams were wanting to recruit, Ryback, came to the ring now to face Cesaro. The Swiss Superstar was actually very impressive with a number of suplexes and throws but Ryback was able to battle out of most situations. It was actually a great match and at one point, Cesaro countered a Shell-shocked to hit four German suplexes. Ryback got the win though after delivering a Meat-hook clothesline out of nowhere and then his signature move to finally finish off Cesaro.
Rusev was in action next against Heath Slater, who was dressed as Mr America. The match lasted about 10 seconds after Rusev knocked down Slater, then locked in the Accolade to make his opponent tap out.
Team Cena member Big Show was due in action now but before his match, Stephanie McMahon came down to make an announcement: offering to induct Show into the 2015 WWE Hall of Fame if he left Cena. Sheamus came down to stick up for his teammate but Stephanie threatened to have him deported if he didn't leave Cena, she then issued a match between the two and as an extra incentive, the winner would have the chance to win the World Heavyweight Championship.
The two quickly fell out with each other and started scrapping, the physical match swinging back and forth. While both men were down in the ring though, Mark Henry and Rusev came down to get involved, attacking the two. Henry delivered the World's Strongest slam to Sheamus through the announce table, while Rusev locked in the Accolade to the Big Show till he passed out.
A Divas match followed with Nikki Bella facing off against her sister Brie – who had been made to dress up as AJ Lee – in an Exhibition match. Just as Nikki was about to hit the Rack Attack, the real AJ distracted her and her sister was able to roll her up for a surprise victory. AJ then attacked the two after, delivering a flying knee to Nikki and DDT to Brie.
An eight-man tag-team contest was up next, The Usos and Los Matadores against Gold & Stardust and The Miz & Damien Mizdow. The match wasn't actually very good, and Stardust capitalised on one of the Usos kicking one of Los Matadores to hit Dark Matter and win.
The much-coveted contract signing was the last action that we saw on RAW, with the shocking news that Sheamus had to be taken to hospital after suffering a World's Strongest Slam through the announce table and he will be out of Survivor Series. The entire Team Authority made their way down to the ring while the only member of Team Cena to appear was Cena himself.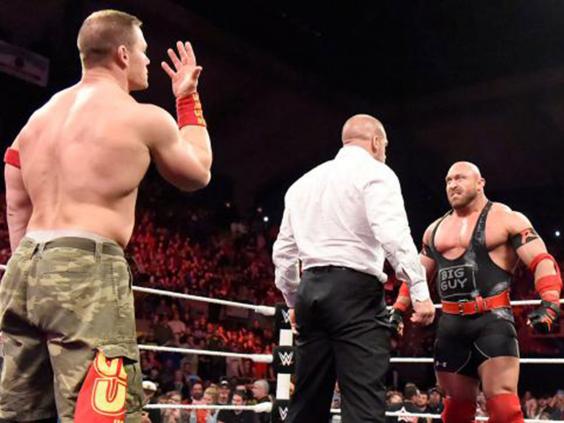 Cena promised that despite being on his own, he would defeat all of Team Authority because he had more heart than anybody else in the ring. Stephanie gave him a good ol' crack to the face, then just as it looked like it would all kick off, Ziggler appeared, then the Big Show, then, errrr, Erick Rowan, then Cesaro.
But just as Cena was starting to look happy, Cesaro walked over to Team Authority laughing…then Ryback's music sounded, he came down to the ring and it all kicked off. The 10-plus men brawled and in the end it was Cena that stood tall after putting Triple H through a table with an Attitude Adjustment.
Results:
Luke Harper DEF Dolph Zigger to win Intercontinental Championship
Tyson Kidd DEF Adam Rose
Ryback DEF Cesaro
Sheamus v Big Show - No Contest
Brie Bella DEF Nikki Bella
Gold & Stardust and The Miz & Damien Mizdow DEF The Usos & Los Matadores
Reuse content