The fallout from Battleground. There were some scores to settle and a bad feeling hung in the air, particularly with Roman Reigns, Randy Orton and Kane.
Chief Operating Officer of the WWE, Triple H started out by addressing the crowd: "I'm madder than I've ever been in a long time…I'm going to tweet my displeasure, or even post a vine!" he said mockingly.
He was in a surprisingly good mood after John Cena retained the WWE World Heavyweight Championship last night, mainly because he knew that he would be naming Cena's Summerslam opponent later on.
Orton came out to interrupt the COO stating that he deserves a rematch against Cena and that he could beat him in four weeks' time. Triple H wasn't having any of it though and he issued a challenge to the entire roster telling them to 'prove themselves' as to why they should face Cena.
Kane, then Reigns, came to the ring to give their tuppence to the debate, before Reigns Superman-punched Kane. This obviously impressed Triple H who promptly arranged a 2-on-1 handicap match to start straight away, Reigns versus Kane and Orton.
The two members of The Authority started off well together but it was perhaps inevitable that they would turn on each other. The duo did well to grind Reigns down but he rallied back and when the Viper refused to tag Kane, the Big Red Machine tried to chokeslam Orton, giving Reigns the opportunity to deliver a Superman punch and a spear to Kane, before getting the successful pinfall.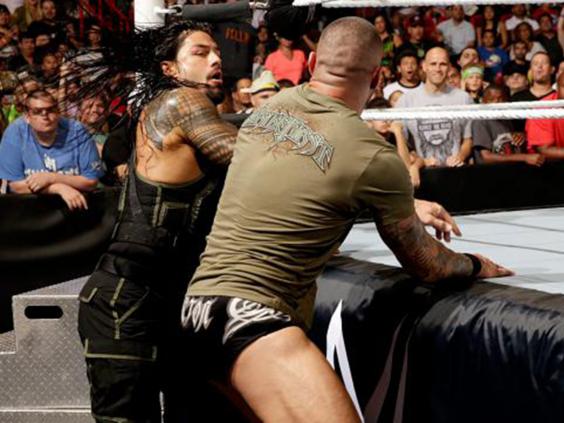 Backstage, Stephanie McMahon gave a rallying speech to Alicia Fox, Cameron, Eva Marie and Rosa Mendes, telling them to 'annihilate' Nikki Bella in their four-on-one handicap match.
Brie Bella was ringside to support her sister but Stephanie came out and taunted her, leading Brie to call McMahon a rather naughty word. Stephanie then slapped her and Brie had to be dragged kicking and screaming out of the arena by security.
Meanwhile, in the ring, it took all of five seconds for Nikki to be pinned. Her opponents set upon her like hyenas on a fresh carcass, she received a scissor kick to the back, and that was that. McMahon then promised to make Nikki quit, just like her sister.
Video: Full interview with John Cena
Bo Dallas was next up against Damien Sandow, who approached the ring dressed as LeBron James, who recently left the Miami Heat for Cleveland.
Sandow dominated to begin with but he was far too busy taunting the Miami crowd to do any wrestling, and Bo capitalised by hitting the cocky Damien with a running Bo-dog before pinning him. It's safe to say that Sandow won't be facing Cena at Summerslam.
Chris Jericho was due to present his Highlight Reel but, during the break, the savage (and aesthetically disturbing) Wyatt Family attacked him out in the back. Bray and co then came to the ring and, in theme with the night, started mocking Y2J. After Wyatt finished his egotistical rant the camera panned to Jericho who had blood dripping from his ear.
Dolph Ziggler had a chance to gain revenge on brand-new Intercontinental champ The Miz. At Battleground, Ziggler thought he won the title in a Battle Royale match after eliminating Seamus, but Miz was hiding under the ring and he ended up tossing Ziggler over the rope to gain the belt.
Both superstars battled back and forth in an enthralling contest (the best of the night actually) and both came close with numerous near pins, but it was Ziggler who ended up winning after connecting with a Zigzag, cementing his place for an opportunity at the title.
Cesaro and Seth Rollins were found arguing with Triple H out back about who should face Cena, so the COO gave Cesaro a chance to prove himself by putting him in a match with Rollin's nemesis, Dean Ambrose.
First up though was the second Divas match of the night, Paige and AJ Lee facing Emma and Natalya in a tag-team contest. It was an easy win for Paige and AJ after the latter locked Natalya in a Black Widow submission, causing the diva to tap.
The win took a sour turn however after Psycho Paige viciously attacked AJ while the champion was celebrating, tossing her into the barrier and then into the announcer's table while shouting "I told you this was my house!" before skipping away gleefully.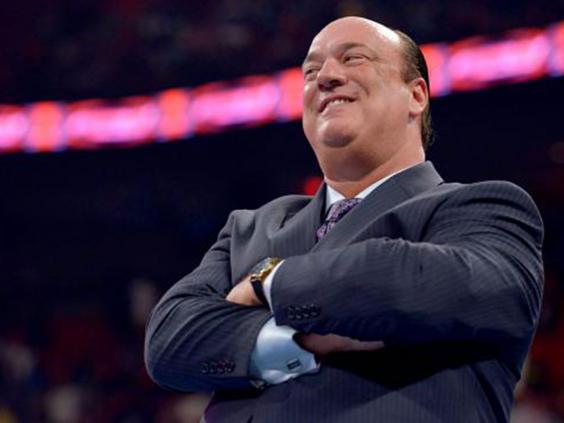 Prancing Fandango was next in the ring against Mr Woo Woo himself, Zack Ryder, who was accompanied by the gorgeous Summer Rae and Layla. And of course, when a diva is ringside, there's bound to be controversy.
Ryder hit Fandango with a Rough Ryder, but as Fandango put his foot on the rope to break up the count, Layla knocked it off, gifting Ryder the victory.
Rapper Flo Rida then performed for the crowd, which was good, if you like that sort of thing.
Stephanie came to the ring to thank Mr Rida but, when she was finished, she was confronted by police who had arrived to arrest her for assault. She was read her rights and put in handcuffs, much to the delight of the baying Miami crowd. It's safe to say she wasn't very happy.
She was visibly upset and annoyed while being dragged through the back of the arena and she started pleading her husband Triple H for help, but all he could do was make a scornful remark about the policemen owning a hybrid car.
HHH was going to follow her down to the station, but when he was reminded that he still had to make a decision about Cena's opponent, he decided to delay leaving, despite saying that 'family always comes first'.
This little sideshow now over and done with, the outrageously large duo of Ryback and Curtis Axel faced Big E and Kofi Kingston in a tag-team match. At one point, Kofi hit Ryback with an SOS but Curtis broke up the count, then, when Kofi followed up with a crossbody from the top rope, Ryback rolled through it and his superior weight on top of Kingston gave Rybaxel the victory.
Xavier Woods then came into the ring and started preaching that Big E and Kofi need to start 'taking what they can' leaving the duo nodding in agreement. Does this mean that we might see a new alliance?
Fresh from his Battleground victory over Jack Swagger, Rusev was in action against the biggest man in the WWE roster, the Great Khali. The Indian dominated the Russian with big boots and chops to begin with, but Rusev was able to knock Khali off his feet and make the big man tap out with the Accolade Lock.
After a creepy little discussion between Stardust and Goldust that nobody could make sense of, it was finally time for the main event between Ambrose and Cesaro. Cesaro started off well, man handling Ambrose and paying particular attention to his opponent's injured shoulder.
Ambrose managed to counter a suplex off the top rope though and from then on, it was his turn to dominate. He very nearly got the win after a devastating clothesline and then, after wrapping Cesaro's shoulder around the steel post, he picked up a steel chair and smashed it into his opponent, giving Cesaro the win via disqualification. Not that Ambrose cared, he was obviously sending a message to Seth Rollins after their Battleground brawl.
With the bouts over and done with, it was time for Triple H to announce John Cena's opponent in four weeks' time.
So who was it?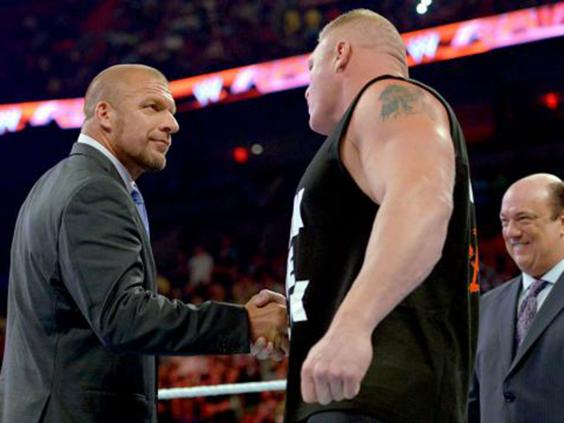 Randy Orton. Or so it was meant to be. As Orton made his way down to the ring, he was blindsided by Roman Reigns, causing the Viper to run off with Reigns in hot pursuit. And then, when HHH thought things couldn't get any worse, Paul Heyman came out to give his opinion. And who did he suggest?
Brock Lesnar. The man who finally ended the Undertaker's WrestleMania streak. And you know what? HHH agreed, perhaps knowing that this is the man who can finally defeat Cena.
And then he left to go see Stephanie. Or go to the pub and leave her there a bit longer. I know which one I would do.
Results:
Roman Reigns DEF Randy Orton and Kane
Alicia Fox, Cameron, Eva Marie and Rosa Mendes DEF Nikki Bella
Bo Dallas DEF Damien Sandow
Dolph Ziggler DEF The Miz
Paige and AJ Lee DEF Emma and Natalya
Zack Ryder DEF Fandango
Rybaxel DEF Big E and Kofi Kingston
Rusev DEF The Great Khali
Cesaro DEF Dean Ambrose