The international match between Germany and the Netherlands has been called off by police at the Hannover stadium after a suspicous suitcase was discovered inside, it has been confirmed. 
Hannover City Police president Volker Kluwe confirmed that a "concrete security threat" had developed in the hours leading up to kick-off, which was due for 20.45 local time [19.45 GMT]. Kluwe added that "there were plans for some kind of explosion".
Kluwe added in a press conference: "We just asked the specators to leave the stadium quickly but without panic… [there are] serious indications that a bomb attack was planned by Islamic assailants,"
Local news outlet Kreiszeitung.de reported that an ambulance filled with explosives has been found near the stadium, along with a "troublemaker" known to the police being seen on the pitch. However, this was soon dismissed, as it is understood that no explosives were found.
Germany's Interior Minister Thomas de Maiziere has said he will not disclose details of the threats that led to the decision to cancel tonight's match in Hannover, as it could "unsettle" Germans and make future security decisions harder. 
De Maiziere asked for "trust" and said that "some of these answers would make our actions in future harder and [...] some of these answers might lead the source of the information not to provide tips to us anymore."
Police announcement outside Hannover stadium: "Please immediately make your way home. There is no reason for you to stay here any longer."

— Anton Troianovski (@AntonWSJ) November 17, 2015
Hannover police chief on ARD: After gates opened, "we received a serious tip that an explosive attack was planned for the stadium."

— Anton Troianovski (@AntonWSJ) November 17, 2015
A German police statement released at the time of the abandonment said: "The game has been cancelled. Please go straight home but stay calm".
A reporter from the Associated Press was refused entry to the HDI-Arena, home of Bundesliga side Hannover 96, around two and a half hours before kick-off. Police spokeswoman Stephanie Weiss soon confirmed that a suspicious package, believed to have been a suitcase, was found at the stadium. It is not known if the suitcase is the direct cause of the match abandonment.
The gates to the stadium were opened soon after the discovery of the suitcase though and fans were let in before German police decided to evacuate the ground, and they soon confirmed that the match had been abandoned and that fans should make their way home in a calm manner.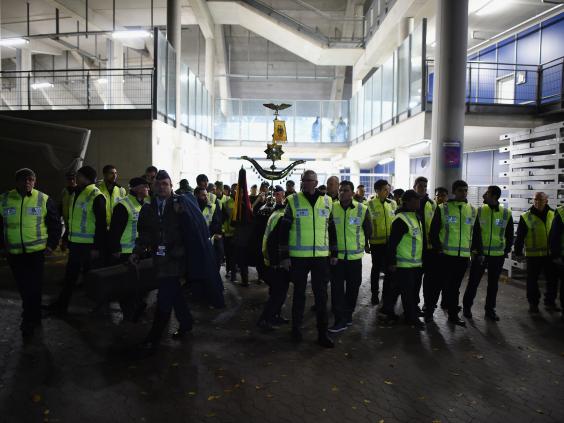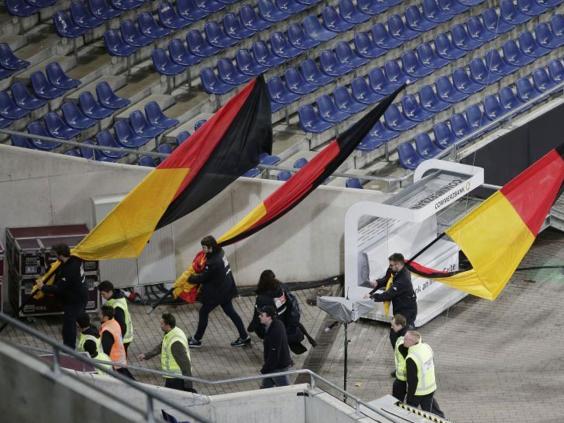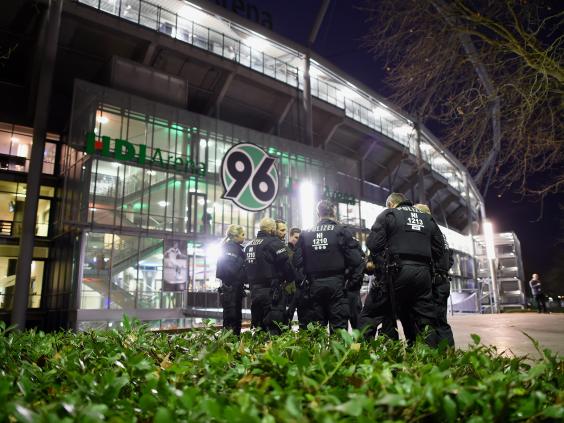 German Chancellor Angela Merkel and several cabinet ministers were expected to attend the match, which comes four days after the terrorist attacks in Paris. The decision to cancel the match was made an hour and a half before kick-off, although a large number of fans had already made their way into the 49,000-seat capacity stadium when they were told to leave by police.
Germany's team spokesman, Jens Grittner, confirmed that the team bus has been diverted away from the stadium but added that they were safe.
"We were re-routed on our way to the stadium and are now in a safe area," Grittner said on Twitter.
Earlier in the day, police confirmed that there had been a bomb threat near the HDI-Arena when a 'suspicious suitcase' was found. Police had been patrolling the grounds outside the stadium and were seen with guns and dogs, and a section of the road leading to the HDI-Arena had to be closed off before the all-clear was given and fans were let in to the stadium.
It was reported soon after the match was abandoned that a second venue in Hannover, believed to be a musical venue, also had to be evacuated. A third evacuation took place at a train station, where a bomb disposal unit secured a suspicious package from one of the trains.
The match is the second to be called off on Tuesday, with the decision taken overnight to abandon Belgium's international friendly against Spain at the King Baudouin Stadium due to security fears.