Charley Hull's words are like balls on a driving range: whacked out fast and in several directions.
Her 2014, for instance? "Yeah, I think it's been really good and consistent – played some good golf – got a win out of the way – wrapped it up with the Order of Merit – played well in the Majors – played good in America – so I'm pretty happy." She stops and waits for the next question, with just the vestige of amused challenge in her eyes. It's a game.
Like golf. The 18-year-old from Kettering who did indeed win the European Order of Merit this year, with her prize money tally of £208,500, only one year after being named their Rookie of the Year, is extraordinary in many ways. One of them is the fact that she treats golf like a game. To all the yip-riven, swing-doctoring, green-dodging, club-smashing desperadoes who regularly spend 18 holes in purgatory, this will seem incredible, but is a fact nevertheless.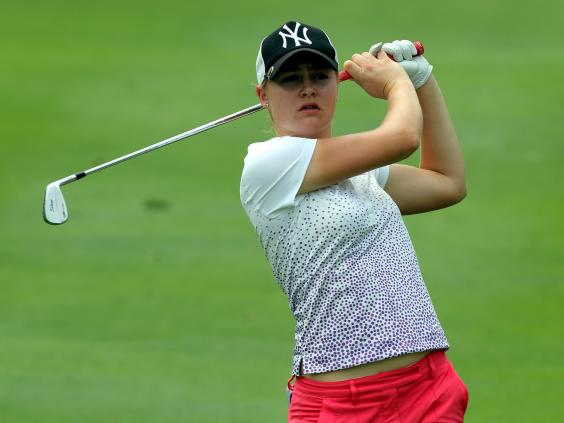 "Oh, Charley likes it when she hits a bad shot," said her father, Dave, a former plasterer. "She says to me: 'Then it gives me the chance to hit a great one to get out of trouble.' That's Charley."
The benefit is not only to herself. If golf is undergoing a depression in popularity, especially in the 16 to  25-year-old age group, with the number of those playing once a week dropping by a mammoth 45 per cent in three years, it desperately needs breezy, charismatic characters to bring it back.
Rory McIlroy can only do so much, and apparently it wasn't enough to see off the fans of that diamond- studded dog-walker Lewis Hamilton in the BBC Sports Personality of the Year awards.
Cue Hull. She encapsulates everything that golf isn't traditionally. She is young, female, half-Polish, and definitely doesn't own a tweed skirt. She does, however, own a BMW,  although she can't drive it: "My manager keeps trying to book me in for my test but I haven't even studied the theory yet. I have had a lesson but it turned out I was going at 60mph in the 30mph zone. I thought it was fast for 30. But I was looking at the rev counter instead."
Since bursting into the public consciousness in 2013 when, as the youngest player in Solheim Cup history, she spurred Europe to their first win on US soil, her special nervelessness has been a regular feature of the Ladies European Tour. In March she won a tournament in  Morocco, receiving a jewel-studded golden purse from the king. At the Kraft Nabisco Championships, the major US tournament, this year she carded a 66 in the third round to take her two shots behind the leaders. The progress is all upwards but, according to her, it's not the planning that makes it so. "I don't plan anything," she admits. "I go with the flow. The thing with me – what I like – is that I don't know what's going to come out of my mouth next.
"I'm intense as well,  because I'm competitive and I like a challenge, but I don't feel pressure. I'm definitely an outdoor type. You know Bear Grylls – I'd love to do stuff like that. I'd be in my element."
Golf is what she has done all her life, winning her first major national title at 10 despite blowing over on a windy tee at Turnberry. Her dad, fortunately on hand, picked her up again. His role, a dispenser of profound common sense and humanity, has been crucial. He keeps telling his daughter, the youngest of three stepsisters, that to "switch on" she has to "switch off". He encourages relaxation and fun. He even wants her to get a boyfriend. "But she won't," he said in exasperation.
"I would," she admitted. "But I'm really fussy with guys. I don't like those maintained pretty-type boys. I like somebody who can stand up for himself. An outdoors type, not a poncey pretty boy. And I haven't got many girlfriends. Apart from my sisters, all my friends are boys. I'm going out before Christmas in North- ampton with 20 friends and I'm the only girl. I'm like one of the lads. We're all wearing Christmas jumpers. I haven't found mine yet. I don't mind what it's like. Maybe Santa with a big beard."
Welcome to the  future of golf. If anyone can unstuff the sport, it is her. "What I love about it is beating people. I think it's great for young kids. And you can have a lot of good fashion with it too. People say you're not an athlete for playing golf. But you watch me in the gym. You go out there and try to hit a golf ball when it's windy and cold. Then tell me I'm not an athlete."
Reuse content