When Donald Trump bought the famous Turnberry golf club in Ayrshire last year, he believed his name would soon be cemented alongside the legends of the game. 
But his dream of handing over the trophy at The Open is in tatters, The Independent on Sunday can reveal, after golf's governing body, headquartered in Scotland, privately decided that his reputation is now so toxic that the newly renamed Trump Turnberry can no longer host the game's most prestigious tournament.
Controversial remarks made by Mr Trump in his campaign for the Republican nomination – about Muslims, Mexicans, Chinese and women, among others – have given him a near-pariah status in the global game, raising the risk of a boycott by sponsors and international players. 
Previously, the new chief executive of the Royal and Ancient Golf Club of St Andrews, Martin Slumbers, had been expected to endorse Turnberry as a venue for the 2020 Open. 
But in June Mr Trump called Mexican immigrants "rapists" and called for a wall to be built along the United States-Mexico border. The comment, according to R&A insiders, raised eyebrows about what might come next. 
One member told The Independent on Sunday: "Those who forecast worse would come, including warnings from our American cousins, have been proved correct."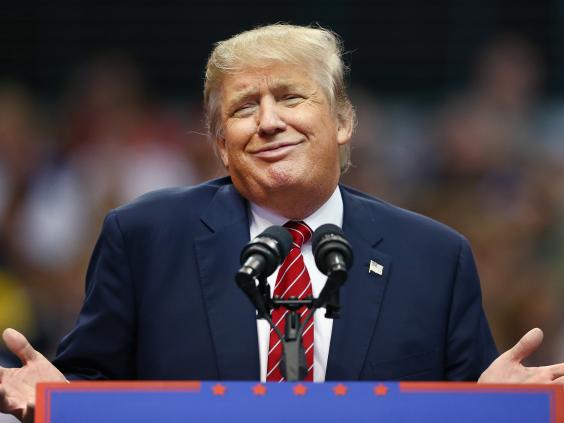 In July, Peter Dawson, the former chief executive of the R&A, then in the final stages of the handover to Mr Slumbers, was asked if Turnberry's place on the Open rota had been compromised. Mr Dawson said "We'll just let a bit of time pass. The championship committee will deal with this."
The Republican frontrunner's insulting comments about "cunning Chinese", denigrating the war record of Senator John McCain, and a jibe about menstruation towards a female television news presenter, did not dent his popularity among the Republican right's hardliners. 
But his call for a "total and complete shutdown" of US borders to all Muslims, until, as he claimed, "our country's representatives figure out what's going on", appears to have been the final straw for the R&A. 
One member, close to the championship committee, told the IoS about recent discussions: "One word was thrown around: Enough."
The property tycoon bought the Turnberry resort in April last year from the subsidiary owned by the Dubai investment group chaired by Ahmed bin Saeed Al Maktoum. It was renamed Trump Turnberry and a £200m upgrade was promised. 
The purchase appeared to give the billionaire the near-guarantee that when the Open came to his place, he would be centre-stage at the winner's presentation party on the 18th green, along with Mr Slumbers and other dignitaries, a ceremony shown to millions around the world.
Although the R&A is stuffed full of establishment figures, Turnberry with Trump is now seen as a risk they will not take. Another insider said: "2020 will not happen here. Turnberry will be back. But perhaps not Trump Turnberry."
Even after his remarks about Muslims, Mr Trump still leads current polls of Republican voters with about 35 per cent, double his nearest rival, Ted Cruz. 
However, while he may dream of handing over the Claret Jug having jetted into Scotland from the White House, the R&A doesn't see it that way. Middle East sovereign wealth is a key element of European Tour golf sponsorship. Leading sponsors include DP World, the Dubai-based marine terminal company chaired by Sultan Ahmed bin Sulayem. 
Donald Trump's most controversial quotes
Donald Trump's most controversial quotes
1/14 On Isis:

"Some of the candidates, they went in and didn't know the air conditioner didn't work and sweated like dogs, and they didn't know the room was too big because they didn't have anybody there. How are they going to beat ISIS?"

Getty

2/14 On immigration:

"I will build a great wall — and nobody builds walls better than me, believe me —and I'll build them very inexpensively. I will build a great, great wall on our southern border, and I will make Mexico pay for that wall. Mark my words."

Reuters

3/14 On Free Trade:

"Free trade is terrible. Free trade can be wonderful if you have smart people. But we have stupid people."

PAUL J. RICHARDS | AFP | Getty Images

4/14 On Mexicans:

"When Mexico sends its people, they're not sending their best. They're sending people that have lots of problems. They're bringing drugs. They're bringing crime. They're rapists."

Getty

5/14 On China:

"I just sold an apartment for $15 million to somebody from China. Am I supposed to dislike them?... I love China. The biggest bank in the world is from China. You know where their United States headquarters is located? In this building, in Trump Tower."

Getty Images

6/14 On work:

"If you're interested in 'balancing' work and pleasure, stop trying to balance them. Instead make your work more pleasurable."

AP

7/14 On success:

"What separates the winners from the losers is how a person reacts to each new twist of fate."

8/14 On life:

"Everything in life is luck."

AFP

9/14 On ambition:

"You have to think anyway, so why not think big?"

Getty Images

10/14 On his opponents:

"Bush is totally in favour of Common Core. I don't see how he can possibly get the nomination. He's weak on immigration. He's in favour of Common Core. How the hell can you vote for this guy? You just can't do it."

Reuters

11/14 On Obamacare:

"You have to be hit by a tractor, literally, a tractor, to use it, because the deductibles are so high. It's virtually useless. And remember the $5 billion web site?... I have so many web sites, I have them all over the place. I hire people, they do a web site. It costs me $3."

Getty Images

12/14 On Barack Obama:

"Obama is going to be out playing golf. He might be on one of my courses. I would invite him. I have the best courses in the world. I have one right next to the White House."

PA

13/14 On himself:

"Love him or hate him, Trump is a man who is certain about what he wants and sets out to get it, no holds barred. Women find his power almost as much of a turn-on as his money."

Getty Images

14/14 On America:

"The American Dream is dead. But if I get elected president I will bring it back bigger and better and stronger than ever before and we will make America great again."

GETTY
Jumeirah Golf Estates and the Emirates airline are also leading sponsors of the big-money finale to the European tour. The Damac real estate company in Dubai, currently building a multi-million-dollar golf complex marketed with the Trump signature, this week stripped his name from the project.  
Saudi Prince Al-Waleed bin Talal called Mr Trump "a disgrace to all America", saying he should withdraw from the US presidential race.  
Mr Trump's reply indicated his disregard for any consequences. He called the prince "dopey", saying that he wouldn't be allowed to control US politicians when he became president. 
Organisations that represent tour players in the United States and Europe, have so far said nothing official in response to Mr Trump's racist comments.  But that is not expected to last much longer....
Mr Trump himself has filed estimates which say his golf-related business is worth $1.5bn (£1bn) of his estimated $10bn fortune, though experts claim his golf assets are over-valued. 
One PGA official in Florida told The IoS: "Trump has been good for golf, and golf has been good to Trump. Can we live without him? Maybe we'll have to."
In St Andrews, the question has already been answered. Without the help and goodwill of the Scottish Government, the R&A would find it near impossible to stage the Open in Turnberry. And without sponsors and players – who have threatened boycotts before – there would be no Open Championship. Turnberry may have to wait. 
Reuse content