Ian Poulter likes Mondays. Well, it is 60 degrees, the coffee is brewing in the pot and the Florida sun is burning off the early-morning mist over Lake Nona. That is what you call a room with a view. And it could be yours. All you have to do is believe.
This is not some cheap job advert in the Orlando Bugle promising the impossible, but the overt messaging in the tome laying bare Poulter's rise from market-trading assistant pro to Ryder Cup icon. No Limits is not so much an autobiography as a self-help manual calling the common man to action. If Poulter can turn base metal to gold, so can you.
Yes, there are lots of lively anecdotes featuring the list of characters we know so well. There is a rebuke for his boyhood hero, Sir Nick Faldo, over his unsolicited attack on Sergio Garcia at last month's Ryder Cup. The ultra-individualism of Tiger Woods and why that's a problem in the Ryder Cup setting is given the Poulter treatment, and his comedy bête noire, Colin Montgomerie, is biffed about the ears with some elan. 
There is deep pathos, too, in an opening chapter that captures the tragic fractures that often tear families and communities apart when a child meets a needless, premature end. Poulter's 13-year-old cousin Gary arrived at school with a pocket full of sweets and did not return home. His career might be seen as a reaction to what happened that day. What began as an innocent visit to the shop by the pair of boys before school ended with Gary choking on a sweet in class and the teachers not knowing how to respond.
Poulter would not waste one drop of life, he would pursue every opportunity, chase down every dream.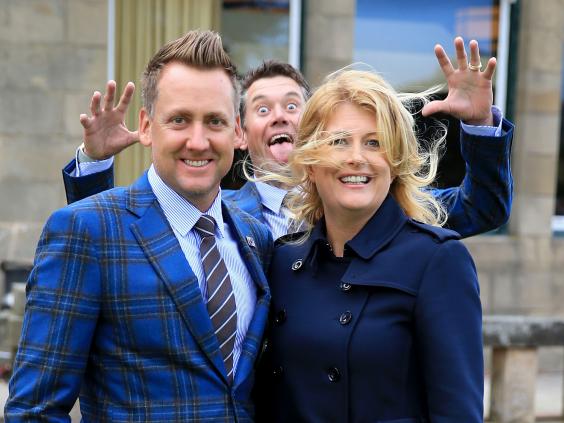 Here is a bloke, then, who dragged himself from the most inauspicious of beginnings to the nirvana of the lakeside home in Florida. The self-styled mansion complete with personal cinema, colossal kitchen and forecourt full of Ferraris you might quibble with on aesthetic grounds but not the leap he made to acquire it.
"If I stop playing golf today I can sit back with the kids and reflect on an amazing journey. I do it often. I think you have to feel that you are grounded in this crazy world I live in. To be able to have done what I've done in the game of golf, from where I came from as a young football player [failed Tottenham Hotspur trialist], and keen, young golfer, I'm really, really proud.
Ryder Cup individual ratings: Who did best?
Ryder Cup individual ratings: Who did best?
1/18 Jamie Donaldson, Europe

Won the Czech Masters to secure his debut and carried that form to Gleneagles, winning two foursomes matches alongside Lee Westwood and securing the winning point with victory over Keegan Bradley on Sunday. 9

GETTY IMAGES

2/18 Victor Dubuisson, Europe

Given special attention by European captain Paul McGinley and took everything in his stride as he claimed two foursomes wins with Graeme McDowell before being sent out last in the singles, with the outcome decided well before his half with Zach Johnson. 8

Getty Images

3/18 Stephen Gallacher, Europe

Deserved his wild card selection after his strong form in qualifying but his partnership with Ian Poulter did not come off and Gallacher was left out after their 5&4 defeat on the opening morning. Lost to Phil Mickelson in the singles to finish without a point. 5

Getty Images

4/18 Ian Poulter, Europe

Few would have thought 'Mr Ryder Cup' would play just twice before the singles and claim only half a point, but his chip-in late in the Saturday fourballs helped stem a US fightback. Birdied the 18th to halve his match with Webb Simpson. 6

GETTY IMAGES

5/18 Justin Rose, Europe

Justin Rose

Getty images

6/18 Henrik Stenson, Europe

Was unduly modest about his part in the three wins with Rose, especially as he had a sore back which meant he sat out the Saturday afternoon session. Will be upset to miss a short putt on the 18th to lose his singles to a fired-up Patrick Reed. 8

GETTY IMAGES

7/18 Lee Westwood, Europe

Felt he needed to justify being selected as a wild card and did so by leading rookie Donaldson to two foursomes wins. Also chosen to speak to the team on Saturday evening to remind them of what went wrong at Brookline in 1999. 8

GETTY IMAGES

8/18 Keegan Bradley, USA

Extended his record alongside Phil Mickelson to 4-0 on the opening morning but lost in the afternoon foursomes and the pair were then left out all day Saturday. Was never ahead in what proved to be decisive singles match with Donaldson. 5

Getty

9/18 Rickie Fowler, USA

Halved his first three matches alongside Jimmy Walker but looked fatigued in a 5&4 foursomes loss on Saturday afternoon and was thrashed by McIlroy on Sunday. 7

Jamie Squire/Getty Images

10/18 Jim Furyk, USA

Won one point from three games before renewing his singles rivalry with Sergio Garcia, Furyk having won at Brookline in 1999 and Garcia getting his revenge at Medinah in 2012. Garcia again came out on top in a hard-fought contest. 6

11/18 Kuchar Johnson, USA

Won twice in foursomes at Medinah but suffered two defeats in the same format at Gleneagles. Battled to the end of his dead rubber singles, making a birdie on the last to claim a half with Dubuisson. 6

Getty Images

12/18 Matt Kuchar, USA

One of four American players not to register a point before the singles, crucially duffing a pitch to the 18th in a Friday foursomes defeat to Donaldson and Westwood. At least got on the scoreboard with a 4&3 over Thomas Bjorn. 6

Getty Images

13/18 Hunter Mahan, USA

One of US captain Tom Watson's wild card's, Mahan won one point from three matches but played well in defeat to Garcia and McIlroy on Saturday and was five under after seven holes against Rose before an inspired fightback from the Englishman. 7

Getty

14/18 Phil Mickelson, USA

Left out for an entire day for the first time ever on Saturday, despite pleading with Watson to play at least once. Had something to prove in the singles against Gallacher and duly won, but a disappointing return. 6

Getty Images

15/18 Patrick Reed, USA

Won two fourballs alongside fellow rookie Jordan Spieth but missed a crucial par putt from two feet on the 16th as Kaymer and Rose escaped with a half in the Saturday foursomes. Was fired up for his singles with Henrik Stenson and won on the 18th. 8

GETTY IMAGES

16/18 Webb Simpson, USA

Was picked to renew his partnership with Bubba Watson but after losing 5&4 in the first match on Friday, did not play again until the singles, where he at least claimed a half with Poulter. 5

Getty Images

17/18 Jordan Spieth, USA

The 21-year-old played superbly with Reed and was then entrusted with the opening singles match against Graeme McDowell, racing three up after just five holes. Made a few crucial mistakes on the back nine as McDowell fought back to win, but tough to criticise the youngest player on either side. 8

Getty Images

18/18 Jimmy Walker, USA

Played all four sessions alongside Fowler and claimed three half points before fatigue set in and contributed to a heavy defeat in the second foursomes. Was an approximate eight under par in beating Westwood in the singles. 8

Getty Images
"It's not about the pennies as such, but what I've been able to create for the family. I have done that better than I could have ever dreamed. When I have friends and family come and stay we go in the games room and look at the trophies. And you know what? I'm proud that I have done it my way. It's not the same as a lot of other players. I have done it in a way that, hopefully, is interesting for people to read about."
Poulter is the anti-Rory McIlroy. At 19 he was a four-handicapper who had just traded up to the position of assistant pro at Chesfield Downs Golf and Country Club, where he was earning £120 a week. McIlroy was a world junior champion by the age of 10, a card-carrying member of the European Tour at 17; a golfer attached to an altogether different trajectory.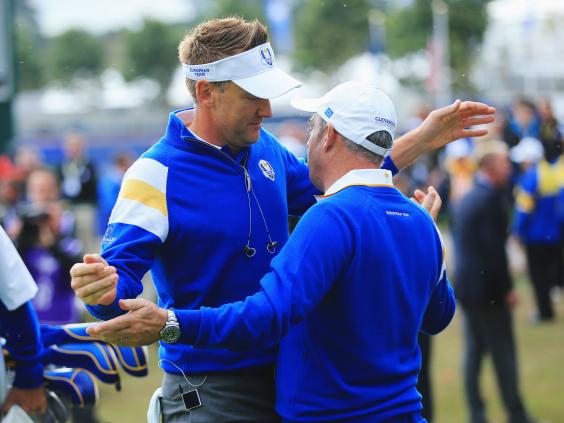 It is almost beyond comprehension that Poulter should one day share not only the same sacred Ryder Cup ground as McIlroy, but lead the genius home one Saturday afternoon at Medinah courtesy of an iron will that refuses to accept second billing. The same attitude that detonated those five successive birdies to set up the mother of all comebacks in Chicago was evident in Poulter's first event as a pro at Panshanger Golf Club in Hertfordshire.
"To win £1,200 as a shop boy earning £120 a week was big news, that's 10 weeks' wages. I have always treated golf as a job. Back in the day it was in a pro shop. That win opened another door, it was a way to jumping on the stepping stone to where I am today. That's the mental attitude you need to keep succeeding.
"I made a number of leaps in my career. Another was winning an Order of Merit on the Hippo Tour, silly as it sounds. I can only compare myself to the players I was playing against. To say I won the Order of Merit playing only seven events out of 17 was to me a big achievement. It was then a case of stepping up. I won that league, I then needed to test myself against some better players. Going to tour school to get a Challenge Tour card was another big goal.
"I have never said to myself I can't do that. If I work hard anything is possible. You look at people who have been successful and they have never put limits on themselves. It is the power of the mind. Why should I have achieved what I have in golf? I truly believe it is because I make sure I think positive and create good things. I don't put barriers there that have to be knocked down."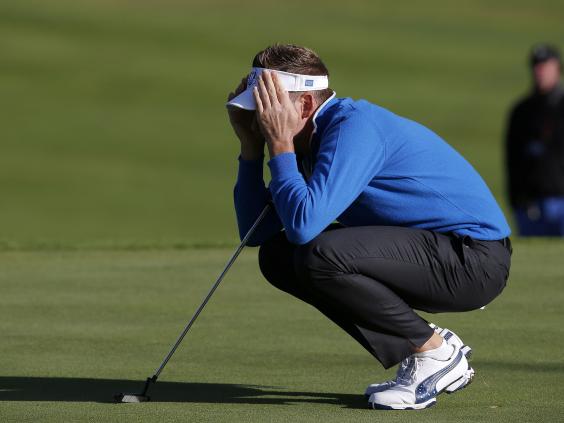 You could argue that Poulter's vault from four-handicapper to the world's top 20 was greater than McIlroy's from boy wonder to major champion. McIlroy was set on his course since chipping balls into washing machines in short pants on local TV. Poulter was still selling Mars bars in the pro shop at the age McIlroy won his first major.
He credits a visit to the Ryder Cup at The Belfry in 1993 as a fan camping with his mates for £3 a night as the catalyst, "the real kicker" that switched him on to what might be, in particular the sight of Faldo in his pomp. It turned out to be the last match won by America on European soil, but the result was irrelevant. Here was a 17-year-old failed footballer with a new goal to shoot at. The love for Faldo would last another 21 years. How ironic it should come to grief in the Ryder Cup setting.
"It was a disappointing comment at a poor time. It was a problem. I aired my views because it was a needless comment. I think the players have lost respect for him over that comment. He opened the club I worked at for seven years. I was the boy working in the shop looking up at the world No 1. I found it a shame that he would say such a thing."
Now he is the daddy and there is a new Poulter making his way in the game, a 10-year-old with a 22 handicap benefiting from the kind of leg-up that is light years away from the Stevenage experience of his father's formative days. "I'm schooling Luke, out caddying for him, and find it fascinating. He is hitting it lovely, won his last three golf tournaments. He shot five over last time, 41 for nine holes and won by four shots. As a dad I was really, really proud."
WORDS OF WISDOM FROM POULTER'S BOOK
Poulter on Tiger
"The Ryder Cup is not suited to Tiger's strengths. For the majority of the year, when Tiger plays, it's about Tiger. He is unbelievably ruthless, probably the most ruthless golfer I have seen.
"It's not about him for that week. It's about the whole team. Being single-minded or dedicated or ruthless or whatever you want to call it is an incredible asset for most of the golfer's year, it just doesn't work for him in that Ryder Cup format. He is not in control that week."
Poulter on Monty
"It is no secret that sometimes he is miserable and sometimes stroppy. He won't mind me saying it. Well, he might, but that's fine. I don't care. He's been stroppy and moody. He's Monty. He can be frustrating, but I'm sure I can be, too. He knows me well enough to tell me to sod off if the mood takes him and I can tell him to sod off if he's getting on my nerves."
Poulter on Faldo
"Faldo might need to have a little look in the mirror. I have a great deal of respect for everything he has achieved, but this [the attack on Sergio Garcia at this year's Ryder Cup] feels like sour grapes.
"It feels like a guy who is still bitter that he lost in 2008 [as Ryder Cup captain]. Faldo has lost a lot of respect from players. There were plenty of things a lot of the players were unhappy with at Valhalla but none of us criticised him. He may find that begins to change now."
No Limits published by Quercus is out on Thursday
Reuse content