Paul McGinley is propped on the sofa with his left leg in a pot, courtesy of operation No 7 on the knee cap he shattered as a teenager. He is used to the inconvenience but perhaps not the demand placed on him by the football club he supports. The come-from-behind victory at home to Swansea last Sunday propelled West Ham briefly into the third spot in the Premier League, an ungodly height for a club that has never won the title.
There is delight in that, of course, but not in the involuntary movements that engage the trauma site when Andy Carroll bulges the net with a header and then repeats the stunt to put a different complexion on the Ryder Cup captain's afternoon. Diafra Sakho's bullet strike? Don't go there.
McGinley hopes, doctor's orders pending, to be in Glasgow on Sunday to attend the BBC Sports Personality of the Year ceremony where the group he led to victory at Gleneagles in September are sure to be commended. He might even collect a gong himself since there cannot be many coaching performances more persuasive than the one that guided Europe to a victory so commanding it left the opposition crushed and squabbling bitterly among themselves.
It tickles McGinley that, in all the subsequent American introspection and cant, the one element the vanquished have failed to acknowledge, as they seek a way out of a sequence that has seen them win only twice in 20 years,  is the quality of the opposition that brought them to their knees.
"I have my own views on what America might do. I don't want to share too much but what I would say, having watched a lot of the fallout these past couple of months, listened to what they have all had to say, I find it quite amusing that I have not seen or heard any recognition of what a strong opponent Europe has become, not only the golf we played, but our strength as a unit. That amazes me.
Ryder Cup 2014 in pictures
Ryder Cup 2014 in pictures
1/30 Jamie-Donaldson-of-Europe-shDay 3

Jamie Donaldson of Europe shakes hands with Keegan Bradley of the United States on the 15th hole

GETTY IMAGES

2/30 Day 3

Jamie Donaldson of Europe is congratulated by Europe team captain Paul McGinley on the 15th hole shortly before Europe won the Ryder Cup

GETTY IMAGES

3/30 Day 3

Patrick Reed of the United States celebrates on the 8th green

GETTY IMAGES

4/30 Day 3

Rory McIlroy of Europe looks on from the 4th tee with JP Fitzgerald

GETTY IMAGES

5/30 Day 3

Vice Captain of Team Europe Miguel Angel Jimenez of Spain dances for the crowd on the first tee

GETTY IMAGES

6/30 Day 3

Ian Poulter of Europe hugs Europe team captain Paul McGinley on the 1st tee

GETTY IMAGES

7/30 Day 2

USA's cheerleader in chief Michael Jordan watches on with a cigar that Miguel Angel Jimenez would be proud of

Getty Images

8/30 Day 2

Zach Johnson and Matt Kuchar celebrate taking the lead on the first hole against Westwood and Donaldson

Getty Images

9/30 Day 2

Cruising in style, Ian Poulter and Rory McIlroy make their way back to the clubhouse followig their halved fourballs round

Getty Images

10/30 Day 2

Justin Rose celebrates clinching the 13th hole during his run of six straight birdies

Getty Images

11/30 Day 2

Jimmy Walker reacts to narrowly missing the hole on the 18th

Getty Images

12/30 Day 2

The ever-colourful American fans were out in force once again

Getty Images

13/30 Day 2

A number of USA supporters arrived in the colours of NFL side the Minnesota Vikings

Getty Images

14/30 Day 2

Ian Poulter roars after chipping in for a birdie on the par-5 16th

Getty Images

15/30 Day 1

Henrik Stenson and Justin Rose put Europe ahead

16/30 Day 1

Jamie Donaldson (left) and Lee Westwood began Europe's afternoon fight back

17/30 Day 1

Keegan Bradley and Phil Mickelson celebrate after the former's eagle on 16

Getty Images

18/30 Day 1

Rory McIlroy, Phil Mickelson and Sergio Garcia discuss play during the opening fourballs

Getty Images

19/30 Day 1

Europe vice-captain Miguel Angel Jimenez, Rory McIlroy and Sergio Garcia make their way around the course

Getty Images

20/30 Day 1

Jordan Spieth and Patrick Reed earned a point in their very first Ryder Cup outing, dismantling Ian Poulter and Stephen Gallacher 5&4

Getty Images

21/30 Day 1

Justin Rose and Henrik Stenson are cheered on by Europe captain Paul McGinley on their way to a 5&4 victory over Bubba Watson and Webb Simpson

Getty Images

22/30 Day 1

Sergio Garcia pumps up the crowd after holing his bunker chip

Getty Images

23/30 Day 1

Garcia chips in from the bunker to give him and Rory McIlroy the lead

Getty Images

24/30 Day 1

Garcia high-fives his caddy Neil Wallace after chipping in from the bunker

Getty Images

25/30 Day 1

Martin Kaymer and Thomas Bjorn smiles as Rickie Fowler holds his head in his hands

Getty Images

26/30 Day 1

Rory McIlroy and Sergio Garcia enjoy the adulation of the fans after taking the lead against Phil Mickelson and Keegan Bradley

Getty Images

27/30 Day 1

Martin Kaymer tees off at the first hole

Getty Images

28/30 Day 1

Rory McIlory and Sergio Garcia salute the fans

Getty Images

29/30 Day 1

Ian Poulter in action

Getty Images

30/30 Opening Ceremoney

Ian Poulter of Europe and wife Katie Poulter pose as team-mate Lee Westwood photo bombs before the Opening Ceremony ahead of the 40th Ryder Cup at Gleneagles

GETTY IMAGES
"We were playing at home at Gleneagles, we had four of the world's top-six players, we had guys like Jamie Donaldson and Stevie Gallacher playing great to make the team. We had a lot of odds stacked in our favour, plus a back-room team with a lot of experience, and a lot of planning in place."
McGinley is not one for looking back. True to his word he has shed the emotional attachment to his leadership role and looks forward post-injury to hitting balls in his own cause. Others are less inclined to let it go and wherever he pitches up, no matter what the line of longitude or latitude, the adulation flows.
"I'm not a guy who hangs on to things. I like to move on, but as a captain winning is not something that you can get away from. Not that you would want to. Everybody has been so nice, whether I'm in Ireland, the UK or China, wherever I go people are so caught up in how exciting it was, how great the Ryder Cup week was."
We are in the era of the coaching savant. Though we recognise the obvious primacy of the players in any sport, the importance and impact of the coach is demonstrated in the work, for example, of Dave Brailsford in cycling, Pep Guardiola and Jose Mourinho in football, strategists whose attention to detail makes a  difference.
McGinley loves a stat, pays attention to patterns, discerns advantage in numbers, but not at the expense of the human being. His attempts to understand the character and chemistry that bind us are a central feature of his coaching philosophy. So obvious was his eminence in this area, contrasting markedly with his opposite number, Tom Watson, who displayed none of his passion for detail, that approaches have been made to expound in a book the central tenets of his captain's code.
"I'm not going to write a book on the Ryder Cup but there are other things I may do. There are a lot of  people who have come to me with a view to putting down my ideas in a formal way. I might do that. It is very easy to be overcomplicated about things, to overanalyse. When I look back over my career as a golfer the biggest thing I would change would be not to be so analytical about my golf. There has to be space to let it breathe.
"When it comes to  captaincy it has to be about the players and putting structures in place that allow them to breathe, not laden with too much information. There has to be structure but space within it to be themselves and allow the flair to come out. You can over-captain and suffocate. I was very much aware of that and determined I would not fall into that trap. I wanted the players to go out with a smile, not be burdened.
"It comes down to the consistency of the message, even though there were different voices delivering it. Lee Westwood spoke one night, Ian Poulter another. Alex Ferguson spoke, I spoke. The vice-captains had communications with the players over the whole week but we were all saying the same thing, never too much information, never a new idea every day."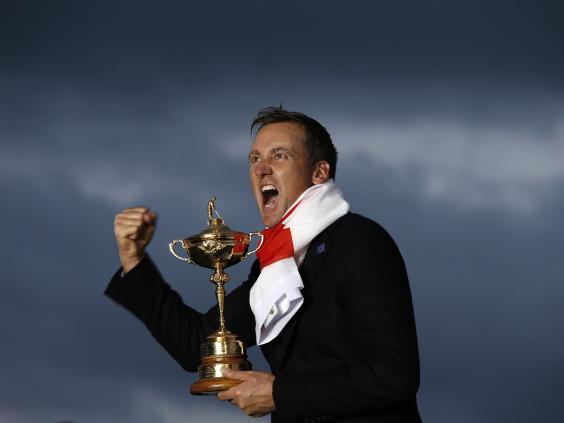 By the time the players pitched up at Gleneagles, they had all felt McGinley's embrace. They were not so much coming together for the first time as coming home. As he says, getting the atmosphere and setting bang-on did not happen by accident. 
"I made it my business to get to know the players, I don't just mean as golfers. This is why I never drew myself with them at tournaments. As captain I don't need to see how Donaldson hits a golf ball or [Victor] Dubuisson. I have played with them all. I was much more interested in  getting to know them as human beings, as people.
"I have spent a lot of time observing press conferences, reading transcripts, amateurishly reading between the lines. I spent time around them, had dinner with them, travelled to the Eurasia Cup with Victor, went down to Monaco to get to know him because this time last year I didn't know him at all. I had a huge data base on the players, their personalities, which helped in working out how to blend them. I put a lot of effort into that.
"At no stage did I feel out of sync or disconnected. I knew the job inside out. I knew what was required. The two vice-captaincy roles, the two Seve Trophies as captain had  prepared me for the role. In some ways I took it to a new level, for example I had a professional statistics team for two years analysing how players were playing and also the golf course, looking at performances over the last 10 years at the Johnnie Walker, who played well, how they attacked the course. All that helped me with tactics and pairings."
McGinley is as relentlessly precise in the detailing of how the cup was won as he was in the planning. It makes for fascinating listening, and if he does write that book, it is a must-buy for Tiger, Phil and the rest of the committee charged with righting the American ship.
"You can get right down into the tactics of it if you want. There were four par-fives, three of them even numbers. Then you had a drivable par-four, also an even number. So it made a lot of sense to have a bigger hitter with a shorter hitter, that kind of thing, though it went deeper than that. I knew what the examination paper was. I just had to make the pairings that would sit the exam best.
"The first challenge is to get the players engaged. I did that through communication, through videos, through images. The second part is the nitty-gritty of tactics, how are we going to execute this plan, how are we going to go about it on an hourly basis to win this Ryder Cup?"
There is also a cultural dimension that adds a unique bonding quality. Players coming together from different countries foster a greater sense of sharing and joint endeavour that the Americans simply cannot match. They set aside matters of nationhood for a greater collective good. This fellowship is, McGinley recognises, a powerful weapon.
And then there is the  ultimate arbiter in any  contest, the quality of the team. "It is summed up by the image in the team room, the one of G-Mac holding the scales, it says passion has created our past but attitude will determine our future. Up to say two Ryder Cups ago it was all about passion, it was Seve, it was revelling in the role of massive underdogs, little Europe against the might of America.
"Over the last four or five years, as the guys have started to dominate the top of the world rankings we have evolved into favourites going into these events. A lot of the credit for that goes to the European Tour and the federations throughout Europe for producing top players that are able to hit the ground running and become great Ryder Cup players."
And coaches. He wouldn't say that. But I will.
Reuse content