Everyone loves Bubba Watson, right? Well, not exactly. The fans may whoop and holler after him but his peers have just voted the defending Masters champion the most unpopular player on tour. Worse than that, he was the player 22.6 per cent of the PGA Tour players polled by American TV network ESPN said they would not help if they saw him in a fight in a parking lot. That's not just unpopular, that's brutal.
Watson's nearest rival for pariah in the locker room status was Patrick Reed, with 11 per cent of the vote of no confidence. To add insult to the injury of being virtually beaten up, Reed is the player, remember, some former college golf team members have accused of being a cheat and a thief. An accusation denied by Reed.
No denial by Watson, though. When this embarrassing personal slight was put to him in his champion's press conference, he could have taken the Fifth Amendment. Instead he took the first opportunity to accept the damning verdict and vowed to do something about it. And fair play to Bubba for that. "Here is the way I take it," he said. Deep breath. "I take it as I need to improve as a man. I take it with pride. I need to get better. And I think over my career, since my rookie season to now, I've gotten better. But obviously there's more room for me to improve as a man. And so, hopefully, next year or the year after, it improves. It's a challenge. It's great. I'm glad that it came out and it's going to help me improve. I've had some mess-ups on tour, and I think I've improved in those areas and I'm trying to get better. That's all I can do. I'm glad people call me out when they do; that's the only way I can get better. If I don't know about it, then I can't improve."
Masters 2016 - Augusta National hole-by-hole guide
Masters 2016 - Augusta National hole-by-hole guide
1/18 1st (Tea Olive), 445 yards, par four

deep bunker on the right of the fairway and trees both sides make for a daunting start, while long and left of the undulating green both spell big trouble. Unsurprisingly played the hardest hole on the course in 2012 and ranked second in 2013.

2015 average: 4.23 (rank 4)

2/18 2nd (Pink Dogwood), 575 yards, par five

Driving into the trees on the left cost Padraig Harrington a nine in 2009, but Louis Oosthuizen memorably holed his second shot for an albatross in the final round in 2012 before losing in a play-off to Bubba Watson. An important early birdie chance.

2015 average: 4.61 (rank 16)

3/18 3rd (Flowering Peach), 350 yards, par four

Shortest par four on the course but a pear-shaped green with steep slope in front allows for some wicked pin positions. Charl Schwartzel pitched in for eagle in the final round en route to title in 2011.

2015 average: 3.95 (rank 14)

4/18 4th (Flowering Crab Apple), 240 yards, par three

The back tee - not always used - turns it into a beast with the green sloping from back to front. Phil Mickelson took six here in the final round in 2012 and finished two shots outside the play-off. Jeff Sluman's ace in 1992 remains the only hole-in-one here in Masters history.

2015 average: 3.29 (rank 2)

5/18 5th (Magnolia), 455 yards, par four

Jack Nicklaus twice holed his second shot in 1995 and Colin Montgomerie did it in 2000, but it is another devilishly difficult green. To clear the fairway bunkers requires a 315-yard carry.

2015 average: 4.14 (rank 8)

6/18 6th (Juniper), 180 yards, par three

From a high tee to a green with a huge slope in it. Five holes-in-one - including Jamie Donaldson in 2013 - but Jose Maria Olazabal took seven in 1991 and lost by one to Ian Woosnam, while Arnold Palmer has also run up a seven.

2015 average: 3.08 (rank T10)

7/18 7th (Pampas), 450 yards, par four

What used to be a real birdie chance has been lengthened by 35-40 yards, while trees were also added and the putting surface reshaped. More bunkers - five - around the green than any other hole.

2015 average: 4.24 (rank 3)

8/18 8th (Yellow Jasmine), 570 yards, par five

The bunker on the right, about 300 yards out, pushes players left and from there it is harder to find the green in two up the steep hill. Still a good birdie chance and Bruce Devlin made an albatross two in 1967.

2015 average: 4.65 (rank 15)

9/18 9th (Carolina Cherry), 460 yards, par four

The tee was pushed back 30 yards in 2002. The raised green, with two bunkers on the left, tilts sharply from the back and anything rolling off the front can continue down for 50-60 yards.

2015 average: 4.08 (rank T10)

10/18 10th (Camellia), 495 yards, par four

A huge drop from tee to green on this dogleg left and over all the years of the Masters the most difficult hole. It was here that Rory McIlroy began to fall apart in 2011 with a seven, while Watson clinched the title in 2012 by making par in the play-off from the trees.

2015 average: 4.16 (rank 6)

11/18 11th (White Dogwood), 505 yards, par four

The start of Amen Corner. Toughest hole in 2011, 2014 and 2015, with the water front and left scaring many. Best remembered for Larry Mize's chip-in in 1987 and Nick Faldo's back-to-back play-off wins.

2015 average: 4.32 (rank 1)

12/18 12th (Golden Bell), 155 yards, par three

Probably the most famous par three in golf. Narrow target, water in front, trouble at the back, it has seen everything from a one to Tom Weiskopf's 13 in 1980. McIlroy four-putted it in 2011.

2015 average: 3.12 (rank 9)

13/18 13th (Azalea), 510 yards, par five

The end of Amen Corner. Massive dogleg left with scores ranging from Jeff Maggert's albatross two in 1994 to Tommy Nakajima's 13 in 1978. Bubba Watson's enormous drive here in 2014 left him with just a sand wedge into the green to set up a birdie.

2015 average: 4.54 (rank 18)

14/18 14th (Chinese Fir), 440 yards, par four

The only hole on the course without a bunker, but three putts are common on the wickedly difficult green. Course record holder Nick Price took eight here in 1993, while Phil Mickelson holed his approach en route to 2010 victory.

2015 average: 4.08 (rank 12)

15/18 15th (Firethorn), 530 yards, par five

Often a tough decision whether to go for the green in two across the pond on the hole where Gene Sarazen sank his 235-yard four-wood shot for an albatross in 1935. There have also been three 11s here.

2015 average: 4.60 (rank 17)

16/18 16th (Redbud), 170 yards, par three

Tiger Woods' memorable chip-in in 2005 came the same year as 73-year-old Billy Casper's 14, while Padraig Harrington and Ian Poulter are among 15 players to record holes-in-one.

2015 average: 3.01 (rank 13)

17/18 17th (Nandina), 440 yards, par four

The famous Eisenhower Tree has been removed after suffering storm damage, making for an easier tee shot on the hole Justin Rose double-bogeyed when one off the lead in 2007. Jack Nicklaus birdied here to take the lead as he won his 18th major in 1986.

2015 average: 4.15 (rank 7)

18/18 18th (Holly), 465 yards, par four

The drive through an avenue of trees was made much harder when the tee was moved back 60 yards in 2002. The fairway bunker from which Sandy Lyle got up and down to win in 1988 is now 300 yards away.

2015 average: 4.21 (rank 5)
You have to admire his honesty. It seems churlish to doubt it. But one has to wonder if he is playing rather too much of the God-fearing Christian martyr to say that he is glad it came out. A need to stop being a jackass at work, perhaps, but no need for self-flagellation. "So, if it's a bad thing and people don't like me, then I've got to improve and prove them wrong," he said.
Watson said he was not aware of any unpleasant atmosphere in the locker room. "I had the same question asked to me [by ESPN], so I answered that question," Bubba said. "I put my name on there, because I'm not going to call out anybody, there's nobody I dislike on tour. I dislike them if they beat me, but I don't dislike them as a person. So I put my own name down there. I wrote it down myself."
Now that the elephant in the room had been released, the elephant in the locker room reverted to his rambling, hokey sense of humour to show that if there is a darker side to his character, there is no denying he has a daft and lovable side, too. "Obviously, I've never been in a fight in my life, so if I was in a fight, it was my fault. I caused somebody to get angry," Bubba said. "So yeah, I wouldn't help myself either."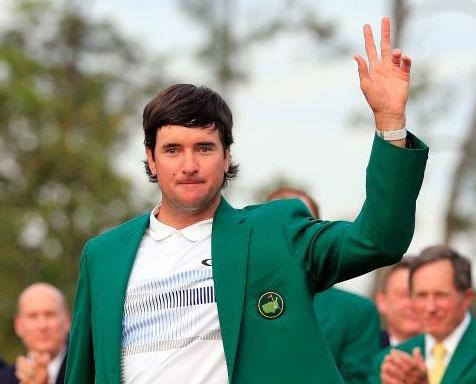 Putting aside his bruised ego, Watson will know that winning the Masters is not a popularity test and he has a chance to make history this week. Only Jack Nicklaus, Nick Faldo and Tiger Woods have successfully defended their title and a third Green Jacket would put him in the exalted company of Jimmy Demaret, Sam Snead, Gary Player, Phil Mickelson and Faldo. Popular or not, that would be some legendary company to join. Only Arnold Palmer and Woods have won four Green Jackets. Nicklaus holds the record with six.
"You ask yourself, why or how?" Watson said. "How does a guy from my background make it? How does a guy from my background actually win it, and to do it again? It's amazing, when I sit back and think about it. You're in awe of the place. This is what I consider the best golf course in the world. It gives me goosebumps every time you come down Magnolia Lane."
The 2012 and 2014 champion brought the number of victories for left-handers to six in the past 12 years after Mike Weir broke the right-handed monopoly in 2003 before Mickelson got fitted for his three jackets. Have lefties somehow finally worked out Augusta's secrets? "Right-handers have had a lot of success here, too," Watson said. "It goes in cycles. For some reason, lefties have won recently and, hopefully, it keeps going with me and not the other lefties. For years, there weren't that many lefties on tour, and now with equipment, there are more of us and more chances for us to win the Masters a few more times."
Outside the locker room, there would be no more popular champion than Watson come Sunday. Fans flock to Bubba. He's like a cat on a hot tin roof with ants in his pants and frogs in his shoes playing death or glory golf. He's a kid trapped in the body of a 36-year-old. Love him or loathe him, Watson is essential viewing. Why does he think fans, at least, love him? "Because I'm nuts," he said.
Going left-field: Masters winners
No left-handed players had won the Masters before 2003, but three different lefties have triumphed a total of six times since.
Masters winners in last 15 years (lefties in italics):
2000 Vijay Singh
2001 Tiger Woods
2002 Tiger Woods
2003 Mike Weir
2004 Phil Mickelson
2005 Tiger Woods
2006 Phil Mickelson
2007 Zach Johnson
2008 Trevor Immelman
2009 Angel Cabrera
2010 Phil Mickelson
2011 Charl Schwartzel
2012 Bubba Watson
2013 Adam Scott
2014 Bubba Watson
Reuse content