Just another dull day at the Ryder Cup. We thought Rory McIlroy had wrung the last drop of drama from his season with two majors in the space of three weeks. And then he rolls one in from 40 feet on the penultimate hole to deepen the aura building around him.
Two down with two to play, McIlroy and Sergio Garcia were facing cremation had that putt not dropped, having already been beaten earlier in the day. There was still magic to conjure at the last.
Over to you, Sergio. The Spaniard responded with the five-wood of his career out of the cabbage to set up the birdie that conjured an unlikely half against Jimmy Walker and Rickie Fowler. An advantage that might have stood at one point overnight became two with Europe leading 5-3.
Gleneagles was still jumping when Graeme McDowell rolled in a 20-footer at the 16th to inflict, with Victor Dubuisson, a first Ryder Cup defeat on Phil Mickelson and Keegan Bradley, 3&2. What a close to proceedings and some transformation after a fraught morning for Europe.
Special mention must go to Lee Westwood and Jamie Donaldson, who contributed a chunk of yeoman grunt to redress the balance after the missed opportunity of the early fourballs, which Europe contrived to lose 2.5 to 1.5. When it comes to rolling up the sleeves and bending the back, where better to recruit than from Worksop and Pontypridd?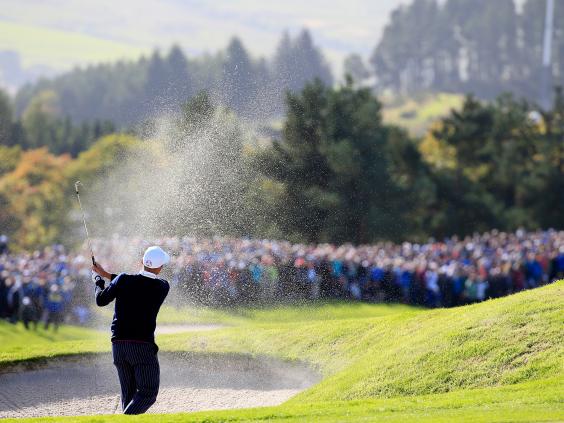 Behind early in the first match of the afternoon, they levelled at the sixth and were never in arrears again against Jim Furyk and Matt Kuchar.
Martin Kaymer and Thomas Bjorn were never behind at all in the morning foursomes but could not maintain hegemony despite outplaying Walker and Fowler for much of that contest.
Ryder Cup 2014 in pictures
Ryder Cup 2014 in pictures
1/30 Jamie-Donaldson-of-Europe-shDay 3

Jamie Donaldson of Europe shakes hands with Keegan Bradley of the United States on the 15th hole

GETTY IMAGES

2/30 Day 3

Jamie Donaldson of Europe is congratulated by Europe team captain Paul McGinley on the 15th hole shortly before Europe won the Ryder Cup

GETTY IMAGES

3/30 Day 3

Patrick Reed of the United States celebrates on the 8th green

GETTY IMAGES

4/30 Day 3

Rory McIlroy of Europe looks on from the 4th tee with JP Fitzgerald

GETTY IMAGES

5/30 Day 3

Vice Captain of Team Europe Miguel Angel Jimenez of Spain dances for the crowd on the first tee

GETTY IMAGES

6/30 Day 3

Ian Poulter of Europe hugs Europe team captain Paul McGinley on the 1st tee

GETTY IMAGES

7/30 Day 2

USA's cheerleader in chief Michael Jordan watches on with a cigar that Miguel Angel Jimenez would be proud of

Getty Images

8/30 Day 2

Zach Johnson and Matt Kuchar celebrate taking the lead on the first hole against Westwood and Donaldson

Getty Images

9/30 Day 2

Cruising in style, Ian Poulter and Rory McIlroy make their way back to the clubhouse followig their halved fourballs round

Getty Images

10/30 Day 2

Justin Rose celebrates clinching the 13th hole during his run of six straight birdies

Getty Images

11/30 Day 2

Jimmy Walker reacts to narrowly missing the hole on the 18th

Getty Images

12/30 Day 2

The ever-colourful American fans were out in force once again

Getty Images

13/30 Day 2

A number of USA supporters arrived in the colours of NFL side the Minnesota Vikings

Getty Images

14/30 Day 2

Ian Poulter roars after chipping in for a birdie on the par-5 16th

Getty Images

15/30 Day 1

Henrik Stenson and Justin Rose put Europe ahead

16/30 Day 1

Jamie Donaldson (left) and Lee Westwood began Europe's afternoon fight back

17/30 Day 1

Keegan Bradley and Phil Mickelson celebrate after the former's eagle on 16

Getty Images

18/30 Day 1

Rory McIlroy, Phil Mickelson and Sergio Garcia discuss play during the opening fourballs

Getty Images

19/30 Day 1

Europe vice-captain Miguel Angel Jimenez, Rory McIlroy and Sergio Garcia make their way around the course

Getty Images

20/30 Day 1

Jordan Spieth and Patrick Reed earned a point in their very first Ryder Cup outing, dismantling Ian Poulter and Stephen Gallacher 5&4

Getty Images

21/30 Day 1

Justin Rose and Henrik Stenson are cheered on by Europe captain Paul McGinley on their way to a 5&4 victory over Bubba Watson and Webb Simpson

Getty Images

22/30 Day 1

Sergio Garcia pumps up the crowd after holing his bunker chip

Getty Images

23/30 Day 1

Garcia chips in from the bunker to give him and Rory McIlroy the lead

Getty Images

24/30 Day 1

Garcia high-fives his caddy Neil Wallace after chipping in from the bunker

Getty Images

25/30 Day 1

Martin Kaymer and Thomas Bjorn smiles as Rickie Fowler holds his head in his hands

Getty Images

26/30 Day 1

Rory McIlroy and Sergio Garcia enjoy the adulation of the fans after taking the lead against Phil Mickelson and Keegan Bradley

Getty Images

27/30 Day 1

Martin Kaymer tees off at the first hole

Getty Images

28/30 Day 1

Rory McIlory and Sergio Garcia salute the fans

Getty Images

29/30 Day 1

Ian Poulter in action

Getty Images

30/30 Opening Ceremoney

Ian Poulter of Europe and wife Katie Poulter pose as team-mate Lee Westwood photo bombs before the Opening Ceremony ahead of the 40th Ryder Cup at Gleneagles

GETTY IMAGES
The loss of a half a point at the death in the second match of the day was received like a poke in the eye. Coupled with the defeat at the final hole of Europe's leading men McIlroy and Garcia by Mickelson and Bradley, it seemed the air was starting to seep from the blue balloons floating around Gleneagles.
Then in came Westwood and Donaldson. Steady as you go and hold your nerve was the motto. A Donaldson bogey at the third was not allowed to disturb their equilibrium. Chin up, son, keep plugging away.
Donaldson speared a marvellous tee shot at the par-3 sixth, inviting his partner to drill Europe back onto level terms. A par was enough to take the next and from there it was classic foursome play, keeping the mistakes to a minimum and taking any chance created.  
Furyk must be sick of the sight of Westwood. Both have played the same eight Ryder Cups, with the American on the negative end of their shared 6-2 statistic. His deft chip at the last was typical of his dustpan-and-brush tidiness but it was in vain after Kuchar fluffed his wedge into the green.
Westwood whacked a three-wood into the run-off to the left of the green, leaving Donaldson a straightforward chip to ensure the point that would bring Europe level on two and a half points apiece. Fancy a pint, son? You bet.
Behind them, Justin Rose and Henrik Stenson reprised their stellar work of the morning, adding the scalps of Hunter Mahan and Zach Johnson to those of Bubba Watson and Webb Simpson to clear the path for the day's heroic finale. 
It was perhaps in keeping with the trend of the morning that Europe should fail to make the most of the auspicious setting first up.
Ivor Robson has been calling golfers to the first tee for fully 40 years so he was maybe due a clanger. And it was a cracker, introducing Simpson as Watson. Simpson responded by popping his drive skyward, barely reaching the fairway. It would be that kind of day for the American pairing.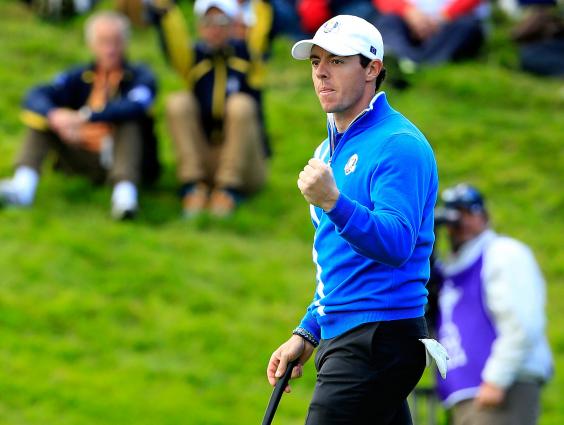 In truth, the grand depart did not quite match the raucous launch of Medinah or the enthusiasms of Celtic Manor. Watson gave it the full Bubba, whipping the crowd into a quasi-frenzy but the rest teed off in respectful silence.
Stenson and Rose were ahead at the second and motored on from there. A birdie at the next from Rose took them two clear. They were three up at the turn but the lead might have been five. Watson and Simpson did well to take it as far as the 14th, where it ended in Europe's favour 5&4.
In the second group Kaymer and Bjorn were even more impressive, racing into a three-hole lead after four against Fowler and Walker.
Kaymer had a birdie putt at the next to put even more pressure on the Americans. He missed, Fowler holed to give them a foothold in the match. When Walker holed out from the bunker for eagle at nine, the Americans were only one back.
Kaymer had the look of a man who had left his wallet on the train, and never quite got over his disappointment. Though Bjorn birdied the 15th to take Europe two clear with three to play, Walker was not done. He chipped in at 16 and birdied the last for a half. A classic Ryder Cup steal.
Ian Poulter and Stephen Gallacher were well and truly Poultered.
Gallacher was the only European not to find the first fairway and thereafter never settled. Poulter was picked on memory and largely forgot his lines. He found a greenside trap at the first to make it an easy start for Jordan Spieth and Patrick Reed.
A birdie at the second to take the Americans two up was all Reed's own work. Europe nicked one back with a par, and took the 12th the same way.
In between, the Americans played turbo golf, slamming five birdies in six holes to go six clear. By the 14th it was over, 5&4, and the United States had their first point.
--
Day One Scores
Morning fourballs
Rose & Stenson beat Watson & Simpson 5&4
Fowler & Walker halved with Bjorn & Kaymer
Spieth & Reed beat Gallacher & Poulter 5&4
Bradley & Mickelson beat Garcia & McIlroy 1up
Afternoon foursomes
Donaldson & Westwood beat Furyk & Kuchar 2up
Rose & Stenson beat  Mahan & Johnson 2&1
McIlroy & Garcia halved with Walker & Fowler
Dubuisson & McDowell beat Mickelson & Bradley 3&2
Overall: Europe 5 US 3
Reuse content