FRIDAY
1. First tee: "Ole, ole, ole..."
"There's only one Ian Poulter…" For three days every two years, golf thinks it's football.
"Europe! Europe!" was the terrace-type cry from 3,000 fans packed into the grandstand around the first tee. It was 6am, 90 minutes before the first match. "USA, USA," came the response from the away supporters. All 17 of them, by the volume. "You've only got one song," the home fans taunted. "Who are ya?"
Best songs: "Kaymer, Kaymer, Kaymer, Kaymer, Kaymer chameleon, he putts and drives…" And "Bjorn beats the USA…" It's not clear if Boy George and Bruce Springsteen are golf fans.
2. Bubba Time
Bubba brought The Noise and stole the show. At the last Ryder Cup in 2010, Watson created history by being the first player to invite the crowd to whoop and holler as he teed off. He said he'd never do it again. But history repeated itself at Gleneagles.
The crowd started to roar as he prepared to hit off the first tee. They wanted more of the same. Bubba smiled, nodded his approval and cupped his hand to his ear to get the volume cranked up to a Spinal Tap 11. The circus was in town and the clown had centre stage. He smashed his ball with his pink driver. It looked as if he was swinging a flamingo by its leg. He lost his match but won the crowd.
3. Keegan! It's there!
Confusing 1970s Liverpool fans, "Keegan, Keegan," came the chant from the American fans as Keegan Bradley eagled the 16th in Friday morning's fourballs.
He and his partner Phil Mickelson were losing the stellar match against Rory McIlroy and Sergio Garcia until Bradley unleashed a wood that soared towards the green. It also unleashed his trademark crazy wild stare.
Of the adrenaline rush he felt after hitting that shot, he said: "It's like you're drinking 500 cups of coffee at once."
It gave the Americans momentum. Bradley birdied the 18th, too. The point was won for the US.
Ryder Cup individual ratings: Who did best?
Ryder Cup individual ratings: Who did best?
1/18 Jamie Donaldson, Europe

Won the Czech Masters to secure his debut and carried that form to Gleneagles, winning two foursomes matches alongside Lee Westwood and securing the winning point with victory over Keegan Bradley on Sunday. 9

GETTY IMAGES

2/18 Victor Dubuisson, Europe

Given special attention by European captain Paul McGinley and took everything in his stride as he claimed two foursomes wins with Graeme McDowell before being sent out last in the singles, with the outcome decided well before his half with Zach Johnson. 8

Getty Images

3/18 Stephen Gallacher, Europe

Deserved his wild card selection after his strong form in qualifying but his partnership with Ian Poulter did not come off and Gallacher was left out after their 5&4 defeat on the opening morning. Lost to Phil Mickelson in the singles to finish without a point. 5

Getty Images

4/18 Ian Poulter, Europe

Few would have thought 'Mr Ryder Cup' would play just twice before the singles and claim only half a point, but his chip-in late in the Saturday fourballs helped stem a US fightback. Birdied the 18th to halve his match with Webb Simpson. 6

GETTY IMAGES

5/18 Justin Rose, Europe

Justin Rose

Getty images

6/18 Henrik Stenson, Europe

Was unduly modest about his part in the three wins with Rose, especially as he had a sore back which meant he sat out the Saturday afternoon session. Will be upset to miss a short putt on the 18th to lose his singles to a fired-up Patrick Reed. 8

GETTY IMAGES

7/18 Lee Westwood, Europe

Felt he needed to justify being selected as a wild card and did so by leading rookie Donaldson to two foursomes wins. Also chosen to speak to the team on Saturday evening to remind them of what went wrong at Brookline in 1999. 8

GETTY IMAGES

8/18 Keegan Bradley, USA

Extended his record alongside Phil Mickelson to 4-0 on the opening morning but lost in the afternoon foursomes and the pair were then left out all day Saturday. Was never ahead in what proved to be decisive singles match with Donaldson. 5

Getty

9/18 Rickie Fowler, USA

Halved his first three matches alongside Jimmy Walker but looked fatigued in a 5&4 foursomes loss on Saturday afternoon and was thrashed by McIlroy on Sunday. 7

Jamie Squire/Getty Images

10/18 Jim Furyk, USA

Won one point from three games before renewing his singles rivalry with Sergio Garcia, Furyk having won at Brookline in 1999 and Garcia getting his revenge at Medinah in 2012. Garcia again came out on top in a hard-fought contest. 6

11/18 Kuchar Johnson, USA

Won twice in foursomes at Medinah but suffered two defeats in the same format at Gleneagles. Battled to the end of his dead rubber singles, making a birdie on the last to claim a half with Dubuisson. 6

Getty Images

12/18 Matt Kuchar, USA

One of four American players not to register a point before the singles, crucially duffing a pitch to the 18th in a Friday foursomes defeat to Donaldson and Westwood. At least got on the scoreboard with a 4&3 over Thomas Bjorn. 6

Getty Images

13/18 Hunter Mahan, USA

One of US captain Tom Watson's wild card's, Mahan won one point from three matches but played well in defeat to Garcia and McIlroy on Saturday and was five under after seven holes against Rose before an inspired fightback from the Englishman. 7

Getty

14/18 Phil Mickelson, USA

Left out for an entire day for the first time ever on Saturday, despite pleading with Watson to play at least once. Had something to prove in the singles against Gallacher and duly won, but a disappointing return. 6

Getty Images

15/18 Patrick Reed, USA

Won two fourballs alongside fellow rookie Jordan Spieth but missed a crucial par putt from two feet on the 16th as Kaymer and Rose escaped with a half in the Saturday foursomes. Was fired up for his singles with Henrik Stenson and won on the 18th. 8

GETTY IMAGES

16/18 Webb Simpson, USA

Was picked to renew his partnership with Bubba Watson but after losing 5&4 in the first match on Friday, did not play again until the singles, where he at least claimed a half with Poulter. 5

Getty Images

17/18 Jordan Spieth, USA

The 21-year-old played superbly with Reed and was then entrusted with the opening singles match against Graeme McDowell, racing three up after just five holes. Made a few crucial mistakes on the back nine as McDowell fought back to win, but tough to criticise the youngest player on either side. 8

Getty Images

18/18 Jimmy Walker, USA

Played all four sessions alongside Fowler and claimed three half points before fatigue set in and contributed to a heavy defeat in the second foursomes. Was an approximate eight under par in beating Westwood in the singles. 8

Getty Images
4. Zeroes to Heroes
McIlroy and Garcia had wanted to be together but looked more like they were on a blind date that just wasn't working out.
There was no spark as they lost two of the last three holes in the morning to lose to Mickelson and Bradley. But what a turnaround after lunch. Whatever they ate, perhaps they should have had it for breakfast, too.
It looked like Europe's big guns would be shot down by Jimmy Walker and Rickie Fowler.
Then, bang! McIlroy holed a 40-foot bomb to take the game up the 18th. Then wallop! Garcia smashed a five-wood out of the rough over 200 yards to the green. Birdie. Match halved. It felt like a victory.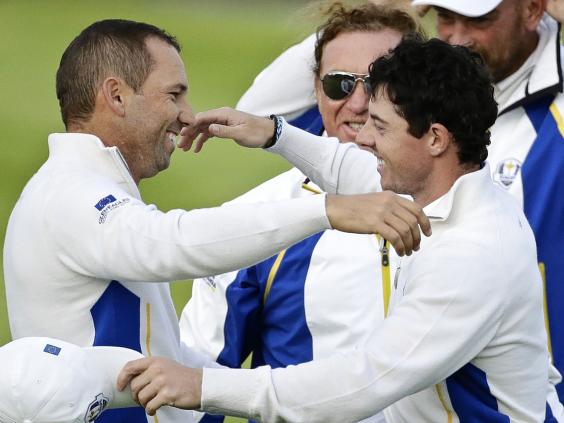 SATURDAY
5. Bloomin' 'eck
Justin Rose jumped on the birdie train at the eighth in the morning foursomes and rode it to the 13th.
His  four birdies in that run would have been six in a row in strokeplay as his ball was inside five feet for both his pars. His partner turned those pars into birdies anyway. Rose holed almost every putt he looked at. He was seven under par with his own ball. Combined, they shot 52, 12 under par, a Ryder Cup record.
Poor Bubba Watson and Matt Kuchar. They were nine under par – and lost.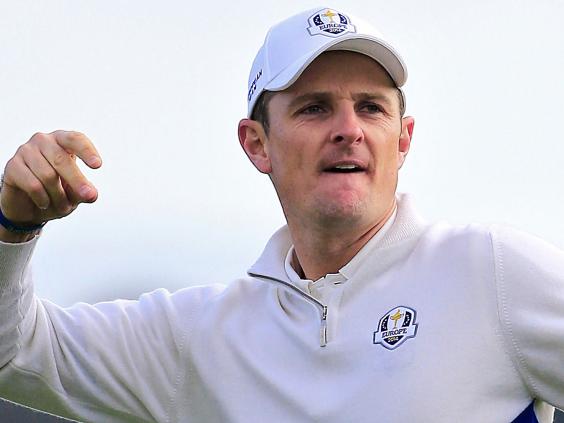 6. The eagle has landed
Hunter Mahan had already bagged five birdies before he smashed the drive of the day at the short par four. There was never any thought of laying up.
He fired at the green 320 yards away and stared at it in hope. Thousands roared as Mahan's ball cleared the bunkers lined up at 280 yards and found the edge of the green.
Lee Westwood had bagged a birdie for himself and Jamie Donaldson but Mahan wasn't finished. He punched the air as his eagle dropped and high-fived his partner Jim Furyk. Victory to the US.
 7. The bulging eyes
The Postman finally delivered. The bulging eyes, the double-fisted air punch, the scream that could be heard at the Space Station, the stare that scared his children. It was all back. But it took until the 15th hole in the morning fourballs for the real Ryder Cup Ian Poulter to reveal himself.
He and partner McIlroy needed to make something happen. Postman Poults delivered, chipping in from 50 yards. Cue bedlam. It produced the roar of the day and not just from Poulter. It seemed the whole of Scotland shook with the thunderous noise that boomed around Gleneagles.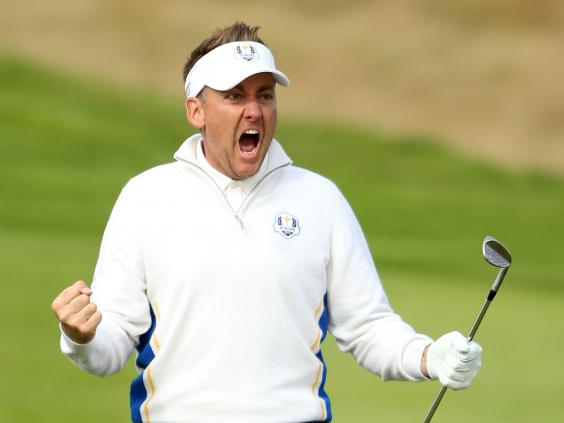 SUNDAY
8. McDowell leads the way
It was Paul McGinley's secret two-year plan to put 2010 US Open champion Graeme McDowell out first in the singles tasked with getting blue on the board early for Europe. He only told the Northern Irishman on Wednesday.
McDowell started slowly, going three down after nine holes against the 21-year-old sensation Jordan Spieth. But his trademark big heart and fighting spirit kicked in on the back nine. McDowell's putts began rolling in, while Spieth spluttered, throwing in four bogeys.
"He missed that putt on the seventh to go four up," McDowell said. "That was a massive turning point for me mentally. Something clicked." Point duly delivered 2&1.
9. Garcia comes good
Something glorious happens to Sergio Garcia in the Ryder Cup. His major campaigns are littered with bunker shots fluffed and putts lipping out. In the Ryder Cup, he holes  out from here, there and  everywhere.
The Spaniard said he felt he had let his team down this week but began to think more clearly in the singles. "The last four or five holes, it was unbelievable," he said. Garcia finished with three birdies and an eagle to win by one hole, but not before crying on the 17th after Europe had secured victory.
"I couldn't hold it in," he said. "This event is so special." A major title surely awaits.
10. The winning putt (wedge)
There was not actually a putt to win it this time because the shot into the green was so good.
Jamie  Donaldson was four up against Keegan Bradley and the chance to claim the winning point for Europe had fallen to him. He unleashed the perfect drive at the 15th then fired a wedge shot to two feet. Bradley gave him the putt, hands were shaken, champagne sprayed.
Deadly Donaldson killed the match with his putter, bagging four birdies in the middle of the round. All hail the 2014 Ryder Cup hero, the Prince of Pontypridd.
Reuse content