It was the classic knee-knocking, heart-stopping rookie baptism for Sheffield's 19-year-old US Amateur champion Matthew Fitzpatrick. Double bogey at the first. Welcome to the Masters, kid.
Fitzpatrick dropped out of college in Chicago at the start of this year to put all his efforts into range work rather than homework. If he thought this was going to be any easier, here he received a priceless lesson in golf's School of Hard Knocks in the first round of the Masters as he joined defending champion Adam Scott and 2013 US PGA Championship winner Jason Dufner for his debut trek around this hallowed piece of Georgia real estate.
He arrived on the first tee full of smiles but they were the nervous variety that accompanies a pupil who has been summoned to the headmaster's office. Was he about to bend over and have his backside spanked or receive a gold sticker and two house points? He started out being whacked with six of the worst. He hooked his drive into the trees, scuttled one up the fairway to within 60 yards of the green, chipped on, only to watch his ball dribble off the back of the green, chipped back and stared in horror as his ball caught a hollow and trundled to a halt 40 feet from the hole. Two putts later and he was in for his double bogey six. Two down after 15 minutes.
Fitzpatrick will be hoping that will not be the score when his beloved Sheffield United play their FA Cup semi-final against Hull on Sunday. Before he had even had time to catch his breath, Augusta National had sucked all the oxygen out of his lungs. This was not how he would dreamt it on Wednesday night. The applause he received was a collective hug from the patrons.
The first hole at Augusta National is the most nerve-jangling opening hole in golf and Fitzpatrick was not the only one trying to stop his heart from bursting out of his chest. Scott sprayed his drive into the pine trees on the right of the fairway. But then he showed the kid what the elite players can do. He fizzed an iron around a tree trunk and his ball spun to three feet from the flag to a chorus of whoops and hollers. Tap-in birdie. Watch and learn kid, watch and learn.
Heading to the second tee, Scott went out of his way to walk with Fitzpatrick. What a class act the 33-year-old Australian is. "He holed a great putt for double bogey and I said to him, 'Great putt, get going now.' And he calmed down and played fine," Scott said after the round.
"Obviously it was a nervous start, and I watched and thought that's what I looked like many times playing the first hole," he added. "He swings so freely; it's nice. He's going to develop into a really good player."
Scott's moral support helped. The kid smashed his drive down the middle of the fairway. You could have thrown a picnic blanket over the three balls – although Fitzpatrick had bashed his best shot with a driver while Scott and Dufner had coaxed three-woods to the top of the hill. Fitzpatrick, who looks more like he's 12 than 19 and is built like a runner bean, is going to have to beef up if he is to survive in this new age of gym-junkie golfing athletes. No matter for now, he has golden hands and a sublime short game. He zipped a beautiful chip from the valley of the par-five that stopped three feet from the cup. A birdie, a shot recovered, and a deep tension relieving out-take of breath.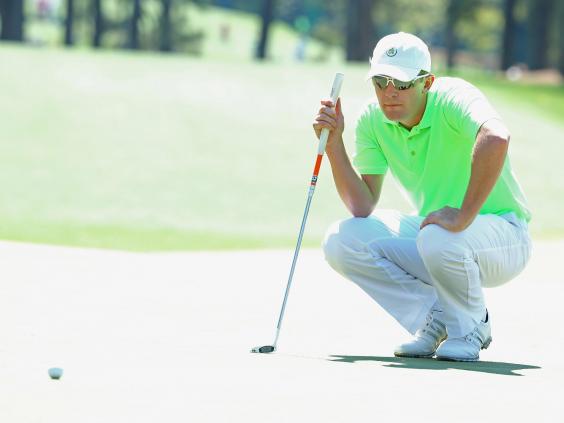 Fitzpatrick found the middle of the fairway again at the third then stared in awe as Scott battered his ball to within 15 yards of the green at the 350-yard par four. The Englishman was 80 yards further back down the fairway. Still, his short game saved him again while Scott made a hash of his chip and pars were shared.
They love their amateurs here and Fitzpatrick received a rousing welcome as he climbed the hill to the fourth tee. The amateurs have their names writ large on the leaderboards at the Masters in a nod to America's greatest ever amateur Bobby Jones, one of Augusta National's founding fathers, and Fitzpatrick glanced up at the giant leaderboard alongside the third green. He will have been tickled as pink as Augusta's dogwoods to see his name up there with Scott, Dufner, and fellow Englishmen Justin Rose, the US Open champion, and Garrick Porteous (below) from Mere, Northumberland, the British Amateur champion. It is the first time ever that England has been represented at the Masters by the champions of the top two amateur prizes.
Fitzpatrick fired a fairway wood at the green of the 240-yard par three. "Naace shaaart, kid" came a Southern drawl from the gallery packed behind the tee box. "Who's the amateur?" asked another. They could have been forgiven for thinking it was Dufner after witnessing the infamous waggles and twitches of his pre-shot routine. Still, it's not how; it's how many, as golfers say.
After that calamitous start, Fitzpatrick settled down and rattled off 10 pars after the birdie at the second. But Augusta National wore him down in the end. Bogeys at the 13th, 14th and 17th took him to a four-over par 76, seven shots behind Scott who finished with a three-under par 69. "Adam just seemed to have his ball on a piece of string," Fitzpatrick said. "It was really cool. And such a great guy and fantastic player."
The kid beat Dufner, who shot 80, by four shots and also outscored former Masters champions Angel Cabrera and Zach Johnson. How's that for making an impression on your first day at big school? "Just trying to realise I'm playing a major championship with the best golfers in the world," Fitzpatrick said. "And just realising I'm only 19. I would give myself six or seven out of 10."
A fine performance. No need for detention.
Second round details
Selected tee-off times (all times BST; US unless stated):
1.29pm N Watney, S Gallacher (Sco), D Clarke (NI)
2.35pm J Day (Aus), D Johnson, H Stenson (Swe)
2.57pm B Watson, L Donald (Eng), S Garcia (Sp)
3.30pm P Mickelson, E Els (SA), J Rose (Eng)
3.41pm H English, L Westwood (Eng), R Henley
3.52pm S Cink, T Clark (SA)
5.31pm A Cabrera (Arg), G Woodland, I Poulter (Eng)
5.53pm G McDowell (NI), R Fowler, J Walker
6.04pm Z Johnson, K Choi (S Kor), S Striker
6.37pm C Schwartzel (SA), J Furyk, T Olesen (Den)
6.48pm A Scott (Aus), J Dufner, M Fitzpatrick (Eng)
6.59pm J Spieth, P Reed, R McIlroy (NI)
Weather Overcast with outbreaks of sunshine. Maximum temp: 24C
Television Sky Sports 4, 7pm-12.30am