Rory Mcilroy joined an exclusive club with his Open Championship victory on Sunday, as he joined Tiger Woods and Jack Nicklaus in becoming just the third man in golf history to win three majors before turning 26.
Leading from start to finish in a famous wire-to-wire victory – the first sine Woods did the same in 2006 – McIlroy clinched the title by two shots over Rickie Fowler and Sergio Garcia, but it was not all smooth sailing for the Northern Irishman.
Upon taking to the first tee for his final round, a small group of fans sang a chant about McIlroy's ex-girlfriend Caroline Wozniacki. Ever the face of focus though, the former world No 1 looked straight down the fairway and gave the hecklers no notice at all, and he soon silenced them with a lovely tee-shot to begin his walk to victory.
The heckling did continue from other areas though, and it all got too much for McIlroy by the 16th hole as he identified one persistent offender to the stewards, who promptly removed the rowdy spectator.
McIlroy admitted that the same man had been following him throughout his round and trying to put him off at each hole, and McIlroy decided that he had suffered just about enough abuse by the time he teed off at the 16th. In a sport proudly recognised for its well-behaved and respectful patrons, the fans at Hoylake have come in for criticism this year for their apparent heckling, although it remains a small proportion of the fans that feel it necessary to try and put off the competitors.
McIlroy said after he lifted the Claret Jug: "He was giving me grief all day. I sort of put it up for the first 15 holes, and then he deliberately coughed on my downswing on the 16th tee.
"I still hit a great drive. But I heard it halfway down and I knew who it was. So I turned around and got him chucked out, thankfully.
"I don't know who it was. But I didn't have him bothering me for the last two holes, which was nice."
He also came in for some criticism after he was seen snubbing a young fan asking for an autograph after he holed out on the 18th, but fellow competitor and Ryder Cup team-mate Ian Poulter explained that it was due to a regulation from the R&A and not McIlroy's choosing to ignore the youngster.
A ruling states that players must sign for their scorecards before signing any autographs for fans, meaning McIlroy would've risked a potentially title-costing penalty or disqualification by signing the autograph.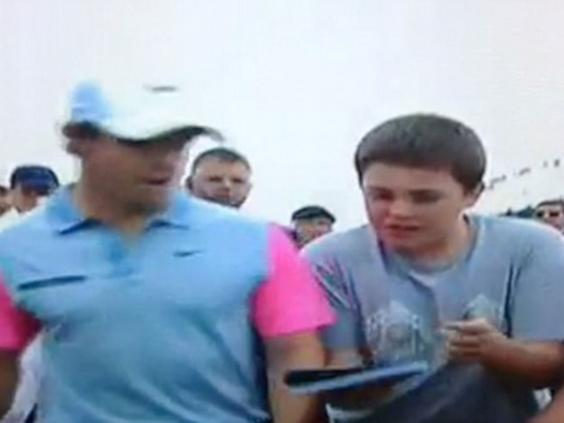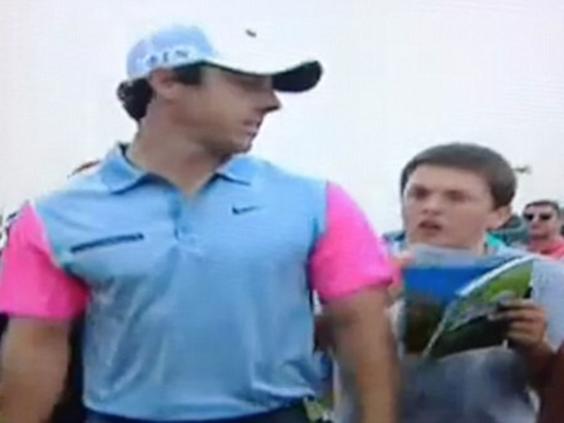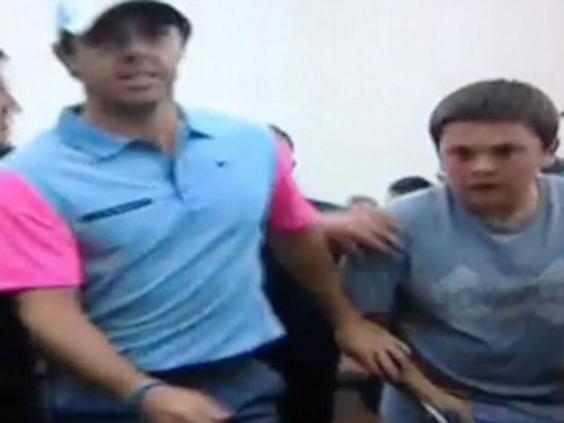 Poulter, who missed the cut after Friday's second round, tweeted: "Just to clear up the signature thing. We are asked not to sign autographs until we have officially handed in our scorecards. #RulesAreRules."
Just to clear up the signature thing. We are asked not to sign autographs until we have officially handed in our scorecards. #RulesAreRules

; Ian Poulter (@IanJamesPoulter) July 20, 2014
Sergio Garcia was another to endure frustration with the crowd on his final round, as a mobile phone went off as he was addressing the ball, prompting him to pull out of the shot and turn his attentions to the guilty patron in frustration. Tiger Woods had also criticised the use of cameras during his opening rounds after he was put off during his swing.
Reuse content