Not only for Americans does the west hold mythical value. It is five years since Graeme McDowell bridged a canyon stretching back 40 years to 1970, when Tony Jacklin became the first from these shores to win the US Open since the early years of British colonisation.
McDowell's victory came on the west coast, where we reconvene next week, albeit 1,000 miles to the north of Pebble Beach. Three years ago at the Olympic Club in San Francisco, McDowell was again in the final pairing and missed a 25-footer for birdie at the last that would have taken him into a play-off with winner Webb Simpson.
The missed cut at Wentworth  en route to the Golden Gate in 2012 meant little, so a bad week in Memphis at the St Jude Classic does not necessarily presage disaster for McDowell as the US Open crosses the Rockies once again, rolling out for the first time at Chambers Bay.
If the World Cup in South Africa stole the light from McDowell's achievement at Pebble Beach, there was no getting away from his second contribution to the golfing year in 2010, the putt drained on the 16th hole in the final singles match against Hunter Mahan to enter Ryder Cup nirvana at Celtic Manor, where a week before his US Open triumph he claimed the Wales Open.
Thus an unheralded golfer from Portrush, who began the year as plain, old Graeme McDowell, ended it as G-Mac, an iconic figure worthy of mention alongside Sandy, Woosie, Jose Maria, if not quite Sir Nick and Seve. McDowell's win presaged a rush of success at the US Open for players from the British Isles, with Rory McIlroy (2011) and Justin Rose (2013) following him into the USGA Hall of Fame. So how close to  reconnecting with the zeitgeist of 2010 is our hero as the Pacific North West beckons?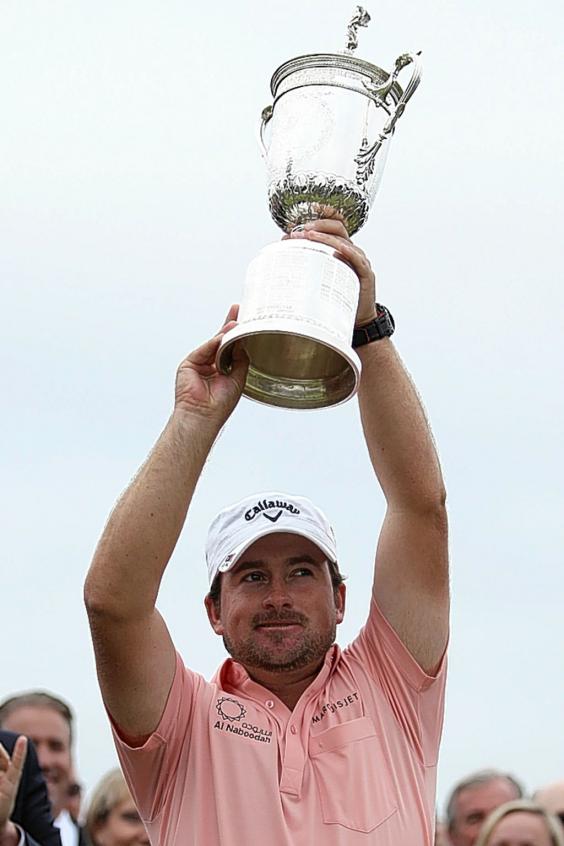 The weird thing about golf is how easily it can make a fool of experts, especially when the player racking up a big score is battling the bounce of the ball as much as technical flaws. McDowell admits to the latter having crept into his game following the birth of his first child, a daughter, Vale, 10 months ago. Which of us has not buckled in wonder at that moment? His domestic circumstances with wife Kristin might be classified blissful.
"I've had some sort of issues  regards motivation, and that's led to some technical issues. I think getting married and having babies and kind of enjoying the fun things in life off the golf course have distracted me a little bit on the course, and my game has suffered a little bit."
There was a moment in March at the WGC-Cadillac in Miami when McDowell's tee shot at the last drifted right into the trees, from where it was impossible to reach the green in two. The anger and frustration evident as he thundered up the fairway dissipated the moment he glimpsed wife and daughter stationed outside the ropes close to his ball. Perhaps a penny dropped that day.
Though golf accommodates family connectivity, with many a parent and spouse attendant at tournaments, there was a sense in McDowell's example, under golfed and out of contention at a big  event, that a young father needed to get back to work. That is how he sees it now.
"I have had some renewed desire the last three or four months and just kind of been grinding away, trying to get my golf swing back in shape. It's just been general stuff. There's been nothing in particular. It's just been a little lack of general sharpness, and I've just been chipping away at everything really. I feel I've turned the corner. I've hit the ball much more solidly the last couple of months on and off."
Thursday was an off day, his opening 76 explained in part by illness, which required a visit to the medical centre and connection to a drip after his pro-am on Wednesday. There were marginal gains in his 73 on Friday but not enough to see him into the weekend. And so it was off to Chambers Bay for an early look at the course that might yet provide that illusive forward thrust for which he strives.
"This is golfing season right now.  From this week through the FedEx play-offs I'm going to play a lot of golf, and you know,  a couple of great weeks can certainly get a season  back on the rails again. I'm focused and excited about the challenge coming up.
"The way the US Open jumps around it's difficult to have a solid warm‑up venue the week before, so you've kind of got to take the rough with the smooth. Some years it's going to be a great preparation and some years maybe not so much. I think that this year the comparison of the two golf courses is probably at opposite ends of the spectrum.
"It's been a slow enough year for me. I kind of feel like my game is turning the corner, and coming here to Memphis and teeing it up and getting some competitive sharpness was one of the keys. I'm a guy who's searching for some confidence in his game. I'm really looking at it as a two‑week journey trying to play as well as I can then go over there and dissect the course and try to win another US Open trophy."
Best of British: US Open winners
In the early years of competition America could not get the ball off the Brits. The first 16 winners from 1895 to 1910 hailed from these shores.
The next 15 years would see only four more British successes, and after Scotland's Willie McFarlane in 1925, there would be only one non-American winner, Gary Player in 1965, before Tony Jacklin in 1970.
A further 40 years would pass before Graeme McDowell became the first Northern Irishman to win the title. Rory McIlroy won in 2011 and Justin Rose in 2013.
Reuse content