It is fair to say the practice range has seen few days like this, even at a major. One man in a white shirt commanding the attention of TV crews and photographers in great number while he hit balls as if it were just another day.
Perhaps in the mad world of Tiger Woods it was just another day. Starting with the wedges he worked through the bag towards the big stuff, turning his shoulders more by degrees and giving the hips the full Elvis with the driver.
No sign of the back trouble yet that forced him out of the WGC-Bridgestone Invitational so dramatically last Sunday. Caddie Joe La Cava stood by polishing the clubs and coach Sean Foley watched the ball flight to check the health of his client's swing.
Woods had been granted an extension by the PGA Championship until 10 minutes before his 8.35am local tee time today (1.35pm in Britain) to declare his hand. After hitting for the best part of 45 minutes Woods headed on to the course with faithful confidant Steve Stricker, who had just been announced as one of three Ryder Cup vice-captains by the American skipper, Tom Watson.
The naming of Stricker to the back-room staff at Gleneagles was a sure sign of the intent to have Woods among their number in six weeks' time, as Watson readily acknowledged. "I've talked to Tiger here a couple weeks ago by phone. I've texted him. In fact, I texted him after he got hurt on Sunday and just wished him well. I said right from the beginning, if he's playing well and he's in good health, I'll pick him," Watson said.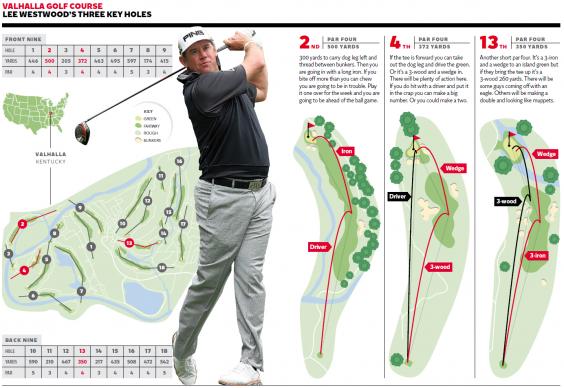 Click HERE for full-size version of graphic
Stricker went a little deeper into the desirability of having Woods on board. "I know how deeply he wants to be a part of this team, and I think that's why he's here. I think he wants to get his game going but he wants to show that he can play; that he's going to get healthy.
"We need Tiger on that team," Stricker added. "We know how important he is in the game of golf, and how good a matchplay player he is; when you really do need him, he'll be there."
Reuse content