The Union Flag still fluttered over the battlements of Wentworth golf club. Immaculate greens swept down to the lake – with its ornamental fountains through which water still flowed.
On the Wentworth Estate – built around the club that was conceived as its centre, its social hub and beating heart – the "Residents and Wentworth Club only" signs still proliferated.
You could snap up a five-bed new build here for just £11m, and if you could survive without the triple garage and separate staff apartment, there was something more basic for £3.75m. 
The portrait of Sir Winston Churchill still glowered in club reception, as a manager glowered at the reporter who showed up without an appointment. "You are not allowed on the premises," she said. "This is a private members' club."
And no we couldn't just pop into the bar to see who was around now we were here. "Certainly not."
Yet despite such reassuring signs, God was not in His heaven. All was not right with the world, or at least with this once idyllic corner of Surrey.
Because Wentworth's new Thai-Chinese owner, the Reignwood Group, chaired by Dr Chanchai Ruayrungruang, one of China's richest men, has decided to take the club – which some had naively assumed was already fairly exclusive – to a whole new level.
From April 2017 all current members, bar the over-75s, will have to stump up a £100,000 debenture if they want to remain at the club.
And the annual family membership fee is almost doubling from £8,388 to £16,000. There will also be only 900 available debentures, thus reducing membership numbers from 4,000 to nearer 2,000.
Reader, if you have tears, prepare to shed them now: Parky is upset. Sir Michael Parkinson, the most luminous of chat show royalty, fears his beloved Wentworth will be turned into a soulless enclave for a few of the super-rich.
"It is very sad," he said, conveying his displeasure to The Daily Telegraph. 
On the Wentworth estate, where 300 once-happy club members live, one gained the impression of a (private security patrolled) community of 1,100 homes – (total value: £5.5bn) – suffering under the yoke of the foreign invader. 
"The club is the heart of the estate," said one resident, "Our church, our pub, our canteen. There is no evidence they want to embrace English culture. It is a drive to destroy a community."
Yet even in the darkness there is hope.
From the residents' side of the high, entryphone-controlled gates, came mutterings about the upper class, insurrectionary talk suggesting a glorious struggle against the oppressor.
The flame of resistance had been lit. 
We met in one of the estate's humbler dwellings: the 4,500 square foot, four-bedroom home of company director Nigel Moss, 54. 
It was from here that Mr Moss issued the clarion call.
"Save our Wentworth for the nation," Mr Moss of The Resistance/newly formed Wet Feet action group, had written.
Because they weren't just doing this for themselves.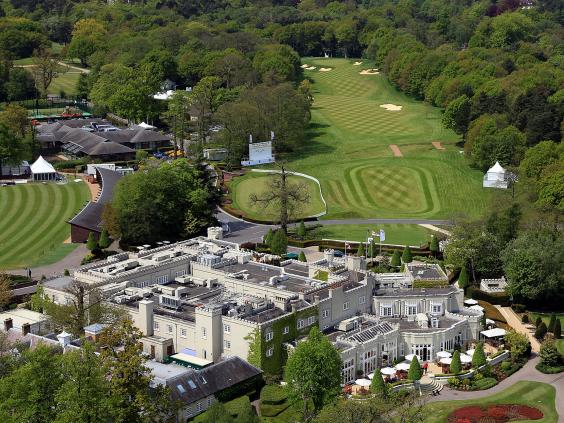 "Wentworth is a huge heritage asset for Britain," said Mr Moss, "The club where the Ryder Cup was founded. Thousands of British people play there every year, as guests of members and in invitational tournaments. Chop it down to a few hundred ultra-high net worth foreign members and Wentworth will be lost to the nation."
In a way, said Michael Fleming, club captain in 2015, Resistance stalwart in 2016, they were rather like Liverpool football fans protesting at high ticket prices.
"The mega-wealthy seem to want to reinvent the aristocracy," he said. "Is the ordinary man going to be priced out?"
Because, you see, Wentworth has been accessible. Yes, the current £15,000 joining fee for full membership is more than 16 times what England Golf figures suggest is the national average.
Yes, the £8,388 full-membership fees were among the most expensive in England. But you could be a social member for £468 a year and no joining fee.
"The mix is fantastic," said Mr Fleming, 58, a dental surgeon. "From all walks of life, couldn't care less how you made the money."
"I would hate," said Andrea Tenconi, an associate partner in an asset management firm, "For this to be perceived as a fight between the well-off and the more well-off, the rich versus the super-rich."
It would indeed be most unfair to describe this as the haves manning the barricades against the have-mores.
After all, you don't need barricades when you own the roads.
Which, thanks to the highly unusual Wentworth Estate Act 1964, the residents do.
So, said Mr Moss, they were perfectly placed to break with custom and veto the usual road closures for this May's PGA Championship at Wentworth, the flagship event of golf's European tour.
UK news in pictures
UK news in pictures
1/27 21 March 2017

Northern Ireland's Former Deputy First Minister Martin McGuinness Dies Aged 66

Getty Images

2/27 21 March 2017

Beautiful Beautiful George Michael Love Painting of late singer George Michael by Damien Hirst

Damien Hirst/The Goss-Michael Foundation/PA Wire

3/27 18 March 2017

Britain's Prince William, Duke of Cambridge, and his wife Britain's Kate, Duchess of Cambridge, look across the River Seine at a view of Paris through the clock face at the Musee dOrsay - the former Gare d'Orsay train station- during their visit to the museum on the second day of their two-day visit to the French capital. It is the prince's first official visit to the French capital since his mother Diana died there in a car crash in 1997

Getty Images

4/27 18 March 2017

The Duke and Duchess of Cambridge at Les Invalides, where they met a number of victims and first responders from the Bataclan and Nice attacks and also heard more about the important historic and current role of the site, in particular its work supporting veterans and its rehabilitation programmes, as part of their official visit to the French capital

PA wire

5/27 18 March 2017

The Duke and Duchess of Cambridge at the Trocadero, where attended a 'Les Voisins in Action' event highlighting the strong ties between the young people of France and the UK, during an official visit to Paris, France

PA wire

6/27 18 March 2017

The Duke and Duchess of Cambridge at the Trocadero, join in a game of rugby with school children as they attends a 'Les Voisins in Action' event highlighting the strong ties between the young people of France and the UK, during an official visit to Paris, France

PA wire

7/27 18 March 2017

Scottish First Minister Nicola Sturgeon tours the stall at the SNP Spring Conference at the AECC in Aberdeen

PA

8/27 18 March 2017

Thousands of protesters arrived at Portland Place in Central London at around midday holding banners adorning defiant messages of solidarity

Zakariya Cochrane

9/27 16 March 2017

Amnesty International activists hold banners while taking a demonstration in London

AP

10/27 16 March 2017

Prince Harry leads a panel discussion with former members of the UK and US Armed Forces, Ivan Castro, and Philip Eaglesham, with his Assistance Dog Cooper, during the Veterans' Mental Health Conference at the King's Building in the Quad, King's College London

PA wire

11/27 15 March 2017

House of Commons Sergeant at Arms Kamal El-Hajji tries a new 360 degree headset which allows people to have a virtual reality tour of the Houses of Parliament in London using their smart phone from anywhere in the world

PA wire

12/27 15 March 2017

Claire Blackman, wife of the imprisoned British Sergeant Alexander Blackman, poses as she leaves the Royal Courts of Justice

Getty

13/27 14 March 2017

Muirfield golf club members have voted to admit women members after the privately owned club voted eighty percent in favour in updating the membership policy

Getty Images

14/27 13 March 2017

A photographer captures the sunrise in Whitley Bay, Tyne and Wear, as today could be one of the warmest days of the year so far with spring just over a week away

PA wire

15/27 13 March 2017

Metropolitan Police undated handout photo of rapist Anthony Roberts who is facing jail for a vicious attack on an 81-year-old woman minutes after he sat next to her on a bus

Metropolitan Police/PA Wire

16/27 13 March 2017

British Prime Minister Theresa May leaves after attending a Commonwealth Day Service at Westminster Abbey

Getty Images

17/27 13 March 2017

Buglers play their instruments during a Commonwealth Day Service at Westminster Abbey

Getty Images

18/27 13 March 2017

Britain's Queen Elizabeth II, Britain's Prince Charles, Prince of Wales and Britain's Prince Philip, Duke of Edinburgh leave after attending a Commonwealth Day Service at Westminster Abbey

Getty Images

19/27 5 March 2017

The sun rises over Bingham in Nottinghamshire

Neil Squires/PA Wire

20/27 5 March 2017

Annie Lennox, Mayor of London Sadiq Khan and Bianca Jagger, at the start of the March4Women event in London, ahead of International Women's Day

Dominic Lipinski/PA

21/27 5 March 2017

Jack Mckendrick from North Wales, carrying his partner Kirsty Jones, wins the 10th UK Wife Carrying Race in Dorking, Surrey

PA wire

22/27 5 March 2017

Competitors start the 10th UK Wife Carrying Race in Dorking, Surrey

Gareth Fuller/PA Wire

23/27 4 March 2017

'Our NHS' demonstrators protest outside of the parliament in London

EPA

24/27 4 March 2017

Protesters march with banners and placards against private companies' involvement in the National Health Service (NHS) and social care services provision and against cuts to NHS funding in central London

Getty Images

25/27 4 March 2017

Sinn Fein northern leader Michelle O'Neill stands in front a mural of republican hunger striker Bobby Sands after holding a post election press conference at Sinn Fein headquarters in Belfast, Northern Ireland

Getty Images

26/27 2 March 2017

Mother Pam Duggan and aunt Carole Duggan arriving at the Royal Courts of Justice in London for the latest round of a legal battle by the family of Mark Duggan, whose fatal shooting by a police marksman sparked nationwide riots. They are going to the Court of Appeal to challenge a decision by three High Court judges that an inquest jury was legally entitled to bring in its 8-2 majority verdict that he was 'lawfully killed'

Nick Ansell/PA Wire

27/27 13 March 2017

Flag bearers carry the flags of the commonwealth nations during the Commonwealth Service at Westminster Abbey, London

PA wire
They might also deploy the Surrey commuter belt version of work to rule: rigorously enforcing estate rules banning publicity banners, even those of tournament sponsors BMW.
"Absolutely," said Mr Moss. "It's non-collaboration." And in such struggles, comrade, there can be no collaborators.
Although Wentworth chief executive Stephen Gibson seemed to disagree. He issued a statement: "I don't think the estate residents are the type who would be prepared to obstruct such a celebrated event."
There was also a club statement: "It is extremely important for us to be an integrated part of the community, [so] we have been liaising closely with our members and the Wentworth Residents' Association.
"We [deny] that changes would turn the club into a 'ghost town'. Our ambition is to become a family club where memberships are passed down through generations."
A £20m revamp of the golf courses was, apparently, just the start: "Our vision is to make Wentworth the world's premier private golf and country club. The club has listened to member feedback."
The Wentworth Resistance remained unappeased. Even if people thought they were privileged, said Mr Fleming, "Does privilege rule out the right to fair play?"