The Union Flag still fluttered over the battlements of Wentworth golf club. Immaculate greens swept down to the lake – with its ornamental fountains through which water still flowed.
On the Wentworth Estate – built around the club that was conceived as its centre, its social hub and beating heart – the "Residents and Wentworth Club only" signs still proliferated.
You could snap up a five-bed new build here for just £11m, and if you could survive without the triple garage and separate staff apartment, there was something more basic for £3.75m. 
The portrait of Sir Winston Churchill still glowered in club reception, as a manager glowered at the reporter who showed up without an appointment. "You are not allowed on the premises," she said. "This is a private members' club."
And no we couldn't just pop into the bar to see who was around now we were here. "Certainly not."
Yet despite such reassuring signs, God was not in His heaven. All was not right with the world, or at least with this once idyllic corner of Surrey.
Because Wentworth's new Thai-Chinese owner, the Reignwood Group, chaired by Dr Chanchai Ruayrungruang, one of China's richest men, has decided to take the club – which some had naively assumed was already fairly exclusive – to a whole new level.
From April 2017 all current members, bar the over-75s, will have to stump up a £100,000 debenture if they want to remain at the club.
And the annual family membership fee is almost doubling from £8,388 to £16,000. There will also be only 900 available debentures, thus reducing membership numbers from 4,000 to nearer 2,000.
Reader, if you have tears, prepare to shed them now: Parky is upset. Sir Michael Parkinson, the most luminous of chat show royalty, fears his beloved Wentworth will be turned into a soulless enclave for a few of the super-rich.
"It is very sad," he said, conveying his displeasure to The Daily Telegraph. 
On the Wentworth estate, where 300 once-happy club members live, one gained the impression of a (private security patrolled) community of 1,100 homes – (total value: £5.5bn) – suffering under the yoke of the foreign invader. 
"The club is the heart of the estate," said one resident, "Our church, our pub, our canteen. There is no evidence they want to embrace English culture. It is a drive to destroy a community."
Yet even in the darkness there is hope.
From the residents' side of the high, entryphone-controlled gates, came mutterings about the upper class, insurrectionary talk suggesting a glorious struggle against the oppressor.
The flame of resistance had been lit. 
We met in one of the estate's humbler dwellings: the 4,500 square foot, four-bedroom home of company director Nigel Moss, 54. 
It was from here that Mr Moss issued the clarion call.
"Save our Wentworth for the nation," Mr Moss of The Resistance/newly formed Wet Feet action group, had written.
Because they weren't just doing this for themselves.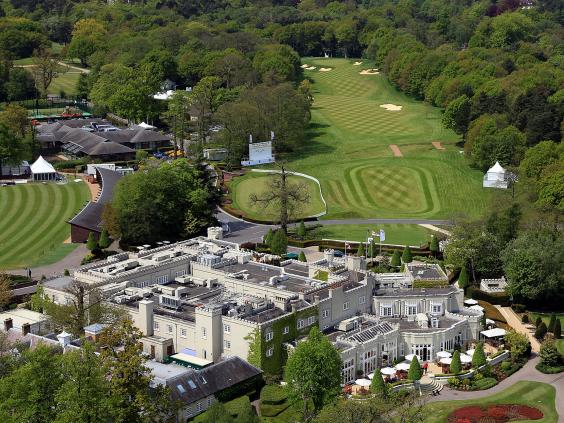 "Wentworth is a huge heritage asset for Britain," said Mr Moss, "The club where the Ryder Cup was founded. Thousands of British people play there every year, as guests of members and in invitational tournaments. Chop it down to a few hundred ultra-high net worth foreign members and Wentworth will be lost to the nation."
In a way, said Michael Fleming, club captain in 2015, Resistance stalwart in 2016, they were rather like Liverpool football fans protesting at high ticket prices.
"The mega-wealthy seem to want to reinvent the aristocracy," he said. "Is the ordinary man going to be priced out?"
Because, you see, Wentworth has been accessible. Yes, the current £15,000 joining fee for full membership is more than 16 times what England Golf figures suggest is the national average.
Yes, the £8,388 full-membership fees were among the most expensive in England. But you could be a social member for £468 a year and no joining fee.
"The mix is fantastic," said Mr Fleming, 58, a dental surgeon. "From all walks of life, couldn't care less how you made the money."
"I would hate," said Andrea Tenconi, an associate partner in an asset management firm, "For this to be perceived as a fight between the well-off and the more well-off, the rich versus the super-rich."
It would indeed be most unfair to describe this as the haves manning the barricades against the have-mores.
After all, you don't need barricades when you own the roads.
Which, thanks to the highly unusual Wentworth Estate Act 1964, the residents do.
So, said Mr Moss, they were perfectly placed to break with custom and veto the usual road closures for this May's PGA Championship at Wentworth, the flagship event of golf's European tour.
UK news in pictures
UK news in pictures
1/30 26 September 2016

Labour Leader Jeremy Corbyn talks with Shadow Chancellor John McDonnell during the Labour Party Conference in Liverpool

Getty Images

2/30 25 September 2016

A young pearly princess (2R) looks toward her aunt Charlotte Bennett (L), the Pearly Princess of Woolwich, during the Pearly Kings and Queens Harvest Festival service at Guildhall in the City of London. Pearly kings and queens are a working-class charitable tradition in London. The "pearly" tradition was started by a 19th century street sweeper who decorated his suit with "pearl" buttons to draw attention to his charity fund raising activities. Since then many groups and associations were formed to carry forward the charitable "pearly" tradition with each London borough having its own pearly king or queen to act as a focal point for fund raising and charitable giving. The harvest festival celebrates the autumn harvest and is a major date in the pearly calendar

AFP/Getty Images

3/30 25 September 2016

Victorian re-enactors Vicky and Keith Biddlecombe arrive at the Guildhall for the Pearly Kings and Queens Harvest Festival in the City of London

AFP/Getty Images

4/30 25 September 2016

Participants in the annual North East Skinny Dip run into the sea at Druridge Bay. About 500 people swam naked in the North Sea in aid of charity

REUTERS

5/30 24 September 2016

A Manchester United fan embraces the side of Old Trafford stadium ahead of the English Premier League football match between Manchester United and Leicester City at Old Trafford in Manchester

AFP/Getty Images

6/30 23 September 2016

Fiona MacKeown, the mother of murdered British schoolgirl Scarlett Keeling, is escorted as she leaves the Childrens Court in Panaji. A court in India cleared two men accused of the rape and homicide of 15-year-old British schoolgirl Scarlett Keeling whose bruised and semi-nude body was found on a Goa beach eight years ago. Friends and relatives of the two accused, Samson D'Souza and Placido Carvalho, cheered as the verdict was read out in the state capital Panaji

AFP/Getty Images

7/30 22 September 2016

A stag calls out at Richmond Park in London. Today marks the first day of autumn, also known as the autumn equinox, where night and day are equal

Getty Images

8/30 21 September 2016

An activist adjusts US flag bunting attached to a "Stop Trump" battle bus in London in a campaign run by campaign group Avaaz to mobilise US expatriots in the UK to register to vote in the US presidential election

AFP/Getty Images

9/30 20 September 2016

Prince Harry does 'the dab' with children from the Streetsport initiative during a visit to Robert Gordon University in Aberdeen, Scotland

10/30 19 September 2016

Some 2500 life jackets worn by refugees who made the sea crossing from Turkey to the Greek island of Chios are displayed in what the organisers called a "Lifejacket Graveyard" in Parliament Square, London, backdropped by the Houses of Parliament. The display was organised by Snappin' Turtle Productions and supported by refugee charities to coincide with the first ever United Nations Summit for Refugees and Migrants taking place in New York

AP

11/30 18 September 2016

The Reverend Stephen Mason (L) mounts a horse before leading a church service during the Hyde Park Horseman's Sunday in London. The 49th annual Hyde Park Horseman's Sunday event sees around 60 horses and riders join a congregation for a church service outside St John's Church in Hyde Park, complete with members of the clergy mounted on horses. The annual event began as a way to raise awareness of the local stables situated along Hyde Park and of working horses in central London

Getty Images

12/30 17 September 2016

Members of the public gather to watch a giant peach as it is moved through the centre of Cardiff as part of a street performance to mark the start of City of the Unexpected, a celebration of the author Roald Dahl in Cardiff. The celebrated author was born in Cardiff 100 years ago this month and to celebrate the Welsh capital is hosting a series of events this weekend

Getty Images

13/30 16 September 2016

Judges manouvere giant cabbages to be weighed in the Giant Vegetable Competition on the first day of the Harrogate Autumn Flower Show at the Great Yorkshire Showground, in Harrogate

AFP/Getty Images

14/30 15 September 2016

NCP is renaming one of its carparks to the Sarah multi-Storey Car Park to honour the sporting achievement of one of Britain's true #superhumans after her record breaking endeavours at the Paralympic Games in Rio

15/30 14 September 2016

Swimmers enjoy an early morning dip shortly before sunrise in the Serpentine in Hyde Park in London. Areas in the South East of England continue to enjoy seasonable weather

Getty Images

16/30 13 September 2016

British Labour party Leader Jeremy Corbyn stands with campaigners outside the Houses of Parliament in central London, during a protest calling for an inquiry into the Battle of Orgreave and the policing of the miners strikes. The campaigners are calling for an inquiry into the way that police handled events outside the Orgreave coking plant, near Sheffield, north-east England, in 1984

AFP/Getty Images

17/30 12 September 2016

President of the Zoroastrian Trust Funds of Europe Malcolm Deboo addresses guests during an appeal by senior faith representatives at the Liberal Jewish Synagogue for more action to be taken by the Government on the issue of refugees, in London. Over 200 leaders of the UK's major religions and faiths have signed a letter to British Prime Minister Theresa May, asking to unblock the rules that currently prevent families from being reunited

Getty Images

18/30 11 September 2016

Athletes enter the water at the swim start during Ironman Weymouth in Weymouth

Getty Images

19/30 11 September 2016

People dressed in vintage clothes attend the Goodwood Revival at Goodwood in Chichester

Getty Images

20/30 10 September 2016

Artem Silchenko of Russia dives from the 27.5 metre platform at the Blue Lagoon during the sixth stop of the Red Bull Cliff Diving World Series, Pembrokeshire, Wales

Red Bull via Getty Images

21/30 10 September 2016

Debutantes and their escorts rehearse ahead of the Queen Charlotte's Ball at 'One Whitehall Place, The Royal Horseguards Hotel' in London. Queen Charlotte's Ball is the pinnacle event in the London Season. The London Season is rich in history and was formed over two hundred years ago when the custom of returning to London at the end of the hunting season was celebrated with glittering balls and high society events. The modern group of meticulously selected debutantes continue the tradition and celebrate their year of charity fund raising, etiquette classes and debut at The Queen Charlotte's Ball

Getty Images

22/30 9 September 2016

Farmers buy and sell at Kelso Ram Sale in Kelso, Scotland. Kelso is the biggest on day sale of Rams in the world, with between five and six hundred consignors attending the event, which dates back to 1836. 5,145 rams will be sold today and last year's sale total reached over two and a half million pounds, with the average ram fetching £610. The last few years has seen rams being exported to countries including Eire, Germany and Holland

Getty Images

23/30 8 September 2016

Britain's Prime Minister Theresa May (L) greets European Council President Donald Tusk in Downing Street in London

REUTERS

24/30 7 September 2016

The tower of Grain Power Chimney comes down in Isle of Grain. The 244m (801ft) chimney of Grain Power Station, a former oil-fired power station and the second tallest chimney in the UK was demolished by experts Brown and Mason at 11 am

Getty Images

25/30 6 September 2016

'The Faraway Treehouse' in Norwich has been titled the UK's Top Treehouse, as judge and adventurer Steve Backshall has revealed the winner found as part of Center Parcs' nationwide search. The winning treehouse was built by the Jennings' family, from Norwich, as a joint project between dad Matthew and his six-year-old daughter Ruby, who got inspired by an Enid Blyton classic 'The Faraway Treehouse'

PA

26/30 5 September 2016

Runners covered in coloured powder enjoy themselves as they ran through the streets of London during the anticipated mass 'Color Throw'. The Color Run Presented by Skittles is an untimed 5k fun run, aiming to bring together fitness and fun, with the ultimate goal being that participants cross the line with a huge smile on their face

27/30 4 September 2016

A replica of 17th-century London on a barge floating on the river Thames burns in an event to mark the 350th anniversary of the Great Fire of London

AFP/Getty Images

28/30 3 September 2016

Enthusiasts in vintage clothing take a stroll in the rain along Morecambe promenade during Vintage By The Sea event in Morecambe. Vintage By The Sea is a celebration of 20th century design, fashion and entertainment. Now in it's fourth year Vintage By The Sea is hosted in the seaside resort of Morecambe

Getty Images

29/30 2 September 2016

Scottish First Minister Nicola Sturgeon and leader of the Scottish National Party (SNP) speaks at a press conference in Stirling. Sturgeon launched a new survey on independence, saying the Brexit vote had changed the conditions that existed when Scotland voted against secession in 2014

AFP/Getty Images

30/30 1 September 2016

People gather on the beach to take advantage of the fine weather at West Bay in Dorset

Getty Images
They might also deploy the Surrey commuter belt version of work to rule: rigorously enforcing estate rules banning publicity banners, even those of tournament sponsors BMW.
"Absolutely," said Mr Moss. "It's non-collaboration." And in such struggles, comrade, there can be no collaborators.
Although Wentworth chief executive Stephen Gibson seemed to disagree. He issued a statement: "I don't think the estate residents are the type who would be prepared to obstruct such a celebrated event."
There was also a club statement: "It is extremely important for us to be an integrated part of the community, [so] we have been liaising closely with our members and the Wentworth Residents' Association.
"We [deny] that changes would turn the club into a 'ghost town'. Our ambition is to become a family club where memberships are passed down through generations."
A £20m revamp of the golf courses was, apparently, just the start: "Our vision is to make Wentworth the world's premier private golf and country club. The club has listened to member feedback."
The Wentworth Resistance remained unappeased. Even if people thought they were privileged, said Mr Fleming, "Does privilege rule out the right to fair play?"
Reuse content