The Union Flag still fluttered over the battlements of Wentworth golf club. Immaculate greens swept down to the lake – with its ornamental fountains through which water still flowed.
On the Wentworth Estate – built around the club that was conceived as its centre, its social hub and beating heart – the "Residents and Wentworth Club only" signs still proliferated.
You could snap up a five-bed new build here for just £11m, and if you could survive without the triple garage and separate staff apartment, there was something more basic for £3.75m. 
The portrait of Sir Winston Churchill still glowered in club reception, as a manager glowered at the reporter who showed up without an appointment. "You are not allowed on the premises," she said. "This is a private members' club."
And no we couldn't just pop into the bar to see who was around now we were here. "Certainly not."
Yet despite such reassuring signs, God was not in His heaven. All was not right with the world, or at least with this once idyllic corner of Surrey.
Because Wentworth's new Thai-Chinese owner, the Reignwood Group, chaired by Dr Chanchai Ruayrungruang, one of China's richest men, has decided to take the club – which some had naively assumed was already fairly exclusive – to a whole new level.
From April 2017 all current members, bar the over-75s, will have to stump up a £100,000 debenture if they want to remain at the club.
And the annual family membership fee is almost doubling from £8,388 to £16,000. There will also be only 900 available debentures, thus reducing membership numbers from 4,000 to nearer 2,000.
Reader, if you have tears, prepare to shed them now: Parky is upset. Sir Michael Parkinson, the most luminous of chat show royalty, fears his beloved Wentworth will be turned into a soulless enclave for a few of the super-rich.
"It is very sad," he said, conveying his displeasure to The Daily Telegraph. 
On the Wentworth estate, where 300 once-happy club members live, one gained the impression of a (private security patrolled) community of 1,100 homes – (total value: £5.5bn) – suffering under the yoke of the foreign invader. 
"The club is the heart of the estate," said one resident, "Our church, our pub, our canteen. There is no evidence they want to embrace English culture. It is a drive to destroy a community."
Yet even in the darkness there is hope.
From the residents' side of the high, entryphone-controlled gates, came mutterings about the upper class, insurrectionary talk suggesting a glorious struggle against the oppressor.
The flame of resistance had been lit. 
We met in one of the estate's humbler dwellings: the 4,500 square foot, four-bedroom home of company director Nigel Moss, 54. 
It was from here that Mr Moss issued the clarion call.
"Save our Wentworth for the nation," Mr Moss of The Resistance/newly formed Wet Feet action group, had written.
Because they weren't just doing this for themselves.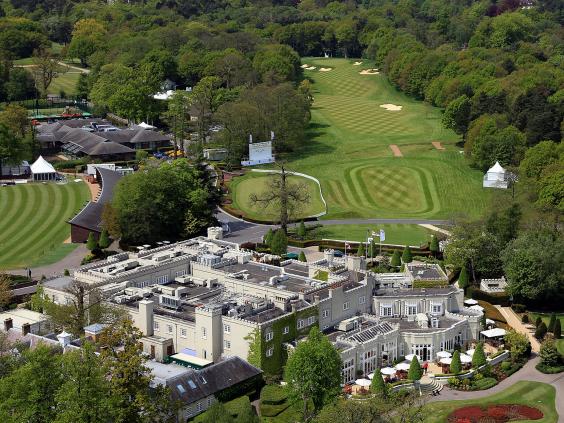 "Wentworth is a huge heritage asset for Britain," said Mr Moss, "The club where the Ryder Cup was founded. Thousands of British people play there every year, as guests of members and in invitational tournaments. Chop it down to a few hundred ultra-high net worth foreign members and Wentworth will be lost to the nation."
In a way, said Michael Fleming, club captain in 2015, Resistance stalwart in 2016, they were rather like Liverpool football fans protesting at high ticket prices.
"The mega-wealthy seem to want to reinvent the aristocracy," he said. "Is the ordinary man going to be priced out?"
Because, you see, Wentworth has been accessible. Yes, the current £15,000 joining fee for full membership is more than 16 times what England Golf figures suggest is the national average.
Yes, the £8,388 full-membership fees were among the most expensive in England. But you could be a social member for £468 a year and no joining fee.
"The mix is fantastic," said Mr Fleming, 58, a dental surgeon. "From all walks of life, couldn't care less how you made the money."
"I would hate," said Andrea Tenconi, an associate partner in an asset management firm, "For this to be perceived as a fight between the well-off and the more well-off, the rich versus the super-rich."
It would indeed be most unfair to describe this as the haves manning the barricades against the have-mores.
After all, you don't need barricades when you own the roads.
Which, thanks to the highly unusual Wentworth Estate Act 1964, the residents do.
So, said Mr Moss, they were perfectly placed to break with custom and veto the usual road closures for this May's PGA Championship at Wentworth, the flagship event of golf's European tour.
UK news in pictures
UK news in pictures
1/30 1 July 2016

Demonstrators chant as they wave underwear and placards with the words "Liar Liar Pants On Fire" written on them outside the home of former London Mayor Boris Johnson

Getty Images

2/30 30 June 2016

Justice Secretary and leading Brexit campaigner Michael Gove leaves his home in Kensington before announcing his intention to run to be the next Conservative Party leader and UK prime minister

Getty Images

3/30 29 June 2016

Spectators with umbrellas struggle against strong wind as stormy weather delays play at Wimbledon

REUTERS

4/30 28 June 2016

A couple kiss outside the Houses of Parliament during a protest aimed at showing London's solidarity with the European Union following the recent EU referendum

REUTERS

5/30 28 June 2016

Queen Elizabeth II & Prince Philip, Duke Of Edinburgh attend the unveiling of the Robert Quigg VC memorial statue in Bushmills village, Northern Ireland

Getty Images

6/30 27 June 2016

Opposition Labour party leader Jeremy Corbyn leaves after addressing a gathering of supporters demonstrating in Parliament Square, in central London

REUTERS

7/30 26 June 2016

A man dressed as Boris Johnson and Donald Trump prepare to take part in a tomato fight at the Glastonbury Festival 2016 at Worthy Farm

Getty Images

8/30 26 June 2016

People walk over Westminster Bridge wrapped in Union flags in central London. Britain's opposition Labour party plunged into turmoil and the prospect of Scottish independence drew closer, ahead of a showdown with EU leaders over the country's seismic vote to leave the bloc

AFP/Getty Images

9/30 25 June 2016

People pay tribute to the victims of the Orlando nightclub shooting as they take part in the annual Pride London Parade which highlights issues of the gay, lesbian and transgender community, in London

REUTERS

10/30 25 June 2016

Scotland's First Minister and Leader of the Scottish National Party (SNP), Nicola Sturgeon, addresses the media after holding an emergency Cabinet meeting at Bute House in Edinburgh, following the pro-Brexit result of the UK's EU referendum vote

AFP/Getty Images

11/30 24 June 2016

A man carries a EU flag, after Britain voted to leave the European Union, outside Downing Street in London

12/30 23 June 2016

AFP/Getty Images

13/30 22 June 2016

British Prime Minister David Cameron poses for a photograph after addressing pro-EU "Vote Remain" supporters at rally in Bristol, whilst campaigning to avoid a Brexit, ahead of the 23 June EU referendum

AFP/Getty Images

14/30 21 June 2016

Scottish Conservative leader Ruth Davidson (left) and Mayor of London Sadiq Khan speak during the EU debate at Wembley Arena in London

Getty Images

15/30 20 June 2016

A full moon rises behind Glastonbury Tor as people gather to celebrate the summer solstice in Somerse

Getty Images

16/30 19 June 2016

Hot air balloons took to the air as part of the annual Lord Mayor's Hot Air Balloon Regatta, a charity event in aid of the Lord Mayor's Fund, in London

Getty Images

17/30 19 June 2016

Liberal Democrats leader Tim Farron (C) poses with supporters after arriving in the Liberal Democrat Vote Remain campaign bus, campaigning to avoid a Brexit in the EU referendum, during a launch event in east London

AFP/Getty Images

18/30 18 June 2016

A man lights a flare among pro-refugee activists rallying outside the French Embassy in central London, during a protest after most of an aid convoy of vehicles organised by campaign groups heading to northern France were turned back at the French frontier at the port of Dover

AFP/Getty Images

19/30 17 June 2016

Prime Minister David Cameron and Labour Leader Jeremy Corbyn arrive to pay their respects at the scene where Jo Cox was shot in Birstall

Getty Images

20/30 16 June 2016

Floral tributes and candles are placed by a picture of slain Labour MP Jo Cox at a vigil in Parliament square in London. Cox died after a shock daylight street attack, throwing campaigning for the referendum on Britain's membership of the European Union into disarray just a week before the crucial vote

AFP

21/30 15 June 2016

Boats from the 'Fishing for Leave' campaign group join a flotilla along the Thames River in London. The flotilla organised by members of the Fishing for Leave group, who are campaigning to leave the European Union ahead of the referendum on the 23 of June, was countered by boats representing the 'In' campaign

Getty Images

22/30 14 June 2016

A general view of the Tate Modern's new Switch House in London. The Tate Modern art gallery has unveiled its new Switch House building designed by architects Herzog & de Meuron

Getty

23/30 13 June 2016

Labour Leader Jeremy Corbyn (C) and Deputy Labour Leader Tom Watson (R) attend a vigil for the victims of the Orlando nightclub shooting, outside the Admiral Duncan pub on Old Compton Street in Soho, London

Getty Images

24/30 12 June 2016

A pigeon flies ahead of Britain's Queen Elizabeth and Prince Philip, and Princes William, Harry and Kate Duchess of Cambridge behind as they wave to guests attending the Patron's Lunch on the Mall, an event to mark her 90th birthday, in London

REUTERS

25/30 11 June 2016

A Guardsman faints at Horseguards Parade for the annual Trooping the Colour ceremony in central London

REUTERS

26/30 10 June 2016

The national service of thanksgiving for the 90th birthday of Britain's Queen Elizabeth II at St Paul's Cathedral in London, which is also the Duke of Edinburgh's 95th birthday

Getty Images

27/30 9 June 2016

Princess Anne, Princess Royal attends the Founders Day Parade at The Royal Hospital Chelsea in London

Getty Images

28/30 8 June 2016

Two women walk barefoot through heavy rain in Westminster in London. The Met Office has issued flood alerts for parts of the south east of England as torrential rain hit parts of the country

Getty Images

29/30 7 June 2016

An Osprey catches two Rainbow Trout at Rothiemurchus in Kincraig, Scotland. Ospreys migrate each spring from Africa and nest in tall pine trees around the Aviemore area, the raptor was hunted to the point of extinction in the Victorian era, their migratory habits eventually brought them back to Scotland with the first successful breeding pair being recorded in 1954

Getty

30/30 6 June 2016

David Cameron speaks at a Remain in the EU campaign event at the Oval cricket ground in London

Getty Images
They might also deploy the Surrey commuter belt version of work to rule: rigorously enforcing estate rules banning publicity banners, even those of tournament sponsors BMW.
"Absolutely," said Mr Moss. "It's non-collaboration." And in such struggles, comrade, there can be no collaborators.
Although Wentworth chief executive Stephen Gibson seemed to disagree. He issued a statement: "I don't think the estate residents are the type who would be prepared to obstruct such a celebrated event."
There was also a club statement: "It is extremely important for us to be an integrated part of the community, [so] we have been liaising closely with our members and the Wentworth Residents' Association.
"We [deny] that changes would turn the club into a 'ghost town'. Our ambition is to become a family club where memberships are passed down through generations."
A £20m revamp of the golf courses was, apparently, just the start: "Our vision is to make Wentworth the world's premier private golf and country club. The club has listened to member feedback."
The Wentworth Resistance remained unappeased. Even if people thought they were privileged, said Mr Fleming, "Does privilege rule out the right to fair play?"
Reuse content