In quantifiable terms Lewis Hamilton is already in exalted company. Only four men in the history of Formula One have won more races.
His 32nd victory in the United States earlier this month eclipsed Nigel Mansell as the most prolific Briton, a significant achievement given this nation's deep racing tradition, one that has shaped the modern sport.
An 11th win of the season would move him alongside Michael Schumacher and Sebastian Vettel in chequered flags taken in one campaign, and this with an uber-competitive  team-mate, Nico Rosberg, who has pipped him for poles and might yet wear the crown himself, a feature that neither of the mighty Teutons had to negotiate in any of their respective romps to the title.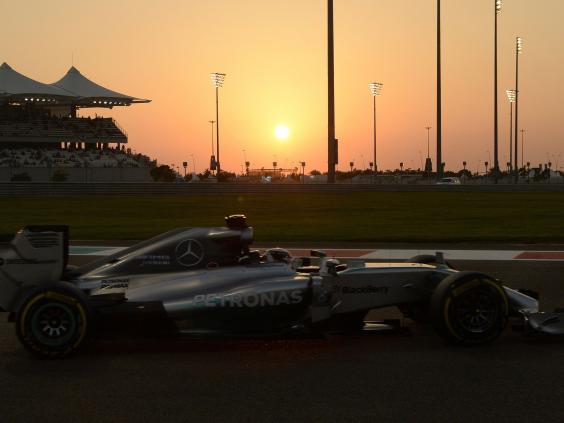 Most important of all Hamilton can afford to finish second and still bring home the bacon. On the evidence of Mercedes' crushing dominance on the opening day of practice in Abu Dhabi – Hamilton led both sessions – only the parting of the seas or the return of the gremlins from hell can deny Hamilton a second world championship and a place beside the great Jim Clark and Graham Hill. Oh, and one other thing. He is not yet 30, plenty of time to reel in Sir Jackie Stewart, the pre-eminent Brit with three world titles.
Hamilton is arguably the most misunderstood figure not only on the grid but in British sport. It is hard to imagine a more genuine, down-to-earth high-net worth individual, which makes his lack of traction outside the racing milieu all the more baffling.
It is a pity McLaren did not record for posterity his post-championship address the morning after his first world title in Brazil in 2008. Maybe then his detractors might have understood better the man rather than the construction.
Hamilton suffered heavy PR losses in the fallout during his fractious first year alongside Fernando Alonso. Somehow the positive message associated with a kid overcoming socio-economic obstacles like never before was lost, allowing resentment in some parts to take hold. All innocence was shredded in a swirl of negative headlines projecting unseemly ambition and avarice over talent and derring-do.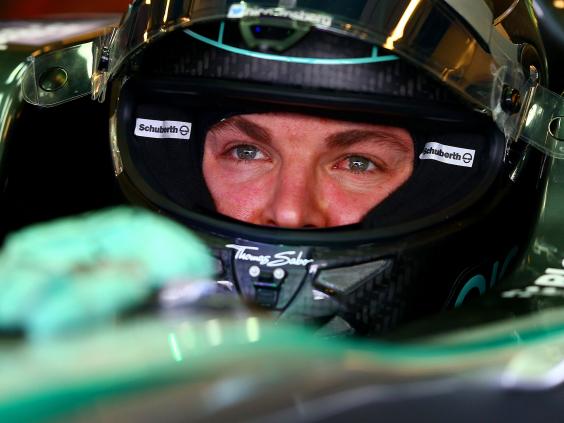 Thus by the time he reached the summit in 2008 he had become the brat with a sense of entitlement, who, among other misdemeanours, had turned his back on his country for a tax haven abroad. Blame advisers who thought it wise to account for his retreat to a Swiss canton in terms of a need for greater privacy. They should have just told it how it was. Living in the same tax-friendly neighbourhood for the best part of his career never did Sir Jackie any harm.   
There was no sign of that risible caricature when Hamilton accompanied the euphoric McLaren team to the traditional post-title thrash. He felt no compulsion to dive headfirst into a swimming pool or meet any other standard convention. Weirdly there was no euphoria, only a sense of destiny playing out.
Though he had immense pride, Hamilton did not feel anything out of the ordinary because he expected it of himself. In this there is something of Ayrton Senna about him, a man with a profound attachment to his faith, who believed he was acting out the grand design of a higher authority.
F1 Abu Dhabi Grand Prix 2014 - in pictures
F1 Abu Dhabi Grand Prix 2014 - in pictures
1/34 Final race

Hamilton is showered with champagne after the race

EPA

2/34 Final race

Hamilton celebrates his triumph

Getty

3/34 Final race

Hamilton can't hide his emotions on the podium

4/34 Final race

Hamilton commiserating runner-up Nico Rosberg

5/34 Final race

Hamilton embraces girlfriend Nicole Scherzinger

6/34 Final race

Hamilton lifts the British flag after being crowned champion

Getty

7/34 Final race

Hamilton in action at the Yas Marina circuit

EPA

8/34 Final race

Hamilton powers towards victory

9/34 Final race

Hamilton leads Mercedes team-mate Nico Rosberg

10/34 Final race

A TV broadcast shows Lotus' Venezuelan driver Pastor Maldonado leaving his burning car

11/34 Final race

Ferrari's Spanish driver Fernando Alonso breaks hard

12/34 Saturday qualifying

Lewis Hamilton shakes hands with Nico Rosberg as the two share a smile

Getty Images

13/34 Saturday qualifying

Nico Rosberg (c)m Lewis Hamilton (l) and Valterri Bottas (r), the top three from qualifying in Abu Dhabi, wave to the crowd

Getty Images

14/34 Saturday qualifying

Lewis Hamtilon and pole-sitter Nico Rosberg

Getty Images

15/34 Saturday qualifying

Lewis Hamilton emerges from the darkness as the sun sets over the Yas Marina pit-lane

Getty Images

16/34 Saturday qualifying

Kimi Raikkonen flashes by the lights of the hotel that towers over the track

Getty Images

17/34 Saturday qualifying

Valterri Bottas follows Lewis Hamilton

Getty Images

18/34 Saturday third practice

Daniel Ricciardo flashes past the harbour-side yachts at the Yas Marina circuit

Getty Images

19/34 Saturday third practice

Red Bull are saying goodbye to Sebastian Vettel as he prepares to leave at the end of the season

Getty Images

20/34 Saturday third practice

Prince Harry shares a joke with Geri Halliwell in the Red Bull garage

Getty Images

21/34 Saturday third practice

Adrian Sutil runs his Sauber close to the kerb

Getty Images

22/34 Friday second practice

Lewis Hamilton of Great Britain and Mercedes GP powers on

23/34 Friday second practice

Romain Grosjean of France and Lotus drives the Yas Marina Circuit

24/34 Friday second practice

Paddy Lowe, Mercedes Technical Executive Director looks on in the team garage

25/34 Friday first practice

Fernando Alonso follows his former team-mate Felipe Massa

Getty Images

26/34 Friday first practice

Lewis Hamilton ended first practice on top of the timesheets

Getty Images

27/34 Friday first practice

Romain Grosjean turns in as his Lotus glistens in the Abu Dhabi sun

Getty Images

28/34 Friday first practice

Kamui Kobayashi competes in first practice as Caterham return to action following two races away from the grid

Getty Images

29/34 Friday first practice

Daniel Ricciardo runs through the tunnel in the final sector of the Yas Marina track

Getty Images

30/34 Friday first practice

Lewis Hamilton tackles the Yas Marina circuit

Getty Images

31/34 Friday first practice

Nico Rosberg appears relaxed ahead of the biggest weekend of his life

Getty Images

32/34 Friday first practice

Fernando Alonso poses in the garage ahead of first practice

Getty Images

33/34 Friday first practice

Daniel Riccardo's helmet for the Abu Dhabi Grand Prix

Getty Images

34/34 Friday first practice

Sebastian Vettel signs autographs for fans in his final outing for Red Bull

Getty Images
So after a couple of flutes of bubbly Hamilton was away to his bed, leaving the lads and lasses to it. And the next morning he utterly disarmed journalists gathered in a hotel with his humility. He acknowledged almost everybody but himself for the success bestowed upon him, at 23 the youngest world champion.
There were heartfelt words for the McLaren hierarchy, who had supported him for the past 10 years, for the staff detailed to his side of the garage, and of course for his family, particularly his father and step-mother who had sacrificed so much before Ron Dennis began picking up the tab at 13 years old.
There was no attempt, either, to embrace the role of ethnic stereotype buster. He never saw himself as a black trailblazer, just a racer. It would be for others to attach significance to the rise from a Stevenage council estate of the world's first mixed-race Formula One world champion.
He was asked how the riches coming his way might change his life. He couldn't care less, he said. Of course it would be nice to have money, buy his own house etc., but that was never the priority. He would race for nothing, and perhaps a hundred quid to buy a new pair of trainers.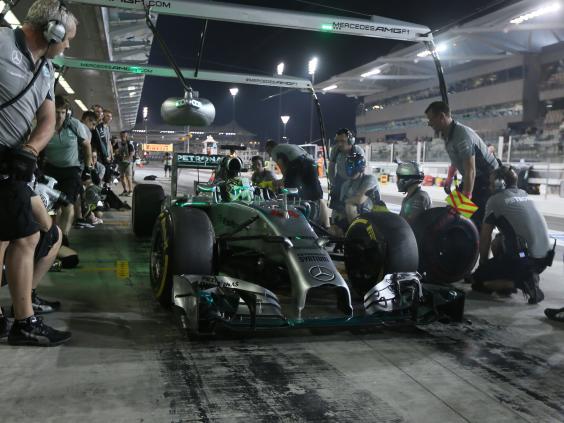 Six years on much has changed materially but little essentially. As he said on his arrival in Abu Dhabi, he occupies a different dimension now. How could he not after seven seasons immersed in this mad business? He is for the most part, however, the same humble fellow he was when he bolted into view in 2007.
Yes the promised millions have been banked, there is more than one house in a property portfolio that bookends the Atlantic, a pop idol partner and a host of Hollywood A-listers that he calls friends, yet none of these accoutrements have warped his soul. Give him a guitar and pet bulldogs Roscoe and Coco and I give you a man at one with the world.
Outside of the Olympic environment we have too few sportsmen or women we might regard as the best on the planet. Curiously the calendar has thrown two together this weekend an hour apart on the Arabian Peninsula. Up the road in Dubai Rory McIlroy continues his imperious march across the world of golf.
Hamilton is no less a genius, smoking the opposition with a frisky combination of innate skill, savage commitment and relentless desire. All he possesses he has earned. There are no free tickets for council-estate kids with Afro-Caribbean blood in their veins, especially in this sport. 
So win or lose Hamilton represents the best of Britain, an ethnic beacon and raving good news story at the end of a week in which a gormless football club chairman reminded us that the fight against prejudice and casual racism in sport is far from won.