Pain comes in various guises for racing drivers, often never more so than after they've finished second in a race they know could have won.
Lewis Hamilton has admitted that, having been happy on the podium after finishing a fighting second to Sebastian Vettel in Bahrain, he had subsequently become a little dejected as he considered what might have been.
"I think over the years nothing changes in terms of I feel pain in my heart when I finish second," he said.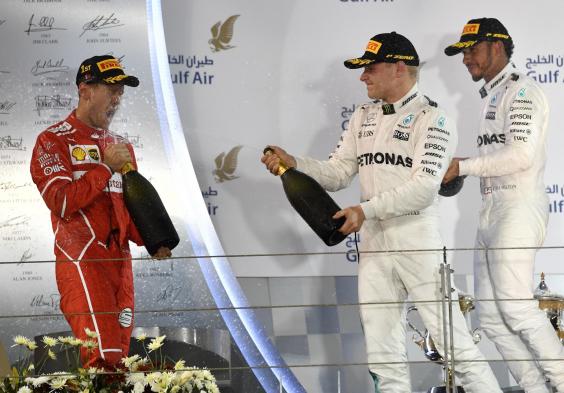 "People think you should be happy with that, but that's not why I exist. If anyone ever thinks that any driver, or I, should feel happy with second, I don't know what to say. It's not why we exist.
"I had a second before [to Vettel in Australia] and when you have a strong fight it's a good feeling. Today I felt quite good on the podium, I'd had a good fight, but then I got to thinking later how I lost two-tenths in Turn 10 to 11 when the DRS didn't engage in qualifying.
"I lost half a tenth out of the last corner. I should easily have been on pole. Then today I lost position at the start, solely my fault, then there was the time lost in the pitlane…
"You just practice, practice, practice, practice. You only have 20 opportunities in a year. It's painful, there's no other way of saying it.
"When you guys screw up in your job, I don't know how you feel about it, but particularly if there are big consequences, potentially, I'm sure you feel gutted as well. I try to handle it the best way I can but it eats you up a little bit inside, but you've just got to end up trying to cope and move forwards.
"In Australia I don't remember any of the things being massively my fault, I just ran out of tyres and had to pit, that was just the circumstances I was faced with. But today there were certain things that, had they been perfect, I would have been much better placed to fight for the win."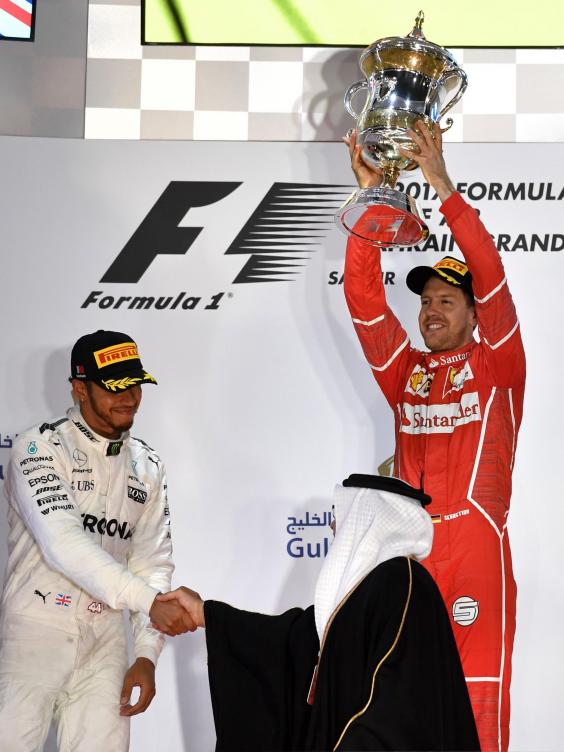 Bahrain demonstrated again, just as had Australia and China, that races this year will likely be decided by the small things.
"It's all about small percentages now, which is what racing should be all about," Hamilton agrees.
"You want to be operating in the top end of those percentages, not having one percent divide the win, not doing a good enough job by one percent losing you the race. That's ultimately I think what it will be about this year, and I think that's exciting.
"It just means all of us in the team have to be operating at our maximum, weekend in, weekend out. Just performing at our optimum. Look at last year perhaps, there were maybe five races, a handful, that weren't perfect, but many others that were awesome.
"Every year my goal is to increase the number of the awesome races and reduce the number of dips that you have. The first race this year was a high, the second was still a high, but this one was a bit of a dip."
The 2017 Formula 1 grid
The 2017 Formula 1 grid
1/20 Sebastian Vettel, Ferrari

Vettel finished fourth last season and will hope improvements to the team's 1.6-litre V6 will help him back onto the podium.

Getty

2/20 Kimi Raikkonen, Ferrari

The experienced Finn largely underperformed last season. At 37, could be his final season racing for a top team.

Getty

3/20 Sergio Perez, Force India

Perez retains the drive he has held since 2014. Force India again use the Mercedes-AMG engine.

Getty

4/20 Esteban Ocon, Force India

The talented 20-year-old raced in 9 Grand Prix for Manor last season and earns a call-up to a much more competitive team.

Getty

5/20 Romain Grosjean, Haas

Haas had a very good season last year, finishing 8th with their Ferrari engine. Grosjean will look to improve on his 13th place finish.

AFP/Getty

6/20 Kevin Magnussen, Haas

The Dane moves from Renault to Haas. Struggled last season.

Getty

7/20 Stoffel Vandoorne, McLaren

The talented Belgian, who scored a world championship point in the unfamiliar MP4-31 last year, replaces Jenson Button at McLaren.

Getty

8/20 Fernando Alonso, McLaren

The youngest double champion of all-time remains at McLaren for the 2017 season, despite a well publicised approach from Mercedes.

Getty

9/20 Lewis Hamilton, Mercedes

The team - and driver - to beat since the infamous V6 rule changes came into place in 2014.

Getty

10/20 Valtteri Bottas, Mercedes

Bottas replaces world champion Nico Rosberg at Mercedes, Will push Hamilton all the way this campaign.

Getty

11/20 Daniel Ricciardo, Red Bull

Adrian Newey has completely redesigned the RB13 for the 2017 season and Ricciardo will be hopeful of bettering last year's 3rd place finish.

Getty

12/20 Max Verstappen, Red Bull

There will be plenty of attention on Verstappen as he completes his first full season at Red Bull.

Getty

13/20 Nico Hulkenberg, Renault

Hulkenberg moves to the team from Force India, replacing Kevin Magnussen.

Getty

14/20 Jolyon Palmer, Renault

The Brit came under pressure last year for a disappointing 18th-place finish. Will be hopeful of improvement.

Getty

15/20 Marcus Ericsson, Sauber

Sauber were poor last season and were plagued by retirements. Ericsson nevertheless remains with the team for a third campaign.

AFP/Getty

16/20 Pascal Wehrlein, Sauber

The 22-year-old wins a drive at Sauber, moving from Manor Racing.

Getty

17/20 Daniil Kvyat, Toro Rosso

Resigned to Toro Rosso after plenty of speculation; will be desperate to show he shouldn't have been replaced by Verstappen at Red Bull.

Getty

18/20 Carlos Sainz Jr, Toro Rosso

Now in his third season with the team. Toro Rosso this year return to a Renault engine.

Getty

19/20 Lance Stroll, Williams

18-year-old rookie. Stroll's first appearance in the car didn't inspire confidence, he spun the car in testing.

Getty

20/20 Felipe Massa, Williams

Heroically returns to the team after Bottas departed for Mercedes. One of the most experienced drivers on the grid.

Getty
Might the battle with Vettel enable him to discover the next level of his ability? Bring out even more of his latent talent?
"I've been racing a long, long time," he replied, "so I don't know how much more discovery I have of my abilities.
"You are hoping you always find something new. You always challenge your willpower, determination, stamina, how consistent you can remain when you are close at the limit. It's about firing on all cylinders, race on race on race on race.
"If I'm a V12, as I like to think, maybe this weekend I was just a V10. I've got these next two weeks to make sure that I'm firing again on all 12 cylinders for the next race."
Reuse content