Toto Wolff, the Mercedes team director, backed his world champion Lewis Hamilton by saying he had done nothing wrong in keeping his pace "slow" as the leader of the Chinese Grand Prix, despite the protestations of fellow team driver Nico Rosberg.
Wolff said it was "good for Lewis to go slow and good for Nico to complain", adding that a post-race debrief had been "very positive and had no animosity" following Rosberg's outburst in the post-race press conference, where he accused his team-mate of thinking only of himself and compromising Rosberg's race.
Explaining that Mercedes' initial tyre strategy had changed during the race, Wolff denied that the lap times they had asked Hamilton to achieve – which Rosberg said had threatened his own position in second place to the hard-charging Ferrari of Sebastian Vettel – was overly cautious and the cause of the friction between the drivers.
"What happened in Malaysia was still in the back of our minds, and we still did not know how long the soft tyres would last," said Wolff. "The rate of degradation was very steep in practice, so we knew we had to be careful. We had changed many aspects of the car as a result of Malaysia, but we still did not know how far the tyres would go.
"Now we found that the soft tyre was much better than expected, based on our performance in Malaysia, but Lewis still had to control his pace. We completely understand that.
"Bringing Nico in first for his second stop was a remedy to the problems he was having as Vettel closed in, but as far as we were concerned Lewis did nothing wrong."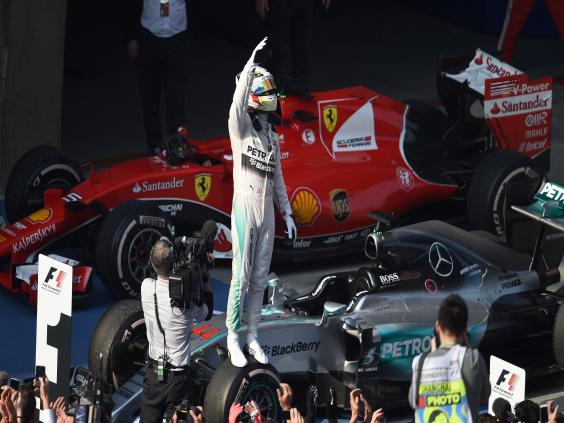 Race officials ruled that Jenson Button was to blame for a collision with Pastor Maldonado's Lotus, handing him a five-second race penalty and penalty points on his race licence.
The Briton's misjudgement came on the 49th lap as he was embroiled in one of the better battles of the race, fighting Maldonado while they were both being caught by Button's McLaren team-mate Fernando Alonso.
Button and the Venezuelan Maldonado had swapped positions several times when they sped down to turn one, Maldonado ahead and Button challenging again. The McLaren driver then ran into the back of the Lotus, causing it to spin, and forcing Alonso to take avoiding action. Alonso and Button resumed the race, but Maldonado had to retire.
Button's time penalty dropped him from 13th to 14th position, behind Carlos Sainz Jnr.
"I thought there was room on the inside and, yeah, I can't really say anything else," Button said. "An incident you never want to happen, but just a misjudgement, I guess."
Maldonado said: "We were having a good fight, but then I think he completely lost his braking point. We were completely off-line and he had the DRS open, so I think he made a mistake."
Reuse content