"Maybe I need to visit some Indians, rub the Buddha belly, whatever it is I'll try all the religions, to try and get some luck."
After looking a little glum on the podium having failed to pass Valtteri Bottas' Williams for second place in Sunday's German GP, won by his team-mate Nico Roberg, Lewis Hamilton was feeling more jocular later on.
And though he is the spiritual successor to that great free spirit Gilles Villeneuve, who thrived in adversity in the Eighties as Hamilton so often does now, he admits that what he wants most as the title fight moves to Hungary this Sunday is a straightforward outing without the drama of the brake failure that set him back in Hockenheim.
"A clean weekend is what I'm looking for and coming away with some good points and then having the summer break to get some rest time."
On Sunday he had brushes with Adrian Sutil and then Kimi Raikkonen as he slipped ahead of the Finn and Daniel Ricciardo in one balletic move. But it was the clash with former McLaren team-mate Jenson Button which really cost him. It damaged a front wing endplate and robbed him of the crucial downforce he needed to conserve his tyres and challenge Bottas. But for that, he would have kept the gap to Rosberg to 11 points rather than 14.
F1 German Grand Prix - In pictures
F1 German Grand Prix - In pictures
1/17 Grand Prix

Nico Rosberg celebrates his home win

2/17 Grand Prix

Rosberg drives to victory

3/17 Grand Prix

Fernando Alonso takes powers forward

4/17 Grand Prix

Felipe Massa crashes out early on

GETTY IMAGES

5/17 Grand Prix

People in historic dresses perform prior to the race in Hockenheim

6/17 Qualifying

Lewis Hamilton's Mercedes is taken away on the back of a lorry after crashing out of Q1

Getty Images

7/17 Qualifying

Lewis Hamilton's Mercedes is dragged out of the barrier at the Sachs hairpin

Getty images

8/17 Qualifying

Lewis Hamilton crashes out of Q1 for the Germand Grand Prix

Twitter/@SkySportsF1

9/17 Qualifying

Lewis Hamilton hits the barrier at the Sachs hairpin in Hockenheim

Twitter/@SkySportsF1

10/17 Third practice

A Red Bull mechanic awaits Daniel Ricciardo to come to pit lane

Getty Images

11/17 Third practice

Sebastian Vettel has his car wheeled into the garage by his Red Bull mechanics

Getty Images

12/17 Second practice

Nico Rosberg topped the timesheets once again at the end of second practice

Getty Images

13/17 Second practice

Williams test driver Susie Wolff was in action on Friday for the second Grand Prix weekend running

Getty Images

14/17 Second practice

Actor and Le Mans driver Patrick Dempsey is a guest driver in the supporting Porsche Supercup race at Hockenheim this weekend

Getty Images

15/17 First practice

Daniel Ricciardo against the Hockenheim forest backdrop

Getty Images

16/17 First practice

Fernando Alonso sweeps through turns two and three at Hockenheim

Getty Images

17/17 First practice

Nico Rosberg topped the timesheets after first practice

Getty Images
"Kimi hit me," he said, "because when I watched the replay I was ahead. I locked up and he hit my wing. With Jenson I was really, really surprised because he's been really a gentleman in previous races and knows how much quicker our car is, so rather than waste time battling with me he can see I'm coming and he gives me space and doesn't close doors like when I was battling with Ricciardo.
"When I watched the replay it wasn't like I was diving up the inside and we touched. I went back on to braking behind him because I knew I wasn't close enough to dive down the inside. Then he ran wide and I thought 'He's opened the door, he's letting me through.' I started turning and then he started coming back through. I was really taken aback. I thought it was over then."
Button himself was outspoken at the time, but after watching the replay too he tweeted a trifle contritely: "I overreacted with my feelings about Lewis's move. I can understand why he thought I was giving him room."
Though Rosberg won, the nature of Hamilton's aggressive recovery won him the headlines. He said that he didn't feel sorry for his team-mate. "Nico's leading. If I was in his position I wouldn't care if everyone was always talking about the other guy because I'd be leading the championship!"
And he thought his team-mate had enjoyed plain sailing all the way through the 67 laps. "I did say before the race that he'd be having a smoke and a pancake when he was driving, like in Austin Powers!" he joked.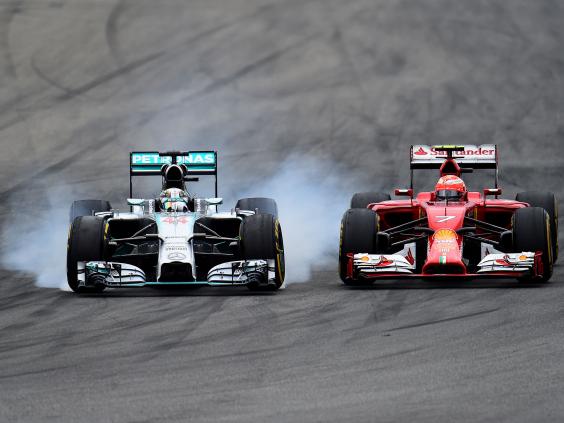 But even Rosberg said he had concerns about his brakes, and the Hungaroring is one of those tight tracks that demands good brake cooling, something which has been a problem for Mercedes at times this year. Hamilton, a winner there four times in seven years, says he won't be worrying about his record. "Obviously I'm going there to try and win. This weekend I came with the right mentality and preparation to have won. I never pray or wish for good luck, I just don't want any bad luck. I just want to be able to go out and do the job."