Lewis Hamilton fears he may struggle to simply get into the points on Sunday after his hopes of a record-breaking victory in Hungary went up in flames.
With four poles and four wins to his name at the Hungaroring in seven attempts, Hamilton was on course for top spot on the grid again after setting the fastest time in all three practice sessions.
But come the start of qualifying a fuel leak resulted in Hamilton's Mercedes bursting into flames, resulting in him trundling to a halt in the pit lane.
As Hamilton looked on with marshals dousing the fire, he shook his head disconsolately and slapped the palm of his hand against a barrier before trudging away with his head bowed.
After a right-front brake disc failure last Saturday at Hockenheim ahead of the German Grand Prix pitched Hamilton into a 30g shunt into a barrier, it has been a week to forget for the Briton.
F1 Hungarian Grand Prix - In pictures
F1 Hungarian Grand Prix - In pictures
1/15 Race

Daniel Ricciardo celebrates after the race

AFP/Getty

2/15 Race

Red Bull Racing's Australian driver Daniel Ricciardo (C) celebrates with Scuderia Ferrari's Spanish driver Fernando Alonso (L) and Mercedes' British driver Lewis Hamilton

GETTY IMAGES

3/15 Race

Daniel Ricciardo on his way to victory in the Hungarian Grand Prix

GETTY IMAGES

4/15 Race

Daniel Ricciardo on his way to victory in Hungary

Getty

5/15 Race

Lewis Hamilton pictured ahead of Nico Rosberg

GETTY IMAGES

6/15 Race

Lewis Hamilton spins at the second corner of the opening lap

GETTY IMAGES

7/15

The Mercedes mechanics wheel Lewis Hamilton's burnt out Mercedes back to the pits

Getty Images

8/15 Qualifying

Kevin Magnussen hit the tyre barrier in a heavy accident at turn one during the third qualifying session after it started raining

Twitter/@SkySportsF1

9/15 Qualifying

Lewis Hamilton walks back to the pit lane with his Mercedes burning in the background

Getty Images

10/15 Qualifying

Lewis Hamilton's Mercedes catches fire

Twitter/@SkySportsF1

11/15 Practice 3

Marcus Ericcson spins out during practice as Sauber's Esteban Gutierrez flashes past

Getty Images

12/15 Practice 2

Lewis Hamilton finished the day top of the time-sheets for both practice sessions

Getty Images

13/15 Practice 2

Nico Rosberg shows of his footballing skills in the paddock in-between Friday's practice sessions

Getty Images

14/15 Practice 1

Daniel Ricciardo watches on from the cockpit of his Red Bull

Getty Images

15/15 Practice 1

Lewis Hamilton of Great Britain and Mercedes GP drives during practice ahead of the Hungarian Formula One Grand Prix at Hungaroring

GETTY IMAGES
Explaining the circumstances of his latest misfortune, Hamilton said: "I bailed out of that timed lap I was doing and I was like 'I'm going to try and do the second lap'.
"Then something happened to my brakes. Something on the brake system failed so I had to engage some settings to try and correct it then the engines died.
"I then thought 'I am right next to the pit entry so I will roll back and get them to fix it' but then I looked in my mirrors and it was on fire.
"I was hoping to get it in neutral so I could push it back or something
"I was still trying to get it to the garage and maybe they could do something, but they said 'stop, stop, stop' so I tried to stop, but the brakes weren't working. The car kept running forward.
"The engine was working sometimes and sometimes not working, so it is all pretty bad.
"I think it's getting to the point beyond bad luck - it's something else. We just need to do better."
Hamilton finished positioned 21st on the timesheet. Extensive repairs and replacement of parts, however, will incur penalties which will lead to the Briton starting the race from the pit lane.
Last Sunday, Hamilton finished third from 20th on the grid, albeit on a circuit where overtaking is possible, unlike the Hunagroring.
All hope Hamilton had of closing the 14-point gap to team-mate Nico Rosberg at the top of the drivers' standings, and claiming a record -breaking fifth win at this track, appear to have gone.
Assessing his hopes for the race on this occasion, Hamilton added: "There's a lot going through my mind, but I just have to try to turn it into positives.
"I honestly don't know what I can do tomorrow. This is a track where you cannot overtake, so I think I will struggle to get in the top 10, or at least the top five.
"I will probably leave here more than 20 points behind Nico , but there are still races to go. I don't know what to say, I will try my best."
As last week, team-mate and title rival Rosberg claimed pole, his sixth of the year and fifth in the last six races.
That was despite a rain shower at the start of the top-10 shoot-out which led to him running wide at turn one shortly before McLaren's Kevin Magnussen slid heavily into a tyre barrier.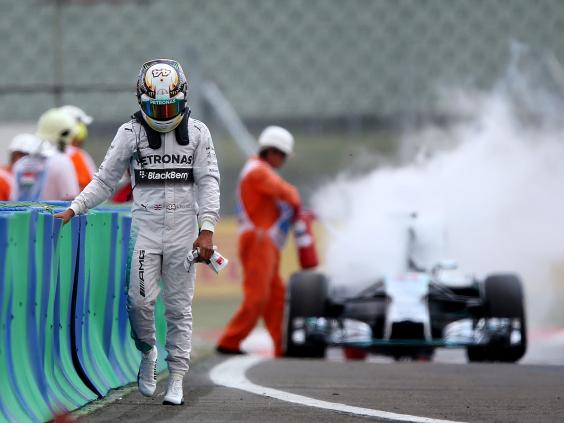 Rosberg will be joined on the front row by fellow German Sebastian Vettel in his Red Bull, followed by Williams' Valtteri Bottas.
Rosberg, though, again expressed his disappointment he will not be battling it out at the front with Hamilton during the race.
"That's a pity for the team. Not a good thing definitely, we need to keep on it because that's reliability," said Rosberg.
"I would prefer to be out there battling with Lewis, that would give me an adrenaline rush, so this takes away some of the adrenaline."
However, with storms forecast for Sunday, Rosberg added: "With the weather coming it's still all to play for."
McLaren's Jenson Button starts seventh, with Kimi Raikkonen 17th for Ferrari after they gambled and failed on his time in Q1, only to be ousted by Marussia's Jules Bianchi. Max Chilton starts 19th in his Marussia.
PA
Reuse content