Immediately after the Hungarian Grand Prix Lewis Hamilton looked like somebody who knew he had to face the music at Mercedes after deliberately disobeying orders to let Nico Rosberg overtake. On Sunday night the team heads Niki Lauda and Toto Wolff said they planned to have talks with both drivers, as fresh acrimony brewed between them.
The problem began on Saturday when Hamilton's car caught fire in qualifying, leaving him to start from the pit lane as Rosberg took pole position on a circuit where overtaking is almost impossible.
A wet track and two safety car interventions initially handed Hamilton a lifeline and he made the most of it. By the 50th lap he was in the fight for possible victory. But he was on the slower medium-compound tyres and Rosberg was trapped behind him on the faster soft compounds and needed to make another pit stop. Hamilton was running non-stop to the finish and believed that letting Rosberg through would have ultimately harmed his own chances.
As Rosberg said angrily over his radio: "Why isn't he letting me through?" he was told, "The message has been given, Nico."
Hamilton told his crew: "I'm not slowing down for Nico. If he can get close, then he can overtake me."
Later, he expanded: "I was in the same race as him; just because he's making another stop doesn't mean we are in a different race. I was very, very shocked when the team asked me to get out of the way to let him better his position. "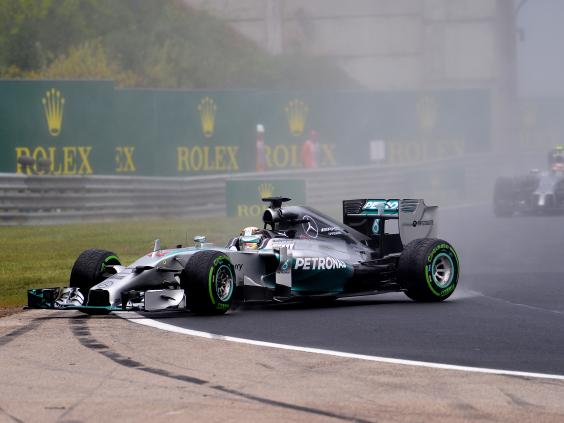 Hamilton admitted he had gone into the race expecting Rosberg to win and for himself to end up nearly 40 points behind heading into the summer break. So his afternoon was about damage limitation and he closed the gap between them from 14 to 11 points.
"The team informed that he was going to let me through but I don't know what happened," Rosberg said angrily.
Reuse content