The smell of burning rubber, the jaw-dropping acceleration, the thrills and spills – and the whine of a milk float.
Electric cars have never had the macho image that excites Top Gear fans and dyed-in-the-wool petrolheads, but the arrival of Formula E racing could change that.
The London stage of the sport's inaugural season began on saturday, the culmination of a 10-stage global championship that took in Long Beach, California, Beijing, Monte Carlo and Buenos Aires.
At the spectators' stand, metres from the finishing straight on the specially created track in Battersea Park, self-confessed petrolheads Ben Fermor and Nick Abrahams, both 28, were getting their first taste of the action. Cars hurtled past at speeds of up to 140mph, with former Formula One drivers Jarno Trulli, Nelson Piquet Jr and Nick Heidfeld behind the wheel.
"They are like massive remote control cars, aren't they?" said Mr Fermor, an electrician from Rochester, Kent. "It's better than I thought it would be, a lot better. I like the way you can get so close to the track, to the action. They sound a lot better than I thought they would, and they are beautiful cars."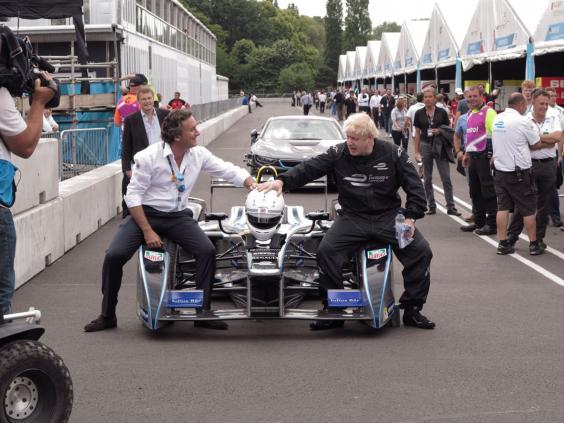 Mr Abrahams, from Tunbridge Wells, Kent, was thrilled to have been able to stand at a corner of the track, allowing him to see the action in a way that would not be possible at a F1 event. "We were thinking 'Are we supposed to be here or not?' – and then there was a crash, just a small one. We thought 'this is quite a good spot'," he said.
"All you could smell was the burning rubber. It was quite nice to smell the rubber and nothing else – normally you would smell the petrol."
The absence of the awe-inspiring sound of F1 cars was much discussed, with many comparing the sound of the electric cars to dodgems, milk floats and electric trains. For Louisa Gilboy, 45, another motorsports fan, the sound was more like "a really fast hairdryer – a very fast, powerful hairdryer".
Austrian Grand Prix 2015 in pictures
Austrian Grand Prix 2015 in pictures
1/15 Saturday qualifying

Pastor Maldonado runs wide as he is eliminated in Q2

Getty Images

2/15 Saturday qualifying

Mercedes team-mates Roberg and Hamilton shake hands after qualifying

Getty Images

3/15 Saturday qualifying

Hamilton trails Vettel in their final run

Getty Images

4/15 Saturday qualifying

Daniil Kvyat out-qualified his Red Bull team-mate Daniel Ricciardo

Getty Images

5/15 Saturday third practice

A hare runs across the track during practice

Getty Images

6/15 Saturday third practice

Kimi Raikkonen leads Max Verstappen into turn two

Getty Images

7/15 Saturday third practice

Kimi Raikkonen attempts to return to the track after going off in the wet

Getty Images

8/15 Saturday third practice

Jenson Button had to change his engine and received a 25-place grid penalty

Getty Images

9/15 Saturday third practice

Marcus Ericsson out in the wet during practice

Getty Images

10/15 Saturday third practice

Sebastian Vettel topped third practice for the Austrian Grand Prix

Getty Images

11/15 Saturday third practice

McLaren's Fernando Alonso reacts during practice

Getty Images

12/15 Friday second practice

Carlos Sainz suffered near-miss with the barrier in second practice

Getty Images

13/15 Friday second practice

The Red Bull Ring's famous 'Bull' landmark as Sebastian Vettel flashes past

Getty Images

14/15 Friday first practice

Lewis Hamilton was three-tenths off the pace

AP

15/15 Friday first practice

Nico Rosberg finished fastest in first practice for the Austrian Grand Prix

AP
"I do miss the roar," she admitted. "But they [the electric cars] do sound powerful and you can see they are clearly going fast. I think it's persuaded me to come again and tell people about it as well."
The GP practice manager, from Newbury, Berkshire, said she would "definitely" buy an electric car once their range improved, and hoped Formula E would help speed up improvements to battery life. "I think we need to stop relying on oil … we need to go more electric," she said. "It needs to happen for the environment. If it's renewable, it has to be better. F1 led the way in development for cars and I'm hoping this will do the same for electric cars – that's the main purpose to support it."
That message was echoed by Sir Richard Branson at a press conference to announce a partnership between Virgin Racing and Citroen's  hybrid car-maker DS for the next Formula E season.
He predicted that in 20 years all new cars would be battery-powered, and that the world would be powered entirely by "clean energy" in 30 years. "Turn the clock another 30 years and we're almost going to be powering the world with no energy costs at all," Sir Richard said, pointing to research into see-through solar panels that can act as windows, and solar roads. "There's a very, very bright future for everybody." Formula E, he said, was helping to "capture the imagination of the public".
Away from the track, at the E Village, there was plenty of evidence of the growing sophistication of green energy. Nick Boyle, chief executive of Lightsource Renewable Energy, which makes industrial-scale solar parks, brought along batteries the size of a small car – charged with solar energy – to power a giant screen displaying the action. The safety car and support cars were running on the same sunlight. Mr Boyle said Formula E was showing what renewable energy could do. "Once you can see what electric vehicles can do, you start opening your mind to it."
Reuse content