Lewis Hamilton sent a parting gift to his former Mercedes teammate Nico Rosberg ahead of the second pre-season test at Barcelona this week by claiming he already holds with Valterri Bottas a "better working relationship than I ever had with any teammate I had before", having endured three bitter years with the departed reigning world champion.
Three-time world champion Hamilton spent four seasons at Mercedes alongside Rosberg, but it was not until the pair found themselves in a dominant car in 2014 that their relationship began to deteriorate rapidly.
The two famously crashed last season at Barcelona – scene of Tuesday's second test – and Austria's Red Bull Ring, and it caused a large divide between the Mercedes drivers that appeared to take its toll on Rosberg the most, with the German announcing his shock retirement shortly after winning his maiden world championship.
Ahead of this week's final test session, Hamilton addressed his current relationship with new teammate Bottas, and claimed that their bond already exceeds that of any of his previous colleagues since his Formula One debut in 2007.
"What I so far like about working with Valtteri is that it is all to do with the track - what we do on the circuit - and not outside," Hamilton told the official F1 website.
"There are no games - there is complete transparency. I like that. I feel we already have a better working relationship than I ever had with any team-mate I had before.
"He wants to do the best thing that he can in his first year with the team - and with me being here for quite a while now, I want to deliver and make sure that I give as much information so that he will learn. And we do our talking on the track!"
Hamilton's admission, while a thinly-veiled jibe at Rosberg, is hardly surprising. He experienced a monumental breakdown with Fernando Alonso during his debut season at McLaren 10 years ago, with the Spaniard infamously holding him up during qualifying for the Hungarian Grand Prix before the spy-gate scandal cost them any chance of the constructors' championship as well as the drivers' crown. He enjoyed better relationships with his next two teammates at the Woking-based outfit, though he regularly got the better of Heikki Kovalainen and Jenson Button, before leaving for Mercedes to join up with Rosberg.
The 2017 Formula 1 grid
The 2017 Formula 1 grid
1/20 Sebastian Vettel, Ferrari

Vettel finished fourth last season and will hope improvements to the team's 1.6-litre V6 will help him back onto the podium.

Getty

2/20 Kimi Raikkonen, Ferrari

The experienced Finn largely underperformed last season. At 37, could be his final season racing for a top team.

Getty

3/20 Sergio Perez, Force India

Perez retains the drive he has held since 2014. Force India again use the Mercedes-AMG engine.

Getty

4/20 Esteban Ocon, Force India

The talented 20-year-old raced in 9 Grand Prix for Manor last season and earns a call-up to a much more competitive team.

Getty

5/20 Romain Grosjean, Haas

Haas had a very good season last year, finishing 8th with their Ferrari engine. Grosjean will look to improve on his 13th place finish.

AFP/Getty

6/20 Kevin Magnussen, Haas

The Dane moves from Renault to Haas. Struggled last season.

Getty

7/20 Stoffel Vandoorne, McLaren

The talented Belgian, who scored a world championship point in the unfamiliar MP4-31 last year, replaces Jenson Button at McLaren.

Getty

8/20 Fernando Alonso, McLaren

The youngest double champion of all-time remains at McLaren for the 2017 season, despite a well publicised approach from Mercedes.

Getty

9/20 Lewis Hamilton, Mercedes

The team - and driver - to beat since the infamous V6 rule changes came into place in 2014.

Getty

10/20 Valtteri Bottas, Mercedes

Bottas replaces world champion Nico Rosberg at Mercedes, Will push Hamilton all the way this campaign.

Getty

11/20 Daniel Ricciardo, Red Bull

Adrian Newey has completely redesigned the RB13 for the 2017 season and Ricciardo will be hopeful of bettering last year's 3rd place finish.

Getty

12/20 Max Verstappen, Red Bull

There will be plenty of attention on Verstappen as he completes his first full season at Red Bull.

Getty

13/20 Nico Hulkenberg, Renault

Hulkenberg moves to the team from Force India, replacing Kevin Magnussen.

Getty

14/20 Jolyon Palmer, Renault

The Brit came under pressure last year for a disappointing 18th-place finish. Will be hopeful of improvement.

Getty

15/20 Marcus Ericsson, Sauber

Sauber were poor last season and were plagued by retirements. Ericsson nevertheless remains with the team for a third campaign.

AFP/Getty

16/20 Pascal Wehrlein, Sauber

The 22-year-old wins a drive at Sauber, moving from Manor Racing.

Getty

17/20 Daniil Kvyat, Toro Rosso

Resigned to Toro Rosso after plenty of speculation; will be desperate to show he shouldn't have been replaced by Verstappen at Red Bull.

Getty

18/20 Carlos Sainz Jr, Toro Rosso

Now in his third season with the team. Toro Rosso this year return to a Renault engine.

Getty

19/20 Lance Stroll, Williams

18-year-old rookie. Stroll's first appearance in the car didn't inspire confidence, he spun the car in testing.

Getty

20/20 Felipe Massa, Williams

Heroically returns to the team after Bottas departed for Mercedes. One of the most experienced drivers on the grid.

Getty
Bottas, like Kovalainen and Button, is not expected to challenge Hamilton when it comes to the drivers' championship this season unless he can adapt rapidly to the Mercedes after his switch from Williams, and the 31-year-old Hamilton is already his sights on a fourth world championship to equal Alain Prost and Sebastian Vettel.
"I am fitter, I am working harder than ever before and I am super focused and driven after last year - when I also worked hard through the year but didn't get the result I wanted," Hamilton added.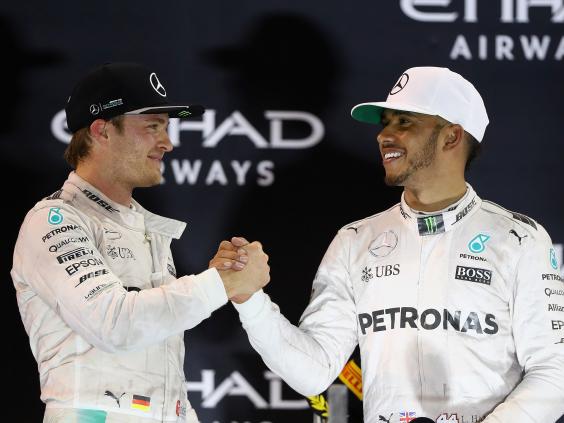 "So I want change and that is what the team and I are working so hard to achieve. I am not really sure, but I don't think that any team has ever won championships across rules changes - and that is the big goal for us."
And declaring what would satisfy his targets for the Australian Grand Prix in under three weeks' time, Hamilton answered: "I want pole position, fastest lap, being fastest in every session - and to win."
Reuse content