Claire Williams smiles when the subject of "a woman in a man's world" comes up. For her, it's nothing like the hurdle she faces, as deputy team principal of the much-loved Formula One team that her famous father Sir Frank founded in 1969, of turning round a team that last won the drivers' and constructors' titles in 1997 and last season finished ninth in the former.
"Everyone is interested in the female element," she concedes. "Which is really weird because I've never, ever considered it. I grew up in F1, so I've been surrounded by men all my life and am used to that. When I was put into this role I never thought, 'Oh God, will people take me seriously because I'm a woman?' I've never really found that it's been more of a challenge doing this role because I'm a girl. I'm just there to do my job. The girl thing just doesn't come into it."
Few have been born into such an historic racing dynasty or had two such strong role models as parents. Frank is one of the sport's greatest fighters, but his wife, the late Lady Virginia Williams, was also one tough cookie. She once told him that a driver he was considering would never become a world champion because he made his own bed. Claire Williams claps her hands. "I love that story! What a lot of people don't realise about mum is that she was hugely influential in driver selection back in the day. She would give her opinion whether it was asked or not, and invariably she was right."
She was also Frank's tower of strength after the non-racing car accident in the south of France in 1986 that left him paralysed. "Mum went down and fought for him in the [hospital]," Claire says. "The doctors had left him out in the corridor to die. She was formidable and brave.
"I think you are always a blend of your parents, aren't you? I have a lot of dad but also lot of mum. But I'm always reluctant to say what I think those qualities are."
Several Williams employees would readily attest that she can be very tough, but she laughs. "See, I don't see myself as tough. But it's difficult to judge yourself." Yet in a very short time she has been instrumental in turning around the team's fortunes, to the point where they ended this winter's testing as the fastest.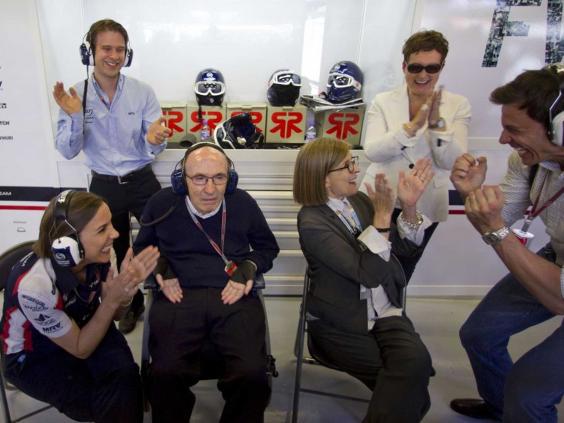 "You can't just bring in a new technical director and leave him to fix it," she says. "There are 550 people, so you can't expect one to come in and change it. One of the biggest things we did was to hire a new CEO. Mike O'Driscoll and I work very closely and did all the changes together."
These comprised a prescient switch to the new Mercedes engine, hiring veteran technical guru Pat Symonds, who was formerly involved in the title successes of Benetton and Renault, taking on many new engineers to enhance their aerodynamic, design, vehicle dynamics and track-operations departments, and getting them all to start communicating better and believe in the team again.
Ferrari refugee Felipe Massa has been welcomed with open arms and the final piece of the jigsaw was the commercial side. Claire Williams, as commercial director, played a key role in snaring title sponsor Martini, Petrobras, Banco do Brasil and Genworth. The changes have paid off quickly. But can she ever repeat Maldonado's surprise victory in Spain in 2012, which came soon after Frank's 70th birthday?
"I'm so pleased mum came to that race," Claire says, "because she was very sick. But she never bemoaned her illness and not once did she cry through the sadness or the pain."
On 8 March, 2013, Lady Virginia succumbed to the cancer she had fought so nobly. Ironically, it was 27 years to the day since her husband's accident. Frank is still alive at 71. "Perhaps it sounds naff, but I hope she is looking down and liking what she sees," her daughter says in Melbourne ahead of today's season-opening Australian Grand Prix. "She and John Button will be up there with a host of others saying, 'You're not doing that right!' She always believed in change, and I'm just sad she isn't around to see it."
A faraway look comes into her pale eyes as she tries to define her mission, before resolve replaces it. "I feel a real responsibility to give something back to this team. To see how they have been these last few years has been heartbreaking. There's a sense of duty to bring it back to the front."
While she might be as tough as tungsten beneath a benign exterior, Williams also has a sentimental streak. That is why you'll see butterfly logos, the symbol of hope, on every Williams race car. "Mum loved them. She had a tattoo of a little butterfly on her wrist which she got done when she was 60, much to dad's horror. There were loads in the garden at home, where she had the Piers Courage garden and the Ayrton Senna garden, in their memories.
"At her funeral a butterfly flew into the church. It landed on a stained glass window then dropped on to someone and just wouldn't come off. It actually came back to the house with us, and only then started flying around. That was amazing. I had our graphics team create a butterfly logo. Mum was Williams's No 1 fan and dad's rock. She was the first lady of F1, and brought such great class to the sport. So that logo will always run on our cars."
Such a blend of hard pragmatism and appreciation of the past is unusual. "I would hate for the Williams legacy to fade away," she says. "There are stories that it will go the way of Tyrrell. Well, over my dead body. No way. That's not going to happen. My dream is to make this a world championship-winning team again."
It really is like listening to a blend of Frank and Ginny.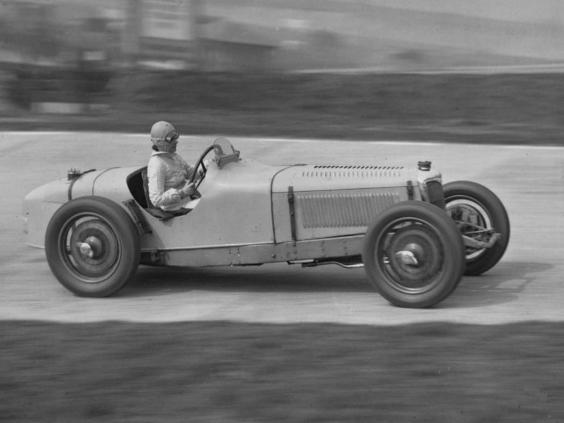 Women who made their mark
1930s
Canadian Kay Petre and Briton Gwenda Stewart vied for the Brooklands lap record at 130+ mph, Stewart eventually winning. But Petre impressed the great Bernd Rosemeyer in three grands prix.
1950s
In 1958 wealthy Italian Maria Teresa de Filippis became the first woman to race in F1, competing in five grands prix, pitting her private Maserati 250F against the likes of Fangio and Moss. Tenth place in Belgium was her best result.
1960s
Graham Hill won two world titles, and wife Bette was ever-present, insisting on timing her husband and team-mates Jim Clark and Jackie Stewart. In 1996, she became the only woman with a world champion spouse and son, Damon.
1970s
Italian Lella Lombardi – "the Tigress of Turin" – became the only woman to score a world championship point – half a point, actually – with sixth place in the shortened Spanish GP in 1975. Also did well driving brutal 5-litre Formula 5000 single seaters against men in Australia.
1980s
In 1980 South African Desire Wilson became the only woman to win in F1, with victory in the short-lived British Aurora AFX series. She then drove a one-off race for Tyrrell in the 1981 South African GP.
In 1977 American Janet Guthrie smashed taboos at Indianapolis, where women were not even allowed into the pits, by becoming the first female to race the Indy 500.
1990s
In 1993 Sauber appointed Carmen Ziegler as F1's first female team manager; later that year Lotus made Suzanne Radbone team manager.
2000s
American Danica Patrick caused a sensation by winning the rookie of the year award in the Indianapolis 500 and Indycar championship, having become the first female to lead the great race. Later her swimsuit modelling and NASCAR driving made her the highest-profile racer in the US.
2010s
India-born Monisha Kaltenborn became F1's first female team principal in 2012 as she took over from Peter Sauber. Susie Wolff of Williams earned two Friday morning runs at grands prix this season. Sauber signed Simona da Silvestro as an affiliated driver in F1.
Hamilton equals Mansell's pole record
Lewis Hamilton equalled Nigel Mansell's record tally of 32 pole positions before today's season-opening Australian Grand Prix in Melbourne. The Briton snatched pole from local hero Daniel Ricciardo in the dying moments of rain-hit qualifying. Hamilton's gamble to stay on full wet tyres, rather than switch to intermediates like the Red Bull driver, paid off as he beat him by 0.3sec.
In stark contrast, Red Bull's reigning champion Sebastian Vettel was only 13th fastest, while McLaren's Jenson Button started the race 10th after being outqualified by Danish rookie team-mate Kevin Magnussen, who took fourth on the grid behind Hamilton, Ricciardo and Hamilton's Mercedes team-mate Nico Rosberg.