It's been an outstanding year so far for Lewis Hamilton, but never has he been quite as bubbling as he was on Sunday evening in Suzuka when his eighth victory of the season had laid the ghost of sub-par performances on a track he loves, and brought him equal in wins with his idol Ayrton Senna. With five races to run and a 48-point lead over Mercedes team-mate Nico Rosberg, he was vibrating with satisfaction over a job beautifully done.
"It really does feel fantastic, today really was special to me," he said of matching Senna. "As a racing driver you always try to push the limits within yourself and in your driving and racecraft, and sometimes I've been a bit weak in my racecraft. But today I brought my A game to that and I felt like I was in my element. And I know that correlates with how Ayrton felt when he was in his element here. It was majestic up front."
He'd likened the experience to sailing as the corners all flowed together, but admitted it wasn't like that all the way through.
"It started out that way then I got a lock-up in the first stint and it got a bit vibraty. Then I got new tyres and had a massive lock-up and I tell you, you couldn't see a thing, the vibrations were so heavy! But the last stint was the one. I didn't lock up once, the balance was just spot-on, I hit every apex I needed. It was beautiful man, I was using every inch of track."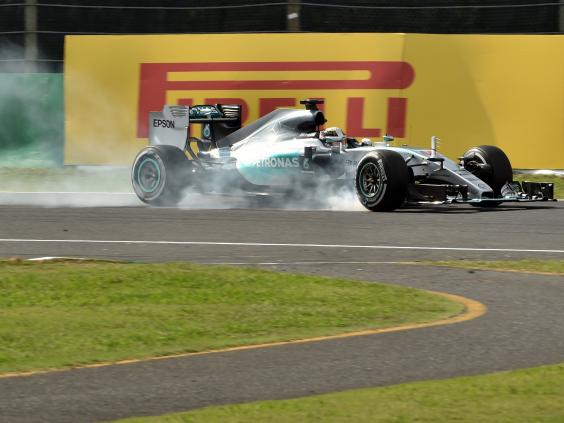 The satisfaction came from finally mastering a track on which he admits he's never felt completely comfortable.
"If you look at my onboards in the past you'll see that in Turn 7 I was this far away from kerb, and in Turn 8 I was that far away from the white line. I was always slow through there. For once, in this race and yesterday, I'm on the edge, right on the limit. It's taken me a long, long time to get comfortable here. You just feel like it's gonna bite you."
For all his success, however, he isn't regarding the title battle as finished. "We're racing drivers, of course we have things we feel in our minds, but we never give up. Nico will keep pushing. He's been driving really well all weekend, and he was very grown up about the race. I have big respect for that.
"And it's not a case of believing the title is mine. When I woke up at the beginning of this year I believed I was gonna be fit and that the team would do a great job and when I arrived here this weekend I'm fighting for it, so for sure I'm believer. But every weekend I've got to perform, every weekend is another chance for one of these others get one on me. So I've got to bring my A game every time, and I'm surprising myself how I'm bringing it each weekend, which is a great feeling. I'm having lots of fun outside the car and when I get in it I'm driving better than ever."
The secret appears to lie in that old adage, work hard, play hard. At races he never lets his focus waver. Away from them, he's having the time of his life.
"It's hard to get that balance, but I've got mega balance now. It's awesome!" His laugh had the spontaneity of a man completely at ease with himself. "It couldn't be better. I having the most fun outside and the most fun inside."
It seems to be working.
Reuse content