Jules Bianchi remains in a "critical but stable condition" in a Japanese hospital, his family have confirmed.
Bianchi suffered a diffuse axonal injury after a heavy accident during the Japanese Grand Prix at the beginning of this month when he went off the wet Suzuka track and collided with a recovery vehicle that was already tending to the scene of an accident.
His family remain by his side in the Mie General Medical Hospital in Yokkaichi, and on Thursday they issued a statement to confirm he remains in a "critical but stable condition" as he continues to fight for his life.
The statement read: "It will be four weeks this coming Sunday since Jules' accident and he remains in the Mie General Medical Center in Yokkaichi. His condition continues to be classified by the medical professionals here as critical but stable. Although we have no new information to give, we recognise that there are a huge number of people all around the world who are supporting Jules and willing him on in his fight. We owe it to his many fans to acknowledge the continued outpouring of messages, and to provide some information, however brief it may be.
"Jules does indeed continue to fight. Although there have been some reports suggestive of plans for Jules' treatment, at this time his fight will continue here in Yokkaichi. We are taking things step by step.
"Once again, we would like to offer our sincere appreciation for the patience and understanding being shown towards our family at this very difficult time. We also continue to be comforted by the knowledge that Jules is receiving the best possible care at the Mie General Medical Center, with the doctors here remaining in constant contact with the neurosurgeons at the University La Sapienza of Rome, and Professor Gerard Saillant, President of the FIA Medical Commission.
F1 Russian Grand Prix 2014
F1 Russian Grand Prix 2014
1/35 Russian Grand Prix

Mercedes take a moment to pay tribute to Jules Bianchi after they win the Constructors' Championship

Getty Images

2/35 Russian Grand Prix

The Mercedes team celebrate winning the Constructors' Championship

Getty Images

3/35 Russian Grand Prix

Lewis Hamilton celebrates his win

4/35 Russian Grand Prix

Lewis Hamilton, Nico Rosberg and Valterri Bottas stand on the podium along with Paddy Lowe of Mercedes and the Russian President Vladimir Putin

Getty Images

5/35 Russian Grand Prix

Lewis Hamilton was presented the race winners' trophy by Russian President Vladimir Putin

Getty Images

6/35 Russian Grand Prix

Lewis Hamilton charges to the finish line in Sochi

GETTY IMAGES

7/35 Russian Grand Prix

Lewis Hamilton powers forward on the Sochi track

8/35 Russian Grand Prix

Lewis Hamilton makes his one and only pit stop during the Russian Grand Prix

Getty Images

9/35 Russian Grand Prix

Eric Vergne of France and Scuderia Toro Rosso drives ahead of Kimi Raikkonen

10/35 Russian Grand Prix

Nico Rosberg of Germany and Mercedes GP locks up approaching turn two next to Lewis Hamilton of Great Britain and Mercedes GP and Valtteri Bottas of Finland and Williams

11/35 Saturday qualifying

Nico Rosberg shakes hands with Lewis Hamilton after the latter secures pole position

Getty Images

12/35 Saturday qualifying

Jenson Button put in a very promising qualifying performance to start the Russian Grand Prix in fourth

Getty Images

13/35 Saturday qualifying

The pit lane girl line up along pit-road at the Sochi Autodrom after qualifying

Getty Images

14/35 Saturday qualifying

Sergio Perez in action in his Force India during final qualifying

Getty Images

15/35 Saturday qualifying

Felipe Massa could only manager 18th as his Williams suffered for power

Getty Images

16/35 Saturday qualifying

Max Chilton qualified 21st in the lone Marussia

Getty Images

17/35 Saturday third practice

The home crowd cheer on Russian Daniil Kvyat as the Toro Rosso driver flashes past

Getty Images

18/35 Saturday third practice

Lewis Hamilton recovers after spinning out during third practice

Getty Images

19/35 Saturday third practice

Lewis Hamilton recovers after spinning out during third practice

Getty Images

20/35 Saturday third practice

Valtteri Bottas negotiates the newly-installed speed bumps at turn two

Getty Images

21/35 Saturday third practice

Fernando Alonso in action during third practice

Getty Images

22/35 Saturday third practice

Sebastian Vettel looks on from his cockpit during final practice

Getty Images

23/35 Saturday third practice

Jenson Button emerges from the pit lane at Sochi

Getty Images

24/35 Friday second practice

FIA Race Director Charlie Whiting, FIA President Jean Todt, Chief Medical Officer Jean-Charles Piette and Medical Rescue Co-ordinator Ian Roberts attend a FIA press conference following the Jules Bianchi crash

GETTY IMAGES

25/35 Friday second practice

Sebastian Vettel's helmet shows the tribute that all the drivers are carrying this weekend to Jules Bianchi, which reads 'All with Jules'

Getty Images

26/35 Friday first practice

Nico Rosberg topped first practice, and can be seen here with tributes to both Jules Bianchi and Michael Schumacher

Getty Images

27/35 Friday first practice

Nico Rosberg on track during first practice

Getty Images

28/35 Friday first practice

A lady cleans the grandstand in Soch above Jules Bianchi's garage

Getty Images

29/35 Friday first practice

Marussia mechanics and engineers stand behind Jules Bianchi's No 17 car in Sochi

Getty Images

30/35 Friday first practice

Red Bull, along with a number of other teams, are running the #ForzaJules message of support on their car in tribute to Jules Bianchi

Getty Images

31/35 Friday first practice

Lewis Hamilton in action during first practice

Getty Images

32/35 Friday first practice

Lewis Hamilton competes in first practice under the clear skies in Sochi

Getty Images

33/35 Friday first practice

Daniel Ricciardo tackles a long left hander during first practice

Getty Images

34/35 Friday first practice

Kimi Raikkonen arrives at the Sochi Autodrome on his bicycle

Getty Images

35/35 Friday first practice

The sun shines down over the new Sochi race track

Getty Images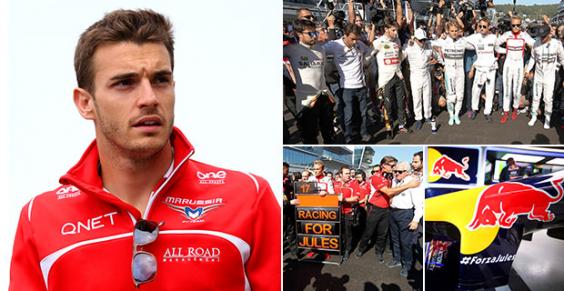 "We will provide a further update when it is appropriate to do so. In the meantime, thank you to everyone who continues to keep Jules in their thoughts and prayers."
Reuse content