It is 14 years since Lewis Hamilton and Nico Rosberg last fought it out for a championship title, but while the German has claimed that their latest battle is similar, Hamilton disagrees. This one is a lot more thrilling.
"I'd already won the championship," the British driver said. "We were racing in go-karts and fighting for the championship and I won every race. Back then we used to play Xbox or PlayStation when we got back to the room, there was nothing else.
"The only difference that year was that I am pretty sure we both finished each race. We never crashed out."
Rosberg's overdue fifth win of the season, in Brazil last weekend, was a reminder to a world that was beginning to consider him already beaten that he is as determined as ever. He might have to rely on Hamilton running into trouble in 23 November's finale in Abu Dhabi, despite the controversial double-points system, but Rosberg has made it clear he will be happy however his first World Championship title might come.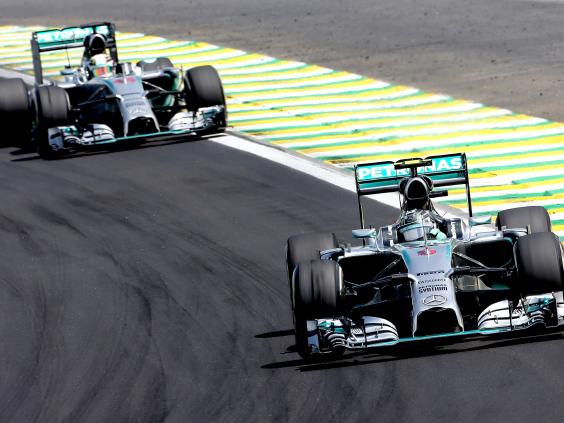 Hamilton, meanwhile, has been there before, as a contender in 2007 and as the eventual winner in 2008. Perhaps that will give him an edge. "I think a lot of people underestimate how good my first year was," he said, though quite how that might be the case when he immediately showed himself to be at least a match for Fernando Alonso, is a puzzle. "People constantly compared me to him, but it was my rookie year. It's different now and I hope that experience counts for something.
"In those two years, as far as I can remember, I definitely felt the tension more over those two [final] weekends. I probably don't remember much else, really. But I know I am more prepared now than I have ever been. I am stronger now than I was then, both mentally and physically.
"Going into this last one, I don't think there is a special recipe for it. I just have to go and do what I have been doing. Drive the way I have been driving in races because generally it's been good. I won't make a mistake like I did [in Brazil, referring to the half-spin that cost him his chance of victory on Sunday] and if I had a better qualifying it would be good."
So long as his Mercedes stays reliable, all he needs to do is follow Rosberg home in what would be a record 12th one-two for the Stuttgart manufacturer, though naturally Hamilton will be going for the win. Rosberg needs him to finish third or worse, or to retire.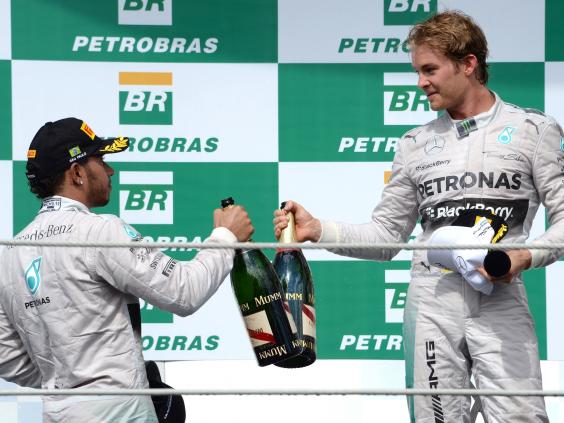 Having got the monkey off his back and won in 2008, Hamilton might be forgiven for feeling more relaxed about a second. But he insists it would be even more important. "It means more to me. I'll do the same stuff I always do, and then stand for the national anthem and get on with my driving. That's what I have done at every race this year.
"But right now I'm not thinking about Abu Dhabi. What will be will be. There's no point dwelling on it. It's going to happen one way or another. All I can do is make sure I do the best I can do over the whole weekend, and the rest will follow. In whichever direction."
In the meantime, he said in Brazil, he will be focused on spending time with his family, his girlfriend Nicole Scherzinger and his dogs. "I'll do some training and then a day or two at the factory, too. But as soon as I leave [Sao Paulo], I am not thinking about racing, that's for sure."
--
ROSBERG vs HAMILTON - how the title will be won
| | |
| --- | --- |
| If Rosberg is 1st | Hamilton must finish 2nd |
| 2nd | 5th |
| 3rd | 6th |
| 4th | 8th |
| 5th | 9th |
| 6th | Hamilton is champions |
Reuse content