In the end even his greatest rival had to doff his cap, Mercedes team-mate Nico Rosberg paying Lewis Hamilton the ultimate compliment of deference.
Rosberg said his winter would be spent searching ever harder to identify that otherworldly quality that separates the great from the bloody good, the X-factor which took Hamilton out of reach and to a second world championship.
Good luck with that, Nico. There is no human telemetry to decode the primal upshifts that make the Hamiltons of this world that bit faster in a racing car.
You might think that, being the son of a Formula One world champion, Rosberg would have the genetic edge. To a degree he has. Send him out against the clock in a one-lap shootout and he has no problem moving the needle, as he showed for the 11th time this season in claiming pole position in Abu Dhabi.
F1 Abu Dhabi Grand Prix 2014 - in pictures
F1 Abu Dhabi Grand Prix 2014 - in pictures
1/34 Final race

Hamilton is showered with champagne after the race

EPA

2/34 Final race

Hamilton celebrates his triumph

Getty

3/34 Final race

Hamilton can't hide his emotions on the podium

4/34 Final race

Hamilton commiserating runner-up Nico Rosberg

5/34 Final race

Hamilton embraces girlfriend Nicole Scherzinger

6/34 Final race

Hamilton lifts the British flag after being crowned champion

Getty

7/34 Final race

Hamilton in action at the Yas Marina circuit

EPA

8/34 Final race

Hamilton powers towards victory

9/34 Final race

Hamilton leads Mercedes team-mate Nico Rosberg

10/34 Final race

A TV broadcast shows Lotus' Venezuelan driver Pastor Maldonado leaving his burning car

11/34 Final race

Ferrari's Spanish driver Fernando Alonso breaks hard

12/34 Saturday qualifying

Lewis Hamilton shakes hands with Nico Rosberg as the two share a smile

Getty Images

13/34 Saturday qualifying

Nico Rosberg (c)m Lewis Hamilton (l) and Valterri Bottas (r), the top three from qualifying in Abu Dhabi, wave to the crowd

Getty Images

14/34 Saturday qualifying

Lewis Hamtilon and pole-sitter Nico Rosberg

Getty Images

15/34 Saturday qualifying

Lewis Hamilton emerges from the darkness as the sun sets over the Yas Marina pit-lane

Getty Images

16/34 Saturday qualifying

Kimi Raikkonen flashes by the lights of the hotel that towers over the track

Getty Images

17/34 Saturday qualifying

Valterri Bottas follows Lewis Hamilton

Getty Images

18/34 Saturday third practice

Daniel Ricciardo flashes past the harbour-side yachts at the Yas Marina circuit

Getty Images

19/34 Saturday third practice

Red Bull are saying goodbye to Sebastian Vettel as he prepares to leave at the end of the season

Getty Images

20/34 Saturday third practice

Prince Harry shares a joke with Geri Halliwell in the Red Bull garage

Getty Images

21/34 Saturday third practice

Adrian Sutil runs his Sauber close to the kerb

Getty Images

22/34 Friday second practice

Lewis Hamilton of Great Britain and Mercedes GP powers on

23/34 Friday second practice

Romain Grosjean of France and Lotus drives the Yas Marina Circuit

24/34 Friday second practice

Paddy Lowe, Mercedes Technical Executive Director looks on in the team garage

25/34 Friday first practice

Fernando Alonso follows his former team-mate Felipe Massa

Getty Images

26/34 Friday first practice

Lewis Hamilton ended first practice on top of the timesheets

Getty Images

27/34 Friday first practice

Romain Grosjean turns in as his Lotus glistens in the Abu Dhabi sun

Getty Images

28/34 Friday first practice

Kamui Kobayashi competes in first practice as Caterham return to action following two races away from the grid

Getty Images

29/34 Friday first practice

Daniel Ricciardo runs through the tunnel in the final sector of the Yas Marina track

Getty Images

30/34 Friday first practice

Lewis Hamilton tackles the Yas Marina circuit

Getty Images

31/34 Friday first practice

Nico Rosberg appears relaxed ahead of the biggest weekend of his life

Getty Images

32/34 Friday first practice

Fernando Alonso poses in the garage ahead of first practice

Getty Images

33/34 Friday first practice

Daniel Riccardo's helmet for the Abu Dhabi Grand Prix

Getty Images

34/34 Friday first practice

Sebastian Vettel signs autographs for fans in his final outing for Red Bull

Getty Images
But when the lights go out, you are taking on another man's soul and in this domain Hamilton knows instinctively which buttons to press. It is pointless asking him, or any other sporting genius, how he does what he does. Until science allows us to peer inside the cranium and decipher the traffic pulsing along the synapses, we are doomed to speculate.
When pressed, Hamilton defers to God, believing he is blessed with a divine gift. His father, Anthony, is ever more astonished at his son's accomplishments, having happened across his instinct for driving quickly quite by accident when seeking something to engage a hyperactive child while on holiday.   
"Lewis surprises me [how he overcomes] the barriers we set ourselves as human beings. He is the same eight-year-old kid from Stevenage in a rusty old kart. We had no money and we went racing. We are the same people from the same neighbourhood with just a few more quid in our pockets," said dad.
Well, not quite. These days Hamilton has the patronage of the royal family, with Prince Harry effusing sweet nothings down the radio from the pit wall as Hamilton took the chequered flag for the 11th time this season. There were also prime ministerial plaudits from David Cameron, hitching a ride on the Hamilton bandwagon by hailing it a great day for British motor sport.
Where, you might ask, was Dave when Silverstone was crying out for subsidy to keep the British Grand Prix alive? The third in line to the throne is a little late to the Hamilton party, too. There was no royal seal on the second-hand rust bucket Anthony cobbled together in the back garden for his son to race at nearby Rye House.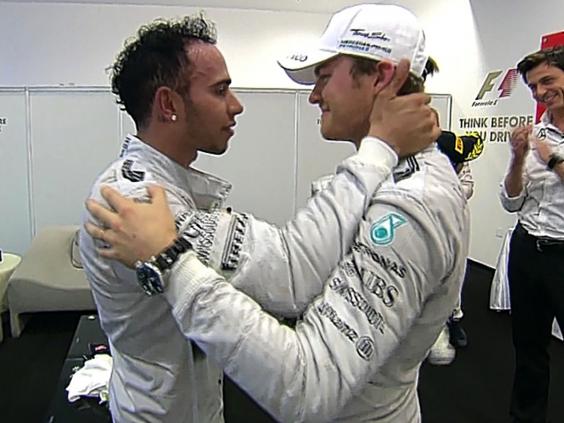 There was no sense either that the road from Stevenage to Hoddesdon would lead to a Formula One world title, let alone two. Somewhere in the Hamilton gene pool young Lewis tapped into the appropriate neuron wall.
He said that this victory, which seats him at history's table alongside Jim Clark and Graham Hill as a double world champion, meant more than his first in 2008. Back then he was the thrusting tyro driving on his wits without context to balance excitement. Here the triumph was set against subsequent years of frustration and failure at McLaren that ultimately led him through the doors of Mercedes.
It was a huge risk and looked anything but promising during a first year when he was no closer to a second crown than he was at McLaren. It took a radical engine change to clear the ground and the sharp thinking of the now departed Ross Brawn to sacrifice the 2013 season and organise instead around the new regulations. The reward was the best car on the grid in 2014.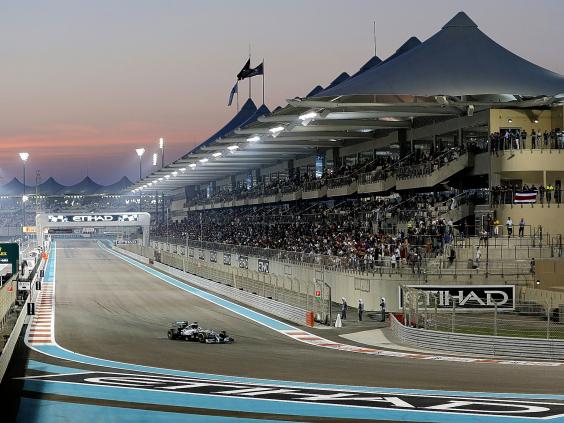 Though the spectacle suffered, with the field denied a shot at glory – a state of affairs that is unlikely to change soon – the season was rescued by the intra-Mercedes battle, which promised yet more drama yesterday. Until the lights went out.
If you are going to make a statement, make it a big one. Hamilton rammed syllable by syllable the speculative pre-race pap about the pressure getting to him down the exhaust pipes of Rosberg. Pressure would play a part, Rosberg was right about that. He simply identified the wrong victim.
Hamilton handed down a textbook lesson in how to cope when the heat turns molten, delivering what he described as the best start of his career precisely at the point he needed it most, blazing off the grid "like a rocket" to beat Rosberg into the first corner. 
There followed a demonstration of all that is good about Hamilton and desperate about the state of Formula One. The best driver in the world strangled the life out of the show in the season's quickest car, lapping metronomically until his first pit stop, which of course unfolded without incident.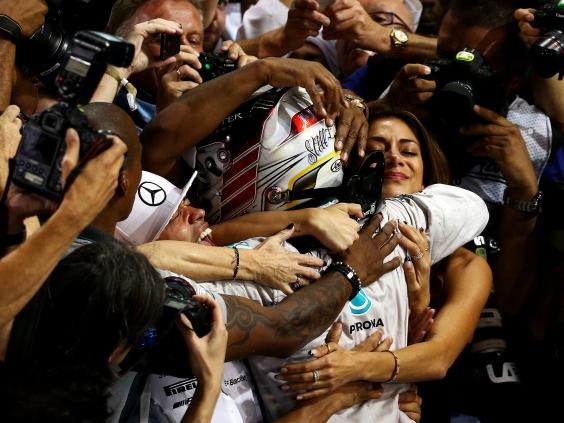 It was a procession long before Rosberg lost his energy-recovery system. Only the late threat from Felipe Massa, rolling the dice in search of a first Williams victory of 2014 at the season finale, vaguely discomfited Hamilton.
Mindful of the technical gremlin that struck down Rosberg, a recurring theme at Mercedes starting with the DNF inflicted upon Hamilton at the season's first race in Australia, the engineers turned down the wick on his car. Massa was taking chunks out of Hamilton's advantage over the closing laps but by then the champion would have brought a shopping trolley home, so commanding had he been all race.
The celebrations should not pass without a word in recognition of the sportsmanship displayed by Rosberg. He has had his moments this season, particularly at Spa, where he ran Hamilton off the road in a crass error of judgement, but yesterday he recovered any lingering PR deficit.
His insistence on finishing the race, against the wishes of a Mercedes team that wanted to retire him, and the genuine felicitations offered to Hamilton, first over the radio and then in person, were the hallmarks of a class act.