Lewis Hamilton was still coming down after celebrating with Prince Harry at F1's Amber Lounge post-race party in Abu Dhabi, when he faced the media on Monday morning.
But if the new world champion was on a high, it was just the natural rush provided by claiming his second crown.
"I feel fresh, I only had one drink last night, which is more than good enough for me," the Mercedes driver said.
"I don't drink champagne. I had a watermelon juice at dinner, which is my favourite. Then when I was at the party there was some kind of cognac thing... but it didn't taste very nice. So I had a couple of sips and that was it. I knew I had to be up early as well."
Where James Hunt might have staggered dishevelled into the morning after the night before, Hamilton celebrated with bright eyes and a spring in his step.
F1 2014 championship driver ratings
F1 2014 championship driver ratings
1/22 Lewis Hamilton – 9

The two-time world champion deserved every bit of his success in 2014, in which he showed he was the faster driver in the battle with Nico Rosberg. Had he not made the error in Brazil that allowed Rosberg to take victory, it could well have been a perfect 10 for Hamilton.

2/22 Nico Rosberg – 8

Rosberg pushed his team-mate all the way but ultimately who had no answer to Hamilton's sheer speed when it was a straight dog-fight between the two. The mechanical failure in Abu Dhabi robbed him of any hope of winning the title, but it would've been unlikely that he could have passed the eventual champion anyway.

Getty Images

3/22 Sebastian Vettel - 5

Who'd have thought the four time world champion would not win a single race this season? Perhaps that's not so bad given Mercedes dominated the season, but his new team-mate Ricciardo won three times, and simply it's been a case of not good enough from Seb. He'll hope the grass is greener at Ferrari next season.

Getty Images

4/22 Daniel Ricciardo - 9

A world champion in the making, Ricciardo has shown that he is both hugely talented and one of the nicest guys on the grid. He was rewarded for his excellent drives with three victories in Canada, Hungary and Belgium, and he fully warrants his third place in the Drivers' Championship.

GETTY IMAGES

5/22 Fernando Alonso - 6

The Spaniard may have endured a difficult year with Ferrari which has led to his exit, but in his eyes he has put in some of his best drives this season. He dominated his team-mate, the 2007 world champion, and he can still be pleased with a number of his performances this season.

Getty Images

6/22 Kimi Raikkonen - 3

What happened to the Flying Finn of last season at Lotus? Raikkonen has not performed well at all since his return to Ferrari, and there's a strong case to drop him to have been dropped for next year – though he will partner Vettel next year. A season-best of fourth in Spa is the anomaly of a poor season.

Getty Images

7/22 Felipe Massa - 7

His career could have been over when he left Ferrari last season, but the Williams team rewarded his determination to remain in F1 with a massively fast car. Two third-place finishes – the best in Brazil in front of his home fans – made up for a few retirements and nasty crashes, though they weren't of his doing.

Getty Images

8/22 Valterri Bottas - 7

One more podium finish than his team-mate and just one retirement all season has capped a breakthrough year for Bottas. The Finn is showing why he is rated so highly and he has a phenomenally calm head on his shoulders. His drive in Austria was a particular highlight.

Getty Images

9/22 Jenson Button - 6

Somehow under the radar Button has performed admirably in a car that has not been up to scratch this season. Button has out-performed Magnussen in the Drivers' Championship and started with a bang as he secured third in Australia, and a strong end to the season could still see him remain for 2015.

Getty images

10/22 Kevin Magnussen - 6

Moments of sheer braveness and incredibility have been hindered by errors and rashness, and a number of penalties this season have ended up costing Magnussen. Like Button, he amazed by finishing second in Melbourne, but has managed no better than fifth since then.

Getty Images

11/22 Sergio Perez - 4

Inconsistency has seen Perez finish up and down the field, with a third place in Bahrain helping him forget the fact that he didn't even start in Malaysia due to reliability failure.

Getty Images

12/22 Nico Hulkenberg - 5

Big things were expected from Hulkenberg after last season's performances despite missing out on a so-called 'big team' but hasn't been as outstanding as we've come to expect. Consistently inside the top-10, Hulkenberg will still be in the Force India next year.

Getty Images

13/22 Jean-Eric Vergne - 4

Five retirements in the first eight races looked to pave the way for Vergne's exit, but Kvyat's move to Red Bull could yet allow the Frenchman a second chance in F1. A season-best of sixth in Singapore was the best of a poor season.

14/22 Danil Kvyat - 4

The young Russian has shown that he has what it takes to make it in F1, but too many times this season he's fallen away and finished outside the top 10. Only three times this season did he finish inside the top 10, which hasn't been good enough.

Getty Images

15/22 Adrian Sutil - 2

A dismal year for Sauber looks to have confirmed the end of Sutil's time in F1. He hasn't scored a point and has already been confirmed as leaving Sauber, and he's unlikely to be picked up again before the start of next season.

Getty Images

16/22 Esteban Gutierrez - 2

A year to forget for the Mexican who will also be leaving Sauber this year. He remains confident of securing another drive for next season, but it certainly won't be based on results this season.

Getty Images

17/22 Romain Grosjean - 3

Let's not take too much from Grosjean's results, as the Lotus has simply been awful this season. He's asserted himself as the lead driver in the team following Raikkonen's exit, and he'll hope for much better fortunes next season having confirmed his stay witht he team.

Getty Images

18/22 Pastor Maldonado - 1

Where do you start with him? If he's not crashing, he's being penalised by the stewards for reckless driving. At times he's even been running behind the Caterhams and Marussias which simply isn't acceptable for Lotus. Finally scored a first point of the season in the United States.

Getty Images

19/22 Jules Bianchi - 5

It would be easy to bump up his rating due after the tragedy of his crash in Japan, but the fact is that Bianchi has impressed everyone this season. His drive in Monaco to score Marussia's first ever point will go down in F1 history, and he looked nailed on for a future Ferrari drive. Here's hoping he makes a recovery from his serious injuries.

Getty Images

20/22 Max Chilton - 2

Chilton's efforts in finishing every race he started finally came to an end in Canada, but he was consistently out-performed by Bianchi. Marussia's absence from the grid towards the end of the season looks to have ended his time in F1.

REUTERS

21/22 Kamui Kobayashi - 2

A strange season saw Kobayashi somewhat surprisingly recalled to Caterham, but financial problems meant he lost his drive in Monza only to return for the next race. Two 13th place finishes represents Caterham's best finishes this season.

GETTY IMAGES

22/22 Marcus Ericcson - 1

He has structured a move to Sauber for next season and severed ties with Caterham before their return in Abu Dhabi. A tough year, but he'll get another chance to impress next term.

Getty Images
His mobile had gone crazy, the texts and emails flooding in, and he promised to answer them all.
The first champion for a Mercedes works team since Argentine Juan Manuel Fangio in 1955, Hamilton said he spent the evening with family, just reminiscing about the journey they had been on.
Hamilton, winner of 11 races this season, recalled his early karting days, sitting by a gas heater drinking chicken soup from a flask, and the sacrifices his father had made.
"Then I popped out to the party, and [Mercedes motorsport head] Toto [Wolff] was all over the place at that point," laughed Hamilton, Wolff sitting alongside with a pained expression.
Beaten team-mate Nico Rosberg had tweeted after the race that "now it's time to fight for the party world championship". The German, who was not with Hamilton and Wolff yesterday morning, seemed to have won that battle.
Hamilton cheerfully vowed his second world title is just the beginning of a new era.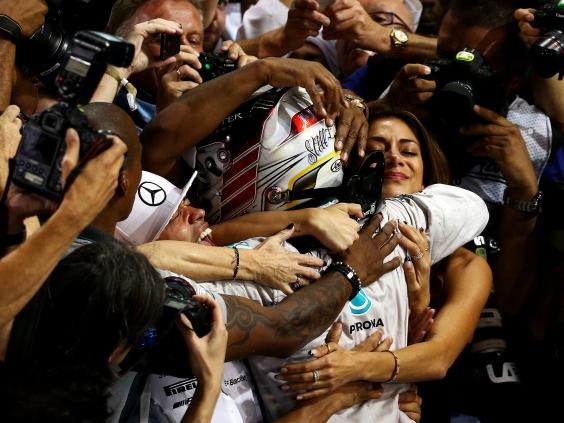 When he crossed the finish line at Yas Marina on Sunday 2.5 seconds ahead of Felipe Massa, it ended the six-year drought since he beat the Brazilian to his first championship at Interlagos. After the rise of Sebastian Vettel and Red Bull, Mercedes were able to upstage the Milton Keynes team under 2014's controversial new eco-engine formula.
"Winning one championship was exceptional, it was my dream and you can never be not satisfied with that," Hamilton said. "You never know when you're really going to get another one; not everyone gets to work with such great teams and have the opportunity to have a great car and dominate the way we've dominated this year."
The only other Britons to win more than one title are Graham Hill and Jim Clark with two apiece, and Jackie Stewart with three.
"The second one many years after, it feels like it's the first. I feel like I'm having the first experience.
"Of course I'm going to push as hard as I can. I'm grateful that I generally feel great, I'm still young, still have a lot to learn, still a lot to improve on and I'm definitely not finished. I'm going to come back stronger."
Immediately after Sunday's race Hamilton said this latest success was far more satisfying than the first, and he expanded on the feeling.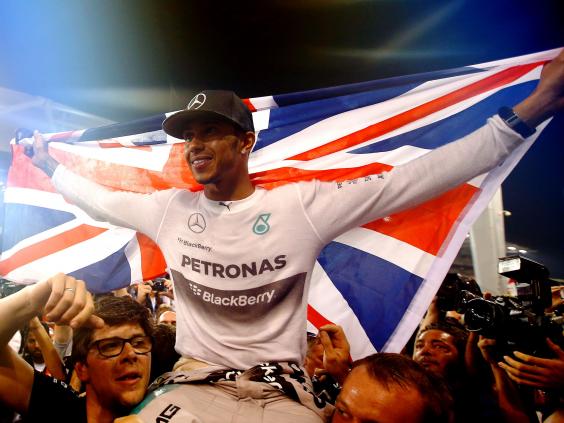 "Obviously the first one was exceptional, it was an incredible feeling achieving your lifelong goal of getting to Formula One and winning the world championship. It was great. But I don't know if I was in the place to really embrace it and absorb it in the way that I am today. Of course, being a part of this team it's definitely a more satisfying feeling winning the championship with this team, with a young team that worked so hard to get to where we are and to be a part of that journey is something very, very special.
"I guess just being in a different stage of my life. Maybe it just feels sweeter being a bit older. It's very, very special and very much a humbling experience."
Niki Lauda, Mercedes non-executive chairman, said he believed they  would have a far easier time handling Hamilton and Rosberg next season following the latter's exemplary behaviour in the wake of his world title defeat.
Whatever difficulties the duo may have encountered this year, Rosberg proved himself to be magnanimous in defeat by immediately seeking out Hamilton to offer his congratulations.
That highly impressed Lauda, who has been forced to intervene on occasion this year after a breakdown in the drivers' relationship.
"The biggest pleasure I had, where I nearly became emotional, was when I saw Nico go up and congratulate Lewis," said Lauda. "That was really an outstanding performance from Nico, especially because I know the discussions we had after Spa, because their relationship was the opposite of what we saw yesterday."
Reuse content