The press conference equivalent of road rage broke out after final qualifying for the Malaysian Grand Prix here, in which Nico Rosberg appeared to block his Mercedes team-mate Lewis Hamilton.
The incident came in the final session on a damp track as a thunderstorm curtailed Q2 and caused a 35-minute delay.
Fortunately for Hamilton his first lap had proved enough, pipping Ferrari's Sebastian Vettel by 0.074sec to claim his 40th career pole, with an unhappy Rosberg down in third.
In his media session afterwards, Hamilton attempted to diffuse the situation when asked about Rosberg's move. "I did improve on my first sector, it was quickest, but then I just bailed out," the Briton said. "I had traffic. I came up on quite a few cars ahead. The sector was looking quite good, but the cars were going to get in the way, so I decided to take a second lap."
Malaysian Grand Prix in pictures
Malaysian Grand Prix in pictures
1/25 Malaysian Grand Prix

Sebastian Vettel lifts the Malaysian Grand Prix trophy

Getty Images

2/25 Malaysian Grand Prix

Sebastian Vettel of Germany and Ferrari celebrates with the trophy on the podium after winning the Malaysia Formula One Grand Prix at Sepang Circuit

GETTY IMAGES

3/25 Malaysian Grand Prix

Vettel cruised to victory in the closing stages once Hamilton's threat faded

Getty Images

4/25 Malaysian Grand Prix

Vettel dropped to third but took the lead once the Mercedes pair pitted

Getty Images

5/25 Malaysian Grand Prix

The stricken Sauber of Marcus Ericsson is retrieved after the safety car comes out

Getty Images

6/25 Malaysian Grand Prix

Lewis Hamilton led Sebastian Vettel and Nico Rosberg early on

Getty Images

7/25 Malaysian Grand Prix

Kimi Raikkonen was hampered by an early puncture but recovered to fourth position

Getty Images

8/25 Malaysian Grand Prix

Lewis Hamilton leads from the start as Nico Rosberg challenges Sebastian Vettel

Getty Images

9/25 Saturday qualifying

Lewis Hamilton will start on pole ahead of Sebastian Vettel and Nico Rosberg

Getty Images

10/25 Saturday qualifying

Rosberg grimaces after Hamilton clinches pole

Getty Images

11/25 Saturday qualifying

Hamilton runs down the back straight in the rain

Getty Images

12/25 Saturday qualifying

Nico Rosberg could only manage third

Getty Images

13/25 Saturday qualifying

Lewis Hamilton secured his second straight pole of the season

Getty Images

14/25 Saturday qualifying

Sebastian Vettel managed to split the two Mercedes

Getty Images

15/25 Saturday qualifying

Kimi Raikkonen was the shock name to miss out in Q2

Getty Images

16/25 Saturday third practice

Rosberg returned to the top to the timesheets in final practice

Getty Images

17/25 Saturday third practice

Rosberg could take heart from his showing in third practice to take momentum into qualifying

Getty Images

18/25 Saturday third practice

Kimi Raikkonen finished third in final practice despite suffering a puncture

Getty Images

19/25 Friday second practice

Kimi Raikkonen managed to finish both sessions in second

Getty Images

20/25 Friday second practice

Nico Rosberg topped first practice but could only manage third in second practice

Getty Images

21/25 Friday second practice

Roberto Merhi's first ever run in the Manor Marussia ended in the gravel trap

Getty Images

22/25 Friday second practice

Lewis Hamilton returned to the track to set the fastest time of the day

Getty Images

23/25 Friday first practice

Hamilton's Mercedes is winched onto a recovery lorry

Getty Images

24/25 Friday first practice

Lewis Hamilton was forced to end his first run after just four laps

Getty Images

25/25 Friday first practice

Fernando Alonso returned to action following his recent concussion

Getty Images
Pressed on whether there was any suggestion he felt Rosberg had held him up, he instantly replied: "No." With the session winding down, Rosberg appeared at the back of the room and brought the matter up again, saying: "Nico Rosberg, Mercedes AMG Petronas. There are a lot of comments on Twitter saying Nico blocked you. Is that true, he blocked you on your second timed lap?"
Hamilton smiled and said: "I think you should probably ask him. I think he'll have a good opinion on that." Whilst the media laughed, Rosberg was not amused, shaking his head and saying: "That's not funny! That's not funny!"
Rosberg then took his place for questions and was immediately asked if he had blocked Hamilton. "You best ask Lewis about that," he said. "No, it is not even a relevant discussion because we were both on slow-down laps at that point in time. That was very, very clear."
When told that Hamilton had set a personal best in the first sector, Rosberg said: "Yeah, but if you bail out of a lap it turns into a slow-down lap, doesn't it?"
It was suggested to Rosberg that Hamilton only slowed as he came upon the German, to which he said: "That is not true. He backed off way before coming up on me."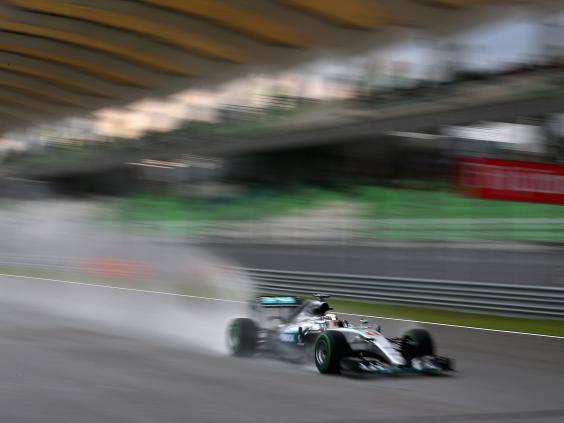 Although the next question was on a different subject, Rosberg chose not to let the matter drop and remarked: "How do we make that a fact, that he bailed out before he came across me?
"That is the interesting one because me just saying it isn't going to bear much weight. So, we need to think of one, which I don't have an answer for to make that a fact for you.
"I will have to think about something later on. Or you can ask Toto [Wolff, Mercedes motorsport boss] who is coming. That is maybe a good one. That will give some more weight to it." Unfortunately for Rosberg, Wolff was unavailable for his session, and so could not offer an opinion.
Niki Lauda was quick to defend his Mercedes team against rivals' claims that they should be slowed down. "From my point of view, it's completely wrong," he insisted, always the fighter, the pragmatist, an open book. A reliable arbiter of the sport's health, or otherwise.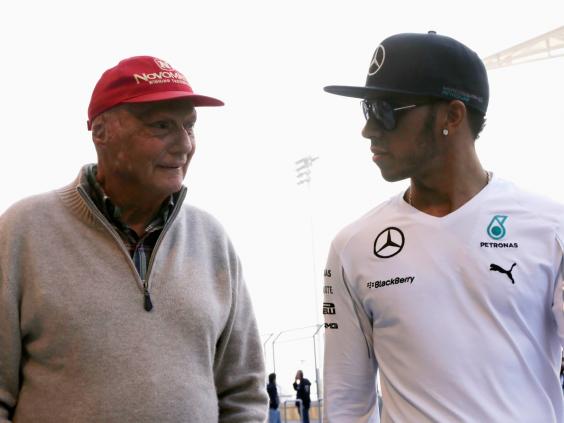 He is not the kind to look benignly on Red Bull's Christian Horner whingeing about Mercedes' success and his suggestion that the FIA need to instigate some sort of "equivalency formula to rein Mercedes in".
"There's only thing I say here now with all these attacks," Lauda went on. "I tell my guys here, 'One thing is clear: all we have to do, for me, for Toto [Wolff] and Mercedes, is to win every fucking race. This is our mission.
"And all this bullshit saying we need to manipulate things, Red Bull saying we need to slow down the Mercedes… That is not sport any more. If it's going to be a matter of doing this, changing the rules because one team is too competitive, we might as well give up Formula One."
Rosberg did admit he didn't drive well enough, and it was the first time in 10 races that Mercedes had not locked out the front row. With the weather hard to predict and a surprisingly quick Ferrari to contend with, Lauda's boys might just find it tougher to adhere to his plan for total domination.
Reuse content