Former Ferrari driver Felipe Massa has shown his support to his ex-team-mate Michael Schumacher as he continues to be treated for severe brain injuries following a skiing accident last month that has left him in an induced coma.
Massa took part in an annual charting karting event in his native Brazil with 'Schumi' written across his visor, and admitted he is praying for the seven-time world champion to pull through.
In a statement released on the Ferrari website, Massa wrote: "Dear Michael, my great friend, you helped me so much in my career, and I pray for you every day.
"I want to see you stronger than ever, just as always. I give you a big hug."
Schumacher is currently being treated by doctors in the Grenoble University Hospital after hitting his head on a rock while skiing off-piste. His manager Sabine Kehm has confirmed that he remains in a "stable" condition, though it is not yet known whether he will recover from his injuries.
The 45-year-old German has his wife Corinna maintaining a constant bedside vigil, and the Schumacher family issued a statement earlier this week in which they thanked everyone for their support and tributes to the former Benetton, Ferrari and Mercedes driver.
The statement, which was issued after German Bundesliga clubs Cologne and Schalke displayed a banner in support of Schumacher before their friendly last week, read: "We are deeply touched by all the messages to get well soon for Michael which still are being sent. That gives us strength. Thank you all so much.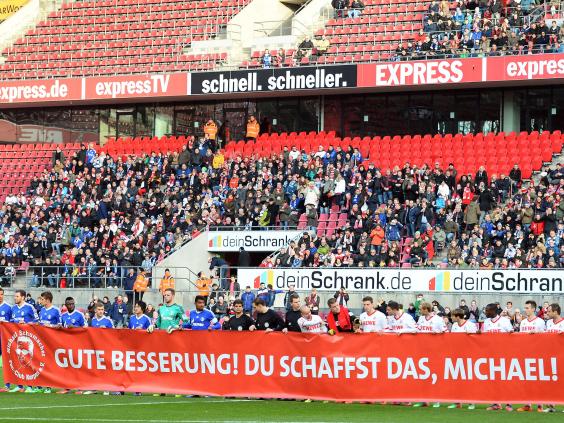 "Thank you to the fan club in Kerpen, to FC Cologne and Schalke 04, but also to everybody else and other fan groups who are supporting Michael.
"We all know, he is a fighter and will not give up."
Schumacher took Massa under his wing when the Brazilian joined the Italian manufacturer in 2006, which proved to be the German's final year with the team he joined in 1996 as he announced his first retirement from the sport, only to return with Mercedes in 2010.
Massa was released by Ferrari at the end of last season as they resigned the 2007 world champion Kimi Raikkonen, with the Brazilian joining Williams to partner Valteri Bottas for the 2014 season.
Moving scenes as fans hold silent vigil for Michael Schumacher's 45th birthday
Moving scenes as fans hold silent vigil for Michael Schumacher's 45th birthday
1/10 January 3 2014

As the former Formula 1 champion fights for his life, well-wishers and supporters have staged a vigil outside the Grenoble hospital where he is currently being treated.

AFP/Getty

2/10 January 3 2014

Candles were lit in support of the F1 champion, who is currently in a medically induced coma

AFP/Getty

3/10 January 3 2014

T-shirts with the slogan 'I Heart Schumi', Ferrari caps, banners and flowers festooned the fences surrounding the medical facility.

AFP/Getty

4/10 January 3 2014

Meanwhile, Ferrari clubs from France and Italy gathered outside the hospital.

AFP/Getty

5/10 January 3 2014

Michael Schumacher's fans were determined not to let his 45th birthday pass by unmarked, and left scores of tributes.

AFP/Getty

6/10 January 3 2014

In the deepest respects for his recovery, the vigil was entirely silent.

AFP/Getty

7/10 January 3 2014

While a sombre and poignant occasion, those present are optimistic to hear more encouraging news on the medical condition of the German sportsman.

AFP/Getty

8/10 January 3 2014

The team with whom Schumacher won a record five titles in a row with between 2000 and 2004 organised a silent march in support.

AFP/Getty

9/10 January 3 2014

Schumacher is currently believed to be in a critical but stable state.

AFP/Getty

10/10 January 3 2014

On his fans, the Schumacher family said in a statement: "They are giving us great support. We all know he is a fighter and will not give up. Thank you."

AFP/Getty
Reuse content