Winning breeds winning, so the saying goes. That's certainly the case when it comes to MotoGP world champion Marc Marquez, who at 23 years old is already a five-time world champion, the last of which came in the form of his third title in the premier category of motorcycle racing this year.
After wrestling the crown back from compatriot Jorge Lorenzo at Motegi following his fifth Grand Prix victory of the season, Marquez finally had reason to ease the throttle back and enjoy his success. Anyone who has seen the young Spaniard ride though knows this is not his style. He instead tried to dominate the Australian Grand Prix, and duly crashed out of the lead.
That's the Marquez way. But after securing the famous five world titles, does he still have the motivation to push himself to the incredibly dangerous limits posed in motorcycle racing? After all, his equivalent in the four-wheel world, Nico Rosberg, announced his retirement from nowhere, and there comes a time for everyone to call it a day when they've achieved what they set out to achieve.
"It's something, honestly for me, that's difficult to understand," Marquez tells The Independent at the Repsol headquarters in Madrid, the sponsor that makes up one half of the longest-running partnership in motorsport in Repsol Honda.
"Maybe in five years more I will have the same feeling, but at the moment when I'm winning I have more motivation to continue and be there, but he [Rosberg] says that he feels a lot the pressure, and he doesn't want to again have this situation.
"Of course I have respect because he won the title this year and was really strong and constant, but yeah, it's something that every person is different."
Marquez is the picture-perfect world champion. He broke onto the scene in Moto3, winning the world title in both junior categories before taking a third world championship in his very first season of MotoGP and backed it up by successfully defending it in 2014. From the moment we meet, he's smiling and keen to engage in conversation, and even talks me onto his Repsol Honda RC213v from last season.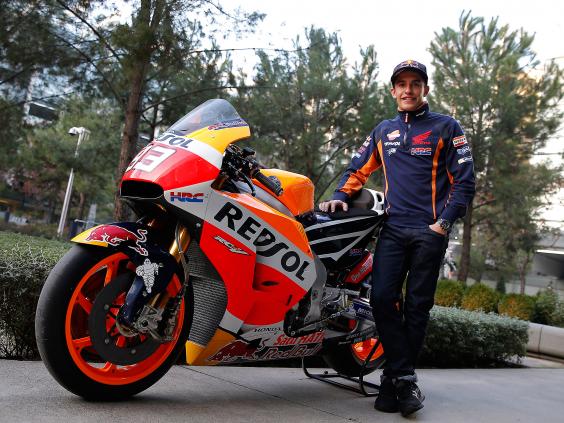 But there will come a time when the danger outweighs the reward, and Marquez will go the way of hundreds before him in hanging up his leathers. It's clear though that it won't be anytime soon, simply because he still loves to win and he still loves to ride motorbikes for a living. You almost get the impression that the smile remains once the visor goes down and the lights go out.
"At the moment the main motivation is to try to win, every Sunday, every year," he says. "Of course this is not possible, but this is the motivation. It's what keeps you in a positive way, what keeps you concentrating and the will to win every Sunday whether it's possible or not, that's the mentality of a rider, of a sportsman. It's to try and be the best every race."
So can he retain the title again just like he did two years ago in the most dominant of fashions, taking 13 victories including the opening 10 races?
"This is something that every year you start and the main goal is to try to win the championship," he explains. "Then of course you have a lot of different circumstances and you have to manage a lot of different things but we won in 2016, and the main target in 2017 is try to repeat. Of course the problem is that we have 21 riders that want to be in the same place, so you must train hard, and you must concentrate to achieve it.
"It's difficult and early to say right now, but for me both Yamaha riders will be the main opponent. Honda [vs] Yamaha like always. We know if we work hard in pre-season to improve the bike then we will have a good chance, so we will try to concentrate all our effort and try to improve everything."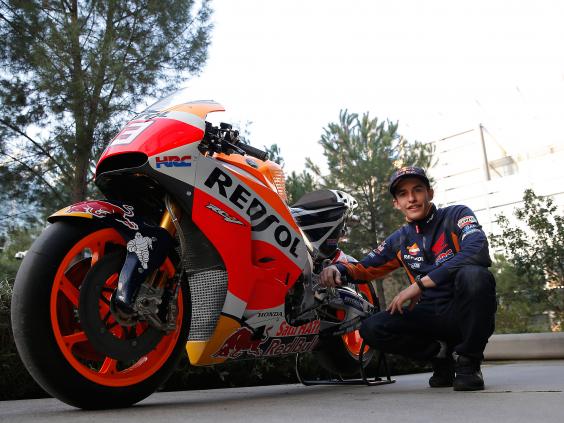 From our interview, Marquez will head straight to another event where he will meet his growing number of fans, and he also has a dirt bike race pencilled in later in the week. Don't be fooled, the winning mentality doesn't stop here. "It's ok because it's kind of a show but it's still a race so you must be competitive, like if we have some game here on the tablet I will try to beat you!" He laughs, but you know he's not joking. "Inside always it's the same thing."
Being a world champion guarantees two things whatever the sport – that you're the best in the world at what you do at that given moment, and that you have hardly any time to yourself. But Marquez will at least enjoy the festive period at home, but come the turn of the year it's all systems go once again.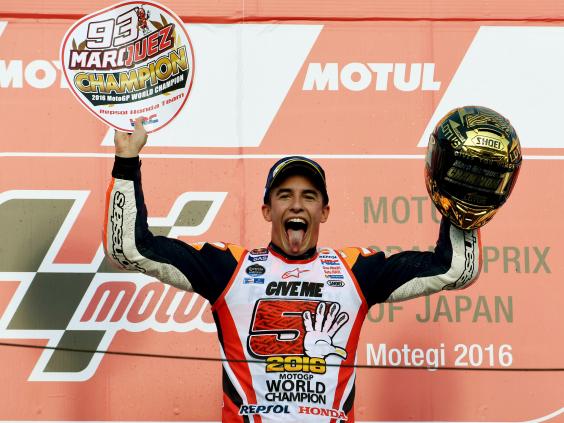 "I will try to relax at home, spend Christmas time with family and with my friends, maybe skiing some day, but we'll try to be off for two weeks, to also recharge the batteries."
So when does the hard work begin? "Beginning of January. The first? No, because you know why! [I'll be] relaxing, but the second of January then maybe we start."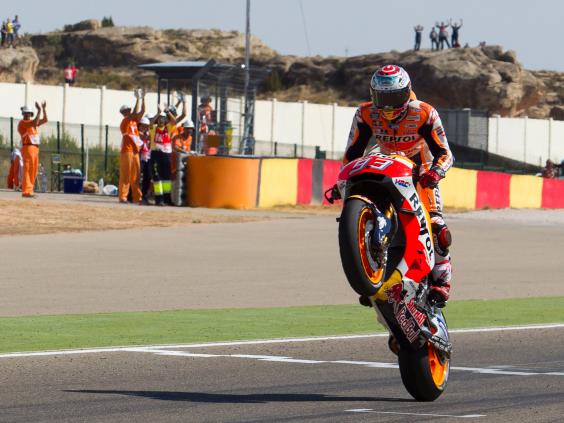 Yet after our talk, it's still his opening line that resonates so strongly. This is the time to enjoy being a five-time world champion, and yet he can't because his mind is already programmed to win next year. Testing began two days after he completed the season in Valencia, and immediately his mind switches to how he can be the best rider on the grid again next year.
You can guarantee Marquez would not have it any other way.
Read part two of The Independent's interview with Marc Marquez in our interviews of the year later this month.