Robert Kubica's reaction to hearing that Ferrari's Formula One team principal, Stefano Domenicali, had said the Polish driver would never regain sufficient fitness to return to the pinnacle of motorsport – if that is what you believe F1 to be – was revealing.
"Maybe it sounds strange but I was actually quite pleased, because it showed they've been checking up on me," says Kubica as he prepares for this week's Wales Rally GB.
"Anyway, Domenicali didn't say anything new. He expressed an opinion, but it is an outsider's opinion and from the outside it always looks different. I know the reality, and the reality is the improvement in my range of movement is still happening."
Only when that improvement stops, says Kubica, will he rule out returning to F1, in which he looked both able and ready to compete for a world championship before the rallying accident in 2011 in which he nearly lost an arm.
He might have won the championship in 2008, the year Lewis Hamilton, then driving for McLaren, snatched the title from Ferrari's Felipe Massa on the last lap of the last grand prix.
Kubica, then just 23, was leading that championship after seven of 18 races, driving a relatively under-powered but reliable BMW Sauber with a maturity and aggressive assurance that made him as hot a property as Hamilton.
Had BMW chosen to pour resources into developing that car instead of trying (and miserably failing) to build a world-beater for the following year, the fight for the title could have been a three-way affair.
Kubica, the dry humour that made him one of F1's most popular interviewees still very much intact, smiles wryly. "There might just be something in that," he says. "But F1 is such a complicated sport. I made my feelings known but they had their priorities mapped out, and in the end you are paid to respect those priorities and drive."
Kubica finished the year fourth in the drivers' championship and BMW produced such a disastrously poor car in 2009 that the German manufacturer decided to pull out of the sport the following year. Kubica moved to Renault and, on circuits where driving ability made a real difference, continued to shine.
Then, with F1 testing for 2011 almost complete, came the incident which changed his life. Indulging his love of rallying at an event in Andorra, he put his Skoda Fabia into a crash barrier, partially severing his right hand and badly fracturing his arm and leg.
The best part of three years of operations and rehabilitation later – a process not helped when he slipped on ice the following January and broke his leg again – Kubica has reached a stage where he has regained sufficient range of movement to drive rally cars, and drive them very fast, but not a Formula One car. Not yet.
"In normal life I have big limitations in terms of movement I require for the hand," he acknowledges. "In driving terms, though, there is big progress and I'm pretty happy with how my body is reacting.
"The biggest problem is in rotating the arm when space is limited. Rally cars are pretty demanding because you can't predict, you have to be ready for instant changes of direction, but it's not a problem because I can use my shoulders.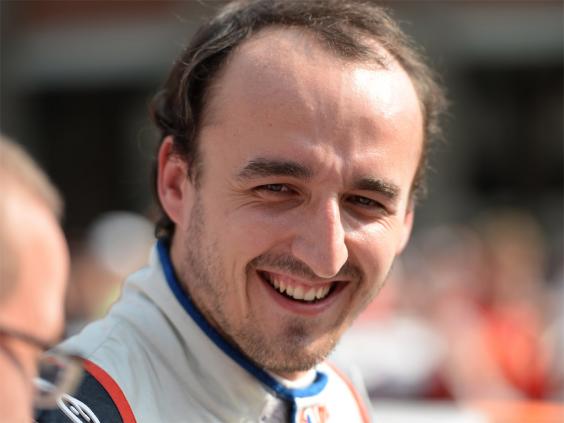 "In a narrow, single-seat racing car [where shoulder movement is confined] I can't yet put full lock on the wheel. So some F1 circuits, like Barcelona, I could drive no problem, but not somewhere like Monaco. But I think if I put it in my head to test a single-seater in two months' time, I could do it – and if I do, the results will surprise some people."
First, though, comes the Wales Rally GB, and having sewn up the Rally 2 World Championship with a fifth class win in seven events in Spain a fortnight ago, Kubica will now move up to the top class and for the first time drive Citroën's factory World Rally car.
"It's an opportunity for me, but also a huge challenge and we have to stay very calm," says Kubica. "I know that many people would like to see me go very fast in GB, but I think it will be very difficult.
"The car is new to me, and remember, eight months ago I had no experience of driving a rally car on gravel. Zero. I cannot drive on circuits for 20 years and then, after six months of regular rallying, expect to fight with the top guys in the world.
"So it will surely be impossible for me to be on pace or close enough to be in the top five or six. Otherwise with all the other drivers' experience, something must be wrong in the system! And I don't think my performance in GB will make any difference to my season, or to next year."
His plans in that respect remain open, although whatever happens in the forests of Wales this week, he would like to drive more full World Rally Championship events in 2014.
Regular sessions on Mercedes' F1 simulator having shown he has lost none of his instinctive speed or ability, however, the possibility of an F1 test is beginning to grow. While a seat back on the grid next season might remain out of the question, regular testing could see him fit and ready for 2015 – and he would not lack for suitors.
Kubica, whose following in Poland is immense, is ruling nothing out. "You never know in your life, I have learned that, and sometimes I surprise myself with what I can do. When I'm using the simulator, you wouldn't know the difference.
"Of course I miss F1 and want to get back. I made a mistake and paid a price – some would say heavy – but I would say it could have been higher, for sure.
"For me it doesn't matter if it will take one month, one year or five years, there is still a chance to drive F1, and I think it is getting better."
Reuse content