Jenson Button's F1 career could be in the balance after Sebastian Vettel's shock decision to quit Red Bull for Italian giants Ferrari.
Vettel – currently only fifth in the drivers' standings, 117 points adrift of leader Lewis Hamilton - confirmed yesterday morning that he won't be racing in 2015 for the team that helped him win the last four world championships and 38 grands prix.
"This is not a decision against Red Bull, it is for something else," he said. "Red Bull did nothing wrong, we part as friends and it has nothing to do with the results, even though they are not what we expected.
"I am loyal and I did not breach any contract. I am not running away from anything but there are times in life when you need something new and if there is an opportunity you have to grab it."
F1 Japanese Grand Prix
F1 Japanese Grand Prix
1/9 Friday second practice

Daniel Ricciardo's damaged Red Bull is retrieved from the barrier after a heavy off

Getty Images

2/9 Friday second practice

Lewis Hamilton ended Friday as the fastest man of all once again

Getty Images

3/9 Friday second practice

Sebastian Vettel prepares to take to the track in second practice

Getty Images

4/9 Friday second practice

Fernando Alonso looks far from happy during Friday practice

Getty Images

5/9 Friday second practice

Lewis Hamilton passes under the tunnel at Suzuka

Getty Images

6/9 Friday first practice

Nico Rosberg topped first practice timesheets

Getty Images

7/9 Friday first practice

Jenson Button drives through the final chicane as the famous Suzuka ferris wheel spins in the background

Getty Images

8/9 Friday first practice

Max Verstappen made his debut in the first Friday practice session

Getty Images

9/9 Friday first practice

Max Verstappen looks on as he copes with his F1 debut

Getty Images
Ferrari is almost certainly his next destination as he looks set  to replace two-time champion Fernando Alonso, who has failed to establish a relationship with the Italians' new team principal Marco Mattiacci.
Red Bull team principal Christian Horner was certainly convinced that's where Vettel is heading, saying: "Ferrari have made him a very attractive offer. We've had five fantastic years and won eight world championships together.
"Sebastian has thought long and hard about this and decided that the time is right for him to take on a new challenge. If someone's heart is not 100 per cent in his workplace then it would be wrong to force them to stay."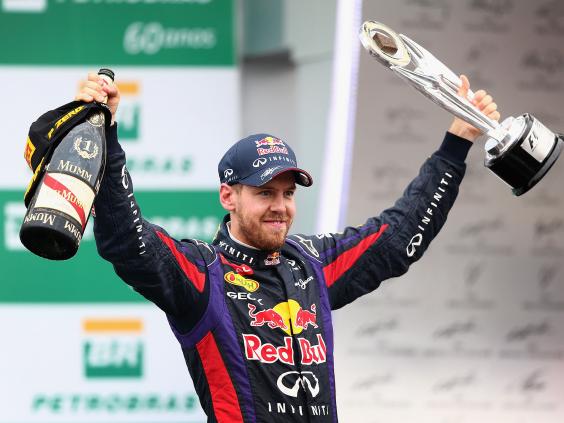 A second-placed finish in Singapore in the last grand prix is Vettel's best result of the year to date - he has only stood on the podium on two other occasions and has been continuously overshadowed by new team-mate Daniel  Ricciardo all season.
Vettel's shock announcement will inevitably now have a domino effect throughout F1 – and the biggest loser could be 34-year-old Button.
With Alonso almost certainly leaving Ferrari, his only realistic home for 2015 will be at the new upcoming McLaren-Honda partnership.
That could mean taking 2009 world champion Button's seat, with McLaren  likely to retain his young team-mate Kevin Magnussen in preference.
Button had been confident of retaining his seat with the Woking-based team – and could yet form a strong partnership with Alonso. But Honda see him as a B+ driver and would rather an A star. Alonso fits that bill, notwithstanding team boss Ron Dennis' dislike of him, which dates back to the Spygate scandal of 2007 when Alonso shopped the team to the FIA.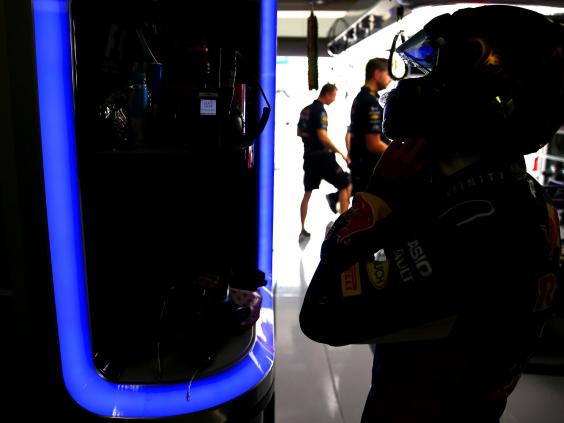 Red Bull also announced on Saturday that Vettel's place for next year's campaign will be taken by Daniil Kvyat, currently with Red Bull's junior team Toro Rosso.
Meanwhile, on the track, the story was all about Mercedes as Nico Rosberg narrowly beat Lewis Hamilton to pole position for the Japanese Grand Prix, ahead of the Williams duo of Valtteri Bottas and Felipe Massa. Alonso was only fifth, Ricciardo sixth and Vettel ninth alongside his team-mate-to-be Kimi Raikkonen.
It remained to be seen what havoc the temporarily forgotten Typhoon Phanfone might wreak in what was certain to be a wet race in which everything could go back into the melting pot for Hamilton and Rosberg. But for Vettel, Alonso and Button the biggest drama had already started.
Reuse content