In his ski shop near Glasgow yesterday morning, Alain Baxter had one eye on his three kids and the other on the television. As Katie Summerhayes tried to become only the second British athlete to win an Olympic medal on snow, Kerr, who is seven, was distracted by his father's iPad. Baxter thought nothing of it, and when Summerhayes failed to match Jenny Jones, the snowboarder who won a historic bronze on Sunday, he waved off his children to school.
"They're beginning to understand what I did, especially now we're watching the Games," the Scot, who's 40, says by phone. "They know that I was a ski racer. In fact, I'm just looking at my iPad now and Kerr has just changed the screensaver." Baxter sounds moved, if not a bit incredulous. "It's me with my medal! He's gone and Googled it and put it as the lock screen, so when you turn it on, there I am."
When you search for pictures of Alain Baxter, three images dominate. In one, the dashing athlete they called The Highlander is skiing the race of his life in the men's slalom at the 2002 Salt Lake City Olympics. In the second, he is showing off the bronze medal he won, ending years of disappointment and ridicule in British skiing, and becoming a hero overnight. In the third, he's crushed just days later as he holds up the innocuous cold remedy that tore his dream apart.
It's a measure of Baxter's achievement – and the outrage that greeted his belated disqualification in 2002 – that BBC commentators paused to pay tribute to him before gleefully celebrating Jones's third place on Sunday. "I still think Baxter's a bronze medallist," said Aimee Fuller, Jones's young teammate, who joined Ed Leigh and Tim Warwood behind the microphone.
Jenny Jones wins Olympic slopestyle bronze: in pictures
Jenny Jones wins Olympic slopestyle bronze: in pictures
1/10 Women's slopestyle final

Great Britain's Jenny Jones sets off on her run in the women's slopestyle final at the Rosa Khutor freestyle park in Sochi

2/10 Women's slopestyle final

Jones catches a big air as she completes the rail section in the slopestyle final

3/10 Women's slopestyle final

Jones soars into the Russian sky as she pulls off a big grab on the first kicker

4/10 Women's slopestyle final

And Jones gets inverted off the the final jump to complete an impressive run

5/10 Women's slopestyle final

Bristol's Jones is rewarded with a big score of 87.25 points, but faces an anxious wait as her competitors try to better her

6/10 Women's slopestyle final

Finland's Enni Rukajarvi produces a strong run to put pressure on Jones's score

7/10 Women's slopestyle final

And a huge air helps Rukajarvi take the lead with a total of 92.50

8/10 Women's slopestyle final

Next up is the USA's Jamie Anderson, the favourite for gold

9/10 Women's slopestyle final

A breathtaking run from Anderson earns her a score of 95.25, and the gold medal, pushing Jones down into third place

10/10 Women's slopestyle final

But a delighted Jenny Jones hangs on to bronze to claim Great Britain's first ever Olympic medal on snow
"A lot of people think I even still have my medal, because they know that I was cleared," Baxter says. "Just last week, a friend who's a coach made a little video montage about me on YouTube. I'd never really seen the victory run properly, even though I've got it videotaped somewhere. It was really cool to watch it after 12 years, and the reaction at the finish. But it's also still very emotional."
Baxter was 28 and considered an optimistic bet for the podium in 2002. After a crash in training, he tweaked his knee and took two days off to rest. As he nervously occupied his time with videos, the dry air in Utah aggravated sinus problems he had suffered since childhood. He asked his coach for a Vicks inhaler from the supermarket. What neither man knew – and neglected to check – was that the ingredients differed from those in the British version of the same product, which Baxter had used for years.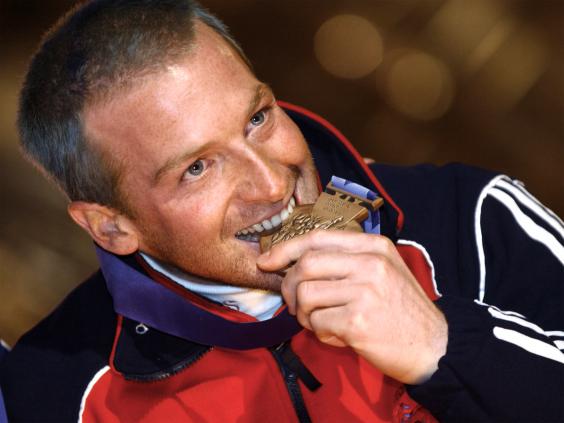 Baxter skied into second place after two runs of the slalom course, later hanging on to third behind two Frenchmen. The screaming in the commentary box was arguably louder than that which followed Jones on Sunday. "I know how she feels now," Baxter says. "You don't realise just how big the Olympics are until you get up on to that podium. It was mind-blowing. I'd been skiing since the age of two and competing since 11. It was everything to me."
The skier was soon fielding offers of new cars from Jaguar and Peugeot, and intense media attention from back home. "It was when I started reading interviews with my grandparents and friends of mine that I thought, wow, this is huge," he says. "That's when I got emotional because I could see what it meant to other people."
An open-top bus tour awaited Baxter in his hometown of Aviemore, and a slalom course of fans, photocalls and interviews. Thousands turned out to cheer while bagpipes played. The following day offered brief respite and Baxter had plans to go to a friend's birthday drinks. As he got ready, the phone rang. Simon Clegg, the British Olympic Association's (BOA) chef de mission, told Baxter he had failed a drugs test. "My instant reaction was to ask if he was joking," he recalls. "He said he wasn't. It was at that moment I thought, that's it, my career's over."
The BOA did not reveal the result publicly until almost two weeks after Baxter's race. First they rushed to discover what had caused 20 millionths of a gram of the banned substance methamphetamine to show up in his urine sample. They quickly identified the Vicks inhaler. Further tests showed that the medicine contained two types of the substance. The one in his system could not have enhanced his performance, independent analysis concluded, but the International Olympic Committee (IOC) would not distinguish between them. It refused to budge even when Baxter was cleared and allowed to return to competition, and despite a huge campaign for the return of his medal.
After months of short-lived joy and then anguish, Baxter returned to the US for his first race back after the Olympics, in Colorado. He finished third again, once more edging Benjamin Raich, the Austrian racer who had accepted his bronze medal, into fourth place. He retired from competition in 2009, never quite managing to hit the form that had earned him a fleeting place in British sporting history. He now lives near Dunblane with his wife, Sheila, and runs Alain Baxter Sports, a ski shop and boot-fitting centre in Stirling.
Baxter, who also has two daughters, aged three and five, is still angry about his treatment by the IOC, and questions why its on-site drugs lab was no longer in Salt Lake City at the time of his race (he says his sample had to be sent to Los Angeles, where it was processed by an unusually sensitive machine). Even so, he has moved on and prefers to hold on to the memories of his win rather than what followed. He has a photo from that day on display in his office, but says: "I'd love to have it on the mantlepiece for the kids to see, that would be really nice."
Until then, there is the joy of watching the next generation of British Olympic hopefuls – and the new picture on his iPad. "It's really sweet that Kerr's done that and, do you know what, he'll notice it tonight if I change the photo back so maybe I'll leave it just now."
Reuse content