A disabled middle-distance runner shattered the 1500m Paralympic world record after winning gold at the Rio Paralympic Games, beating Olympic champion Matthew Centrowitz by more than 1.7 seconds.
Abdellatif Baka of Algeria won the T13 1500m final on Monday night in a stunning performance that not only set a new Paralympic world record, but stands as the fastest 1500m time recorded by an able-bodied or disabled athlete in Rio over both the Olympic and Paralympic Games.
Baka clinched gold in the T13 class where athletes suffer from visual impairment. There are two other classes for visually impaired athletes in the form of T11 and T12, with the lower numbers indicating a more severe impairment.
Baka crossed the line in a time of three minutes and 48.29 seconds to win gold, with American Olympic champion Centrowicz only managing three minutes and 50.00 seconds at the Olympic Games last month.
The feat was made all the more stunning given the fact that the second, third and fourth-placed finishers all recorded times faster than Centrowicz, meaning that four Paralympic athletes had run times fast enough to win gold had they competed in the Olympic Games.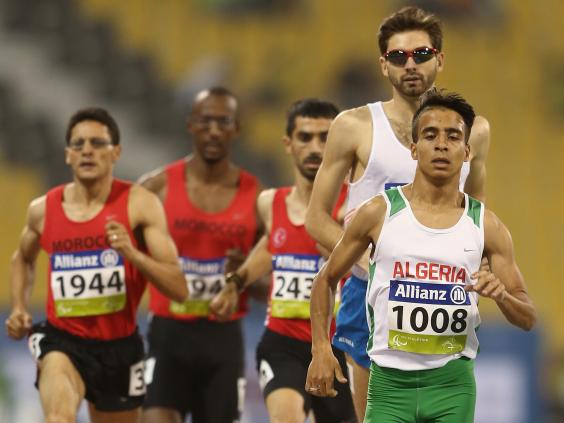 Paralympics: Five foreign athletes to look out for
Paralympics: Five foreign athletes to look out for
1/5 Ryley Batt (Aus) - men's rugby

One-man teams don't exist but Ryley Batt almost defies the rule. You have to be pretty special to make your Paralympic debut at the age of 15 and in such a brutal sport as wheelchair rugby, too. But that's Batt, 27, who started out in Athens and is probably the world's best player for the world's best team: Australia won Paralympic gold in London and the world title two years ago. In 2012, Batt scored 160 points during the tournament and 37 goals in the final against Canada. In the final at the worlds he scored 45 goals to lead his team to a 67-56 victory over Canada.

Getty

2/5 Matt Stutzman (USA) - archery

The 'Armless Archer' Matt Stutzman is proudly in the Guinness Book of World Records with the Furthest Accurate Distance Record under his belt. It's not any old record either: it was previously held by an able-bodied athlete and Stutzman broke it with a 283.47m shot. The remarkable American has learnt to do everything that one might usually do with ones arms with his feet.

Getty

3/5 Tatyana McFadden (USA) - T54 wheelchair events

Tatyana McFadden's story is incredible even by Paralympic standards – and the wheelchair racer is set to become one of the most talked about athletes at Rio. She was born with spina bifida in Russia and was raised in an orphanage without access to a wheelchair. In 1994, she was adopted by Debbie McFadden, who was working for the USA's health department, moved to the States and took up Paralympic Sport. Ten years on, aged just 15, she represented the US at Athens winning medals in the 100m and 200m. More medals followed in Beijing and then in London three golds. Now she is going for the full set: from 100m to marathon.

Getty

4/5 Daniel Dias (Brazil) - S5 swimming events

If the level of support at the Olympics is a barometer, the home crowd will be firmly and vocally behind swimmer Daniel Dias, Brazil's most decorated Paralympian, in Rio over the next two weeks. The 28-year-old has won 10 gold, four silver and one bronze medal since making his Paralympic debut in 2008 and is competing in nine events in Rio. Grab seven golds, (as he did the World Championships in 2015) and he could become history's most successful male Paralympian.

Getty

5/5 5-a-side football team (Brazil)

Perhaps the loudest roar of the Olympics was when Neymar slotted that decisive penalty past German goalkeeper Timo Horn to secure Brazil gold in the football in the Maracana. There could be further emotional scenes should the hosts win the 5-a-side Paralympic title. The blind team is led by "the Paralympic Pele" also known as Jefinho and are seeking a fourth successive title.

PA
Ethiopia's Tamiru Demisse claimed silver with a time of three minutes and 48.49 seconds, with Kenya's Henry Kirwa taking bronze in three minutes and 49.59 seconds. Incredibly, Baka's brother, Fouad Baka, finished fourth in a time of three minutes and 49.84 seconds to also finish faster than Centrowicz.
"It wasn't easy to get this gold medal," Baka said after winning Paralympic gold. "I've been working one or two years non-stop and it's been very, very hard for me."