A Polish middle distance runner who finished fifth in the women's 800m final won by Caster Semenya at the Rio Olympics has claimed she "feels like a silver medallist".
Joanna Jozwik also appeared to controversially claim that she was proud to have finished as the "first European" and the "second white" in the race.
The 25-year-old runner failed to earn a place on the podium, finishing behind South Africa's Semenya, Burundi's second-placed Francine Niyonsaba and Kenya's bronze medallist Margaret Wambui.
The race result has reignited debate in female athletics around hyperandrogenism, a condition which leads to the excessive production of testosterone.
Semenya is the best-known athlete to live with the condition but neither Niyonsaba or Wambui identify as hyperandrogenic.
Jozwik, nevertheless, has now echoed the sentiments of Great Britain's Lynsey Sharpe and questioned the fairness of the contest including female athletes with high levels of testosterone.
"This season I had a lot of health complications and injuries, which is why I am very pleased with this result. I feel like the silver medallist," Jozwik told Eurosport.
"The three athletes who were on the podium raise a lot of controversy. I must admit that for me it is a little strange that the authorities do nothing about this.

"These colleagues have a very high testosterone level, similar to a male's, which is why they look how they look and run like they run."
The Walbrzych-born sprinter finished with a time of 1:57.37, behind Canada's Melissa Bishop.
Rio 2016 Olympics - in pictures
Rio 2016 Olympics - in pictures
1/18 Adam Peaty celebrates his record-breaking gold medal

Team GB swimmer Adam Peaty celebrates winning the gold medal in the men's 100m breaststroke - as well as setting a new world record.

Ian Walton/Getty Images

2/18 Refugee swimmer Yusra Mardini represents Syria in Rio

Yusra Mardini, a swimmer from Syria, competed at the Rio 2016 Games as part of the Olympic refugee team. This was the first year the Games featured a team made up of stateless refugees, including the 18-year-old Mardini who swam part of the dangerous journey from war-torn Syria to Greece less than a year ago.

Alexander Hassenstein/Getty Images for IOC

3/18 Chris Mears and Jack Laugher make a synchronised splash

Team GB divers Jack Laugher and Chris Mears compete in the Men's Diving Synchronised 3m Springboard Final, winning Britain's first gold medal in the event.

Adam Pretty/Getty Images

4/18 Gold medalist couple Laura Trott and Jason Kenny in emotional moment

Gold medalist Jason Kenny of Great Britain celebrates with girlfriend, cycling gold medalist Laura Trott of Great Britain, after winning the Men's Keirin Finals race.

Bryn Lennon/Getty Images

5/18 Beach volleyball players' contrasting attire sparks debate

Egypt's Doaa Elghobashy made headlines for the full-length outfits she and her partner donned to compete in Rio, with media referring to the contrast with Italy's Marta Menegatti as a "culture clash". Elghobashy was also the first Olympic beach volleyball player to compete whilst wearing a hijab.

Ezra Shaw/Getty Images

6/18 Touching glimpse of unity as North and South Korean gymnasts share smiles

South Korean gymnast Lee Eun-ju, right, and her North Korean counterpart Hong Un Jong pose together for photographers during the artistic gymnastics women's qualification at the 2016 Summer Olympics in Rio de Janeiro, Brazil.

Kim Do-hoon/Yonhap via AP

7/18 Max Whitlock brings home Team GB's first ever gymnastics gold

Max Whitlock of Great Britain competes in the Men's Pommel Horse Final, beating teammate Louis Smith with two gold medals to his silver.

Alex Livesey/Getty Images

8/18 Phelps takes home his fifth gold medal from Rio

USA's Michael Phelps taking part in the Men's 100m Butterfly Semifinal during the swimming event at the Rio 2016 Olympic Games.

Francois-Xavier Marita/AFP/Getty Images

9/18 Islam El-Shehaby was sent home for refusing to shake his opponent's hand

Egyptian judoka, Islam El-Shehaby, (R), was removed from the Rio Games after refusing to shake the hand of Israeli victor, Or Sasson, (L). The incident took place after his opponent beat him in the over-100kg competition, with less than two minutes remaining. The athlete was reprimanded by the IOC and sent home.

Toshifumi Kitamura/AFP/Getty Images

10/18 City of God turned gold medalist

After growing up in the City of God favela in Rio's slums, Rafaela Silva falls to her knees with joy after winning Brazil their first gold medal of the Games in judo.

David Ramos/Getty Images

11/18 Andy Murray wins the only Team GB tennis medal in Rio

Tennis star Andy Murray in the men's singles, playing Argentinian Juan Martin Del Potro. He later took the gold medal for the event; the only team GB tennis medal at the Games.

Julian Finney/Getty Images

12/18 Charlotte Dujardin rides Valegro to victory

Charlotte Dujardin, riding Valegro, competes in the dressage event in Rio. She went on to win Gold in the individual dressage, and celebrated the news with her now-fiance.

AP Photo/John Locher

13/18 American runner Abbey D'Agostino takes a tumble

Abbey D'Agostino of the USA (R) is assisted by Nikki Hamblin of New Zealand after colliding during the Women's 5000m heats. Both athletes were recognised for their Olympic spirit by the IOC.

Ian Walton/Getty Images

14/18 Mo's double gold for GB

Team GB's Mo Farah can't hide his excitement after winning gold in the Men's 5000m finals.

Julian Finney/Getty Images

15/18 Bolt secures his sporting legacy in Rio

Usain Bolt is streets ahead of the competition in unbeatable triple-treble gold medal win.

Cameron Spencer/Getty Images)

16/18 Simone Biles is now seen by many as one of the USA's best athletes

US gymnast Simone Biles competes on the balance beam during Women's qualification for Artistic Gymnastics at the Rio Games. Biles became famous throughout the gymnastic events for "The Biles", her signature move encompassing a double back somersault with a twist.

David Ramos/Getty Images

17/18 British boxer brings back gold

Nicola Adams of Great Britain and Sarah Ourahmoune of France in action during the Women's Fly (48-51kg) Final Bout. Adams went on to win gold in this event, the only gold of Team GB's three boxing medals.

Dean Mouhtaropoulos/Getty Images

18/18 Triathlete brothers take first and second place

Team GB triathletes Alistair Brownlee and Jonny Brownlee compete during the Men's Triathlon at Fort Copacabana in Rio.

Alex Livesey/Getty Images
"It hurts a bit. I saw Melissa Bishop who was very disappointed, she improved her personal best and was 4th. It's sad, and I think she should be the gold medalist."
"I'm glad I'm the first European, the second white," she added.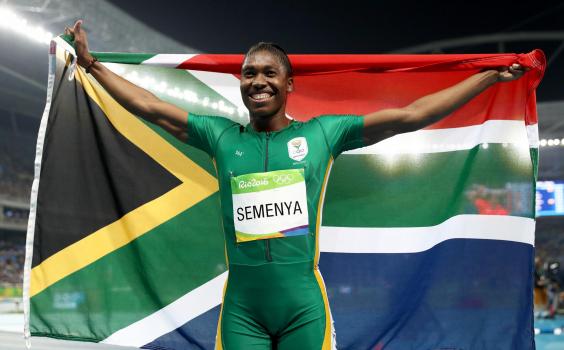 Great Britain's Sharp, who finished in sixth place, voiced her own frustrations over the inclusion of hyperandrogenic athletes after the final.
"I have tried to avoid the issue all year," she said. "You can see how emotional it all was. We know how each other feels. 
"It is out of our control and how much we rely on people at the top sorting it out. The public can see how difficult it is with the change of rule but all we can do is give it our best. 
Rules which required hyperandrogenic athletes to limit their testosterone levels were overturned by the Court of Arbitration for Sport last year, following a successful case by the Indian sprinter Dutee Chand.