The invitation was not immediately alluring, though the sentiments were engaging. Come to the University of Bath for a rubber-chicken dinner thrown by a small sport with big ideas. Prepare to be amazed.
Yesterday, more than nine years later, Lizzy Yarnold was presented with Britain's first gold medal of the 2014 Winter Olympics. She succeeded Amy Williams, her landlady, as champion. Amazement has been superseded by acceptance.
That dinner was a bit of a chore. I attended, having helped set up the English Institute of Sport. Simon Timson, an impressive performance scientist with a background in sports psychology, had a vision he wished to share.
His sport, skeleton, had won a bronze medal through Alex Coomber at Salt Lake City in 2002 on minimal funding. He was grooming Shelley Rudman for the 2006 Games in Turin with impressive rigour and intelligence. Her friends were doing a sponsored canoe marathon to finance her ambitions.
Unlike many influential figures within Olympic sports, Timson was not afflicted by political vanity and had no interest in impulsive empire building. He wanted a collaborative approach which made the best use of the medical, scientific and strategic support services at our disposal. He did not care who claimed the credit. He was only  interested in results.
He gravitated towards similarly driven coaches in cycling, rowing and sailing. He used their links to Formula One to establish contacts at McLaren Applied Technologies. The days of Coomber's inspired amateurism – she slid on a tea tray with handles cannibalised from a disabled toilet and wheels taken from a skateboard – were over.
Like most observers, I had pre-judged his sport on a stereotype, as a cross between a wintry version of the Wacky Races and a pastime for drunken undergraduates on Alpine holidays. Why on earth would anyone wish to leap head first on to a glorified baking tray and hurtle down an ice chute at 85 miles per hour with no credible means of steering?
Plenty were willing to try, according to Timson, whose development programme recognised the potential of seeking unfulfilled athletes from other sports. It was just a question of organisation, application and collective imagination.
Rudman won a silver medal and helped launch Girls4Gold, the biggest talent recruitment drive undertaken in domestic women's sport, from the Manchester Velodrome in 2008. It was a partnership between British Skeleton, the EIS and UK Sport, the funding agency.
Williams was already in the system. Yarnold, a mediocre pentathlete and shot putter at the University of Gloucestershire, was one of 900 hopefuls put through a series of physical and mental aptitude tests.  Having survived, she was assimilated into skeleton's futures programme.
Timson had moved on, to set up a similar strategic development programme for English cricket. He is now in charge of all Olympic preparations for Rio and beyond.
The system he established in skeleton offers an object lesson for far more exalted, self-possessed sports. Forward planning, now overseen by an equally committed Austrian, Andi Schmid, is remorseless. Yarnold's medal, won less than five years after her competitive debut in 2009, was the focus of Project Zoloto. Named after the Russian word for gold, it was launched in the same week Williams won gold in Vancouver.
A new talent identification programme, Power2Podium, is being promoted this weekend. Skeleton is seeking "fast and competitive" athletes aged between 17 and 25.
Of course, it is easy to mock. The UK is to winter sport what Mongolia is to cricket. This is a nation under water rather than on ice. But that chicken dinner proved a point. It is amazing what can be achieved when egos are parked and innovators dare to dream.
Hill suite Blues are set for a long stay
Michael Orton was forced to watch Coventry play rugby union yesterday afternoon. His companion Ian Devoy was similarly compromised.
Orton co-ordinates the campaign to return his football club to his city. Devoy is the great grandson of Coventry City's founder. He scrapped his season ticket after more than 30 years in protest at the enforced move to Northampton.
The postponement of the League One match against Bradford City, the fourth such cancellation this season because of an over-used pitch, prevented them joining other diehards in one of the most poignant rituals of the season.
Fans position themselves on a hill overlooking Sixfields Stadium so they can see a slither of the penalty area that their team are attacking. At half-time they move to the other side and repeat the vigil.
They won't pay an admission fee to a discredited regime. Meanwhile, the club remain in limbo before a June court case initiated by the owners, SISU, a Mayfair-based hedge fund.
Coventry take up to 7,000 fans to away games, but little more than 1,000 attend "home" games. The team, managed by Steven Pressley, is denied emotional succour. The conscientious objectors refuse to back down.
Fools on the hill? Hardly. They're heroes.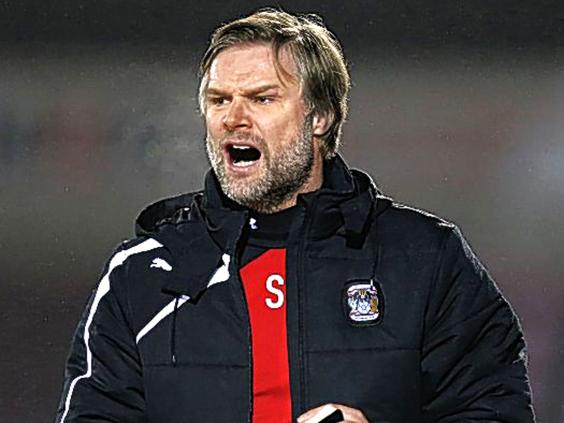 Sticky Wicket
The Sport Industry Awards are an exercise in self-aggrandisement, staged for witless marketing types and sports administrators. The organisers this year have nominating the England & Wales Cricket Board as Governing Body of the Year. No further comment.