It is the event in which Britain has a winter tradition like no other, one in which those who seek admittance will always be judged on their ability to achieve the impossible.
It falls to Penny Coomes and Nick Buckland, a couple on and off the ice, to try to follow in the immaculate tracks of Torvill and Dean 30 years on from what remains a seminal moment in British sporting history.
On Thursday, Jayne Torvill and Christopher Dean will be back in Sarajevo, invited by the city's mayor to perform the "Bolero" one more time in the Zetra Ice Hall, now rebuilt after being destroyed by Serb forces in the Bosnian war. Three days later, Coomes and Buckland – who compete today in the team competition, a box-ticking event in which Britain have no chance – begin their ice dance programme aiming some way short of perfection.
Of the nine Winter Olympic golds won by Britain, four have gone to figure skaters (there was a fifth from the 1908 Games when it was part of the summer programme). One of them, Robin Cousins, is here as a team ambassador, a daily reminder of the standards that the current generation have to aspire to.
But it always comes back to Torvill and Dean, and Coomes and Buckland do have one trick up their billowing sleeves. They can call on the man who beat Britain's greats to gold on their return in Lillehammer in 1994; two beauties are being nurtured by the beast.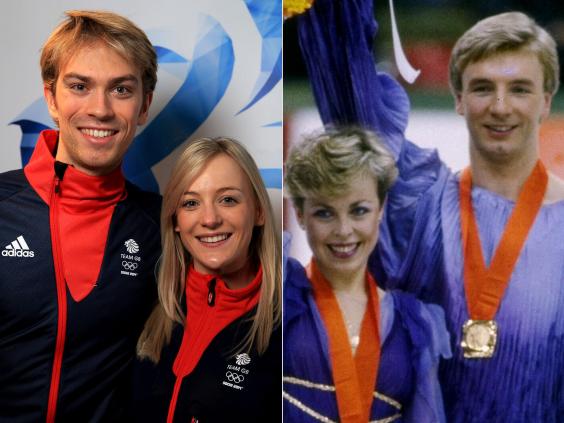 "They are my favourite students," says Evgeny Platov, a unique Russian mix of menace and charm, who has two gold medals to his name. He has coached the Britons for the last four years. "We have a connection, a bond. I can be very strict. I told them you don't have to like me, you don't have to love me on the ice – on the ice I will be the beast. Off the ice I can be your buddy, brother, mother, father, whatever you want me to be.
"For me as a two-time Olympic champion I realised I had to trust my coach and do 100 per cent what he said – that was the Russian system and it worked pretty well," Platov added. "I told them, if you want to be with me you trust me 100 per cent – you do my way or highway."
It was after competing in Vancouver four years ago, when they finished 20th, that Coomes and Buckland took up Platov's invitation to move to New Jersey and work full-time under his guidance. Platov is a bullish advocate of the Soviet system that made him, one that has at its core sheer hard work, hour after hour on the ice from the age of nine onwards.
"He has been a huge influence, he has introduced Russian skating style and so many different aspects have opened up by being with him," says Buckland. "Different types of training, training super hard, lots of ice time. We have learnt so much from him."
He has introduced another less obvious factor to the pair's preparation. Before every competition he sits Coomes down and they watch Miracle, Disney's story of the US ice hockey team's victory over the Soviets in 1980.
"Did you see Miracle – about the US hockey team that beat my team, Soviet Union?" wonders Platov. "I was 13 years old, I was crying. How did they beat us? We were the best team in the world. Now we watch this movie – it is Penny's movie, before competition she watches that. I told her, watch this movie."
Coomes does as Platov orders. "It is so inspiring," says Coomes, the shortest athlete in Team GB at 5ft and a whole foot smaller than her partner. "I love hard work, they do that in the film and they defy the rules and win the Olympic gold. That relates with me.
"I am not naturally the best skater in the world, not naturally talented, I have to get there through very hard work and because he has pushed me I have improved so much in the last few years. That film really resonates with me."
Under Platov the 24-year-olds – Coomes is the elder by two months – have made promising progress. They are considered the best dance pair since Torvill and Dean but, despite winning bronze in the European Championships last month, the Olympic medal target is four years down the line in Pyeongchang. The aim here is a top-eight finish; a step in the right direction.
"Nobody can touch Torvill and Dean," says Platov heatedly. He calls them his "idols". "They are untouchable – even with my two Olympic medals, even though I beat them. They did a revolution in ice dancing."
Nobody can touch them, but his current charges can, he believes – and this is not a man to quibble with – make an Olympic mark of their own further down the line.
"To reach that level, that's our absolute goal," says Platov. "They have so much potential."