In nine days, Tony McCoy will, once more, stride through the gates of Cheltenham, the Cotswolds theatre of realised and broken dreams, as he has done since 1996. Poignant memories, warm and chill, will flood his mind before a fervent crowd attempts to lift him to a valedictory festival winner, or more, over the four days to add to his tally of 30.
Though filled with burning expectation and energised by his healthy prospects in the three principal events, this time he is aware his own emotions will be starkly different.
"I'll be going into Cheltenham thinking I'll never be going in here again as a jockey, and that's not something I look forward to," concedes the Northern Irishman who announced his impending retirement three weeks ago. "I've never been to Cheltenham and not been a jockey. It will be very strange, knowing that the next time I go there it will be as a spectator."
Knowing that after partnering the John Kiely-trained Carlingford Lough ("got a very good chance in what is a very open Gold Cup. Favourite Silviniaco Conti has achieved the most. He's the one we've all got to beat"), Jessica Harrington's Champion Hurdle runner Jezki (his best hope of the four days) and Mr Mole (in the Queen Mother Champion Chase), that will be it.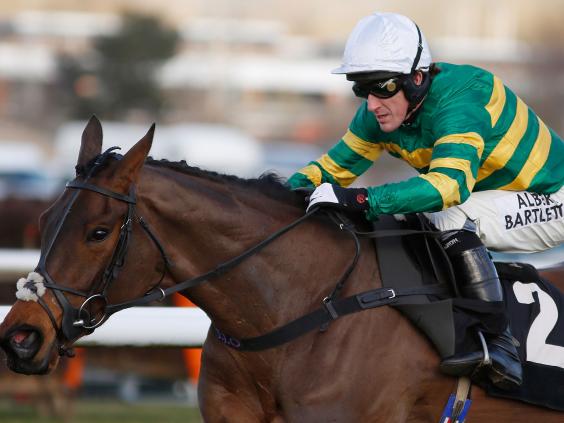 There will never be another chance of adding to Gold Cup triumphs on Mr Mulligan in 1997 and Synchronised three years ago, or his three Champion Hurdle victories.
McCoy understandably regards Synchronised, home-bred by his "boss" JP McManus, to whom McCoy is first jockey, and trained by Jonjo O'Neill, was his greatest Festival win, "by a long way".
There's a gallows humour about the things he definitely won't miss, such as "being on speed dial to doctors and knowing people in hospital that you've met numerous times."
Among his worst periods of confinement was after he had been unseated from Quantitativeeasing in April 2013 at Cheltenham. It left him in intensive care for six days. He suffered a punctured lung and broken his sternum and ribs. But that was a relatively benign diagnosis in light of JT McNamara's first-fence fall from Galaxy Rock at the Festival two years ago. The amateur Irish rider broke his back, and it left him paralysed from the neck down.
"Something that will always live in my memory was John Thomas McNamara getting injured and that evening you're getting changed and you see his clothes still hanging up on the peg (of the weighing room), and knowing that he wasn't coming back for them," recalls McCoy, appropriately speaking at Oaksey House, a state of the art rehabilitation centre for injured jockeys in Lambourn.  "That is the darkest day I've ever had at Cheltenham." God willing, the 40-year-old, originally from County Antrim, won't add to the 29 breaks and innumerable bruises he's suffered in 23 years of relentless pursuit of victory before he finally departs.
He will emerge into a world of mere mortals, unscathed, boasting 20 jockeys' championships, well over 4,000 winners, a coveted Sports Personality of the Year award... and uncertain of his future.
"If it was a job, I'd have probably given up a long time ago," he says. "I do it because I love it. It's a hobby. I'll still ride out. I might still school a few. I'll sit on a few horses for the boss (JP McManus) that he might want to buy. It's going to be a big shock to the system. I don't know how I'm going to replace it. Maybe I am an obsessive kind of person, and I do need something to challenge me. I won't be able to enjoy anything like I have enjoyed riding."
Given the opportunity, McCoy concedes, he would happily re-emerge under an assumed name and kick off again competitively next season. "What I would love to be able to do, is to retire tomorrow, and come back as someone else, and carry on just as normal," he says. "I think mentally and physically I could do that."
He adds in explanation: "In some ways I regret it (his retirement). I'm still getting the enjoyment and the thrill from it. I'm not retiring because I don't think I can compete any more, I don't think I'm any worse than I was, or frightened of the younger lads coming through (among whom, as he wryly admits, some weren't born when he secured his first championship).
"I often think I'm not sure why I'm retiring. I honestly don't. I think that every morning I wake up." Pick away under the McCoy persona he projects to the world, and the truth is he doesn't want to deteriorate and become just an ordinary rider.
"That's pretty much it," he says. "I owe it to myself to go out whilst I'm still performing at this level. I wanted to go out as champion jockey. I don't mean this in an arrogant way, but I just don't want to be a normal jockey."
McCoy began planning his exit five years ago. "I thought if I managed to survive, and get to 20 championships, being realistic that's a lot. This season, I planned to give it my all. I had a brilliant start, with my fastest 50th, fastest 100th. I was going at it like the world was going to end. I genuinely thought I would ride 300 in a season. That was the best way of going out on a real high."
He adds: "Sadly a fall at Worcester put an end to all that. I was off for three weeks. It broke my heart. My head was mentally fried, to be honest. Not physically. I've had a lot of worse injuries, but mentally because something I could have achieved, riding 300 winners, was gone. I was in a very dark place."
Instead he settled for achieving a double century. He is currently on 218 for the season, with a strike rate of around 30 per cent.
Many would have opted for a quiet withdrawal at the end of the season. Instead there is a countdown of the days, as the AP farewell roadshow tours the country. Which begs the question, will he be tempted out of retirement, like ageing members of a rock band, by the camaraderie and his addiction to this legal high? Inside is he mouthing the Rolling Stones' line: This may be the last time - I don't know?
 McCoy says no. Emphatically, no. "The day when it actually comes it will be the most difficult, but I've been able to prepare myself for it by not exactly counting down the days, and getting it out in the open, rather than just get to the end of the season and suddenly not be doing it  any more.
"At least, this way I've been able to get myself mentally prepared over the best part of three months, of getting it in my head that it is actually happening."
He adds: "I always had in my mind this is the way I wanted it to be. I'm not saying I wanted to suffer, but I wanted it to be at a time when I was still enjoying it. I admire people in sport, like Alex Ferguson, who are able to walk away when they're still at the top."
McCoy does so after more than 1,000 weeks leading his field. As a jump jockey, the fact that he can  walk away in good shape is a significant bonus.
Favourite ride
Synchronised, 2012 Gold Cup winner, bred and owned by his "boss" JP McManus, and trained by Jonjo O'Neill.
"Synchronised was one of the highs because Mayasta, his mother, was the first winner I ever rode for JP in 1996," he says.
Most satisfying mount
Wichita Lineman in the 2009 William Hill Trophy. They say no-one else could have won on him. The 5-1 favourite made numerous errors and looked beaten when Maljimar breezed into the lead at the second-last with McCoy and partner several lengths adrift. "He showed an enormous will to win," recalls McCoy, who galvanised his mount to prevail by a nose. "He made me look good."
Lowest moment
His weighing room colleague JT McNamara's fall on Galaxy Rock in 2013 which resulted in the Irish amateur jockey being paralysed from the neck down
Most enjoyable race
"The two-mile chases, probably the most exciting in terms of adrenalin. It happens so quick," he says. He rides Mr Mole in the Queen Mother Champion Chase, the horse he was sitting on when he announced his retirement plan.
Reuse content