There is a hint of Cleeve Hill about the rising bluffs framing Willie Mullins' County Carlow yard, a geological nod to the annual shindig in March that glows red on the national hunt calendar. We are gathered on the forecourt outside Mullins' home in anticipation of the Cheltenham Festival, the first day of which is rapidly acquiring an eternal quality.
Taking their place among a parade of horses are the alpha beasts being readied for the first big race of the meeting, Tuesday's Champion Hurdle: Hurricane Fly, the cussed, indefatigable veteran with 22 Grade One notches on the bridle, and the next wonder horse on the gallops, Faugheen, unbeaten, undaunted and proud.
Mullins stands in the middle of it all, reeling off his equine inventory with character references and form updates as each horse files by. The racing world is on hold almost, entering a period of growing excitement and vulnerability, a delicious spell during which peaks are nurtured and well-being monitored every second of the day lest a gremlin should shatter this delicate state of grace.
A few miles to the north – or kilometres in Irish money – Jessica Harrington is going through the same motions, if on a much smaller scale. Harrington will send a horse to market only if she thinks it has a chance: top four is her rule of thumb. Mullins has launched an armada nearing 50 animals across the Irish Sea, five times Harrington's cargo. Yet among her guerrilla squad a champion bristles, and when he strides out at Cheltenham he will have on his back arguably the greatest jockey to have jumped a fence.
A P McCoy's decision to ride Jezki in the first championship race of his festival valedictory falls into the no-brainer category, given the retained options offered in the J P McManus raffle. He might have chosen him last year but went instead for My Tent Or Yours, then watched as Jezki outgunned Hurricane Fly up the hill.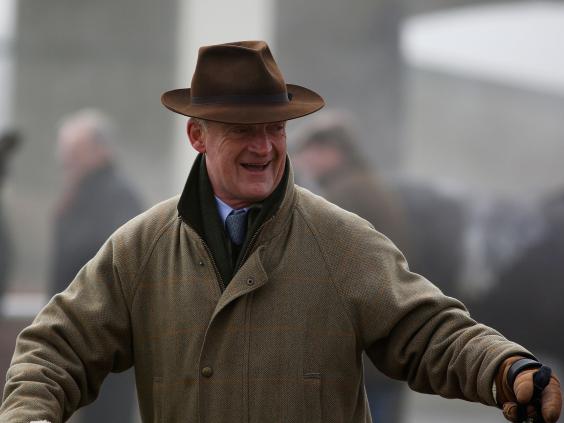 Jezki has followed Hurricane Fly home on three occasions this term, but each time on Irish soil and in the winter months. The spring air and drying ground amount to a siren call to Jezki, according to Harrington, turning Cheltenham into sacred ground for him.
"He's probably had a better year this year than last year in that he has finished a close-up second twice to Hurricane Fly, who I know Willie thinks is as good as ever," she said. "The mistake he [Jezki] made last time might just turn out to have been a blessing because it meant he didn't have a hard time in the finish and he's come out of the race very well.
"Maybe we should have beaten him there [Punchestown]. Maybe we're not as good as we think we are. But I still think he's good. He seems to like good ground in the spring. He doesn't really appreciate heavy going. A bit of sun on his back and a bit of warmer weather suits him. He's a horse that likes to be looked at, too, and the atmosphere at Cheltenham suits him."
That's the case, then, for Jezki. Back to Mullins, who sits comfortably in the guru class of trainer, Ireland's premier cru with 33 winners at Cheltenham and counting. Of all his horses Hurricane Fly is the closest to his heart. Faugheen, named after a tiny village in Tipperary, might make the neutral swoon, but he has yet to shift the 11-year-old warrior, twice a Champion Hurdle winner, out of the boss's affections.
"He has done everything right this season. If he was two or three years younger, he would definitely be favourite as he has done everything a clear favourite should have," Mullins said.
"People say he can't win because of his age but he is class. Some people say he doesn't run his best at Cheltenham but I am not so sure. He has won two Stan James Champion Hurdles from four starts and I think I had two good excuses for the times he got beaten. When he was really right going into Cheltenham, he has won. Horses have to be really right on the day or they will struggle."
Mullins sends horses to the gallops in batches. He could sell tickets for the spot on the banking. It's akin to sitting on the wall at the swimming pool section in Monaco. Instead of 600kg of automotive hammer taking the skin off your ears, you have half a tonne of snorting thoroughbred speeding through the dirt. Perhaps he should re-name the yard Monte Carlow, the thunder in these hooves giving off as sweet a sound as any internal combustion engine pulling 800bhp. 
Hurricane Fly trains alone. Not because he has special status, necessarily, but to protect the others from his combustible turns. "He is a narky fucker in the stable, all right," says John Cobb, who sits on Faugheen. "He would bite you. They wouldn't be near each other around the yard. Horses are like people, there is chemistry between them. These two have never worked together. They recognise each other but the Fly trains on his own."
Mullins intuits the meaning of every tic and gesture. He is, as far as a man can be, fluent in the language of horse. He feared the end might have come for his champion last term but something within was resistant to the idea. He had to be sure that it was indeed age and not prevailing circumstance claiming the Fly. He would take another look when the nights closed in. He was thrilled at the response.
"I felt going into his last two runs last season that he wasn't sparking as he can – he was just going through the motions, not quite there," Mullins said, with a far-away look in his eyes betraying his deep attachment to the horse. "People were saying he was gone. I was nearly ready to accept it if he didn't train well this year. But he came back this winter. I trained him hard and he took it. He's been grabbing the bridle and doing proper work. He didn't do that last year but he was not bad enough not to run him.
"He was quite tired after the Irish Champion for a week, when it's usually only a day or two. He went back into himself, but since then he has been as good as ever. Paul Townend rides him and is a great indicator. He can tell me down to the ants how the horse is training and is giving me positive feedback all the time. I'm a dyed-in-the-wool Hurricane Fly fan. It would be my dream result for the whole of Cheltenham if he could win a third Champion Hurdle. He is our king but if Faugheen rises and wins it, then there is obviously great potential there to win another."
Ah, Faugheen, what a gorgeous piece of equine flank this is. The colour of Italian leather, the kind of luminous tan Roberto Martinez might wear on the touchline at Everton, Faugheen could not be more of a picture were he painted by George Stubbs. He is the horse to beat for the bookies – and for John Cobb, who cleans up after his mount as if the Queen was coming to   inspect his tack.
"When Ruby [Walsh] was going out for the Neptune last year he said he [Faugheen] felt like a stick of dynamite, felt like he was going to explode," Cobb said. "Most horses are quirky, but this one has a fantastic temperament, an immense heart, and he's unbeaten. I've ridden a few horses in my time, but none comes close to him. Ruby has to drag me off for sure. He oozes class, a different level to most horses. He does everything so easy, everything you want him to do, and does it right."
Cheltenham is one of the great gatherings in any sport, a stand-alone congress that for devotees not only absorbs the threads of a year's work but, it seems, gives meaning to life. In this phase of proceedings little else matters. Like those that have come before, this festival will throw up its stories, not least the coming together of Sprinter Sacre and Sire de Grugy in Wednesday's Champion Chase. But for many, Mullins included, day one is the focus.
The action moves to the sitting room of Mullins' home. Wife Jackie leaps straight from the saddle into the catering department, aka the family kitchen, to oversee the distribution of refreshments while Willie downloads the contents of his head for the benefit of the assembled journalists. She has heard it all before, probably over dinner the night before and breakfast that morning. It never stops.
An assistant bowls in to check the list running the next day at Punchestown. She has concerns about half a dozen horses. Mullins snaps immediately out of Cheltenham mode, and from another mental file the required information flows. And then it's back to the Olympics.
"This is definitely our strongest team going to Cheltenham, both in terms of numbers and quality," he said. "The last couple of years we have had about 40 horses going over, but this year I think we could have another 10 on top of that.
"It's what we're in the game for – to go to Cheltenham with as many horses as possible that have a decent chance. Any win is fantastic. Two would be great and three you are in the frame to be top trainer. That would be amazing."
Mullins' Cheltenham runners on opening day
1.30 DOUVAN (Ruby Walsh), Shaneshill, Alvisio Ville
2.05 UN DE SCEAUX (Ruby Walsh), Adriana Des Mottes
2.40 As De Ferbet (unlikely to make the handicap cut)
3.20 FAUGHEEN (Ruby Walsh), HURRICANE FLY (Paul Townend), ARCTIC FIRE
4.00 ANNIE POWER (Ruby Walsh), GLENS MELODY (Paul Townend), Anifilet
4.40 VROUM VROUM MAG, PERFECT GENTLEMAN (Mr Patrick Mullins to ride one)
5.15 Dogora (Ruby Walsh).
Reuse content